Searching for iPhone Fortnite installed or Fortnite iPhone at eBay? That's ridiculous. Although Fortnite is currently kicked off from Apple app store and 'Sign in with Apple' feature will be removed by Sept 11 (Macrumor), the game is still officially available on Windows, Mac, Xbox One, PlayStation 4 and the Nintendo Switch. The money for those second-hand iPhones can bring you 5-8 new Nintendo Switch consoles to play on your all fours. But what if you still want to play Fortnite game on your very iPhone/iPad so badly? No thing is impossible, only that it requires more tweaks, efforts and time. Forget about those used Fortnite iPhones, take a look at the below tricks.
How to Download Fortnite for iOS Outside of App Store?
To download Fortnite for iOS, you need an .IPA file and a proper Fortnite installer. It could be an old version of Fortnite.
Step 1: Search for Fortnite .IPA file for iPhone
To get workable Fortnite .IPA file, first thing to do is to visit one of the listed IPA File Sites, and input Fortnite. Or you may try some new IPA file sites. Fortunately, i found Fortnite in one of the listed IPA sites.
iOS Fortnite download link - https://www.iphonecake.com/app_1261357853_.htm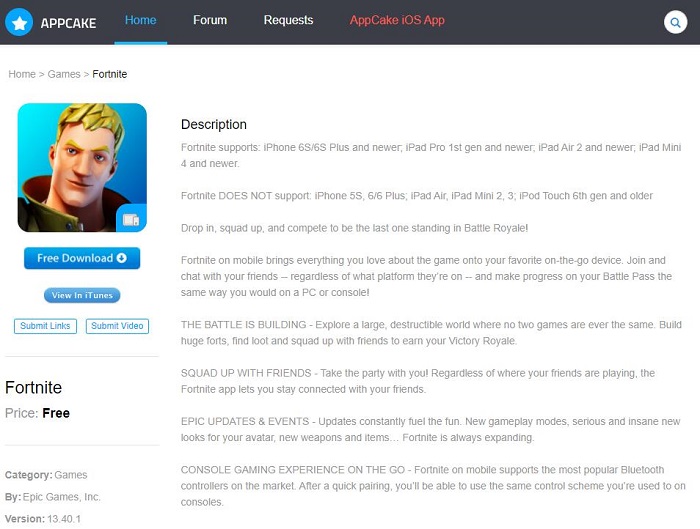 Step 2. Download a Fortnite Installer - DearMob iPhone Manager
DearMob takes good care of all your iPhone/iPad applications. You can install applications out of App store with a given .IPA file and uninstall them any time you feel no longer needed. Simple and straight forwards, no Apple ID needed, no jailbreak needed.
Also remember to connect your iPhone or iPad device to computer and make sure iPhone Manager recognize it properly.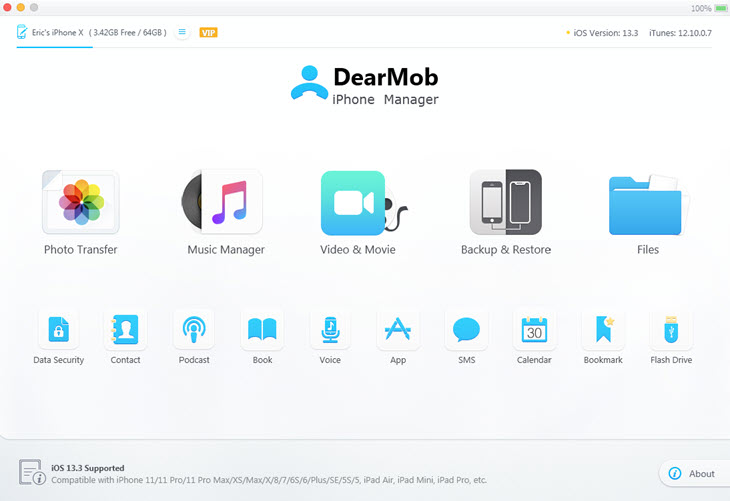 Step 3. Go to the application tab and click "Install" button.
You can browse the .IPA file and choose Fortnite and click Open.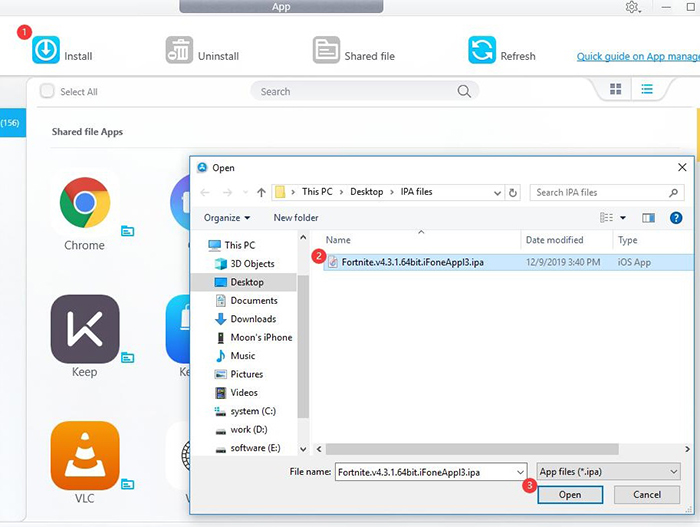 Step 4. Click the Sync button to install Fortnite on iPhone
The application will be shown on the application panel. And a number will be tagged on the Sync button indicating how many changes you've done. Simply click the Sync button and all the Fortnite will be installed in a minute.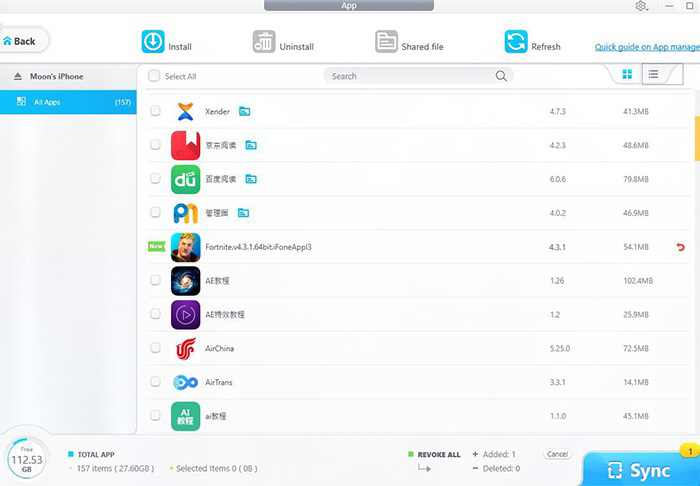 Apart from Fortnite for iOS download & install, DearMob iPhone Manager also helps you import documents to and export files from iOS apps including SketchBook, Chrome, Clips, iMovie, GarageBand, Keynote, Numbers, Pages, VLC, Word, VSCO, and even some eBook apps. Batching deleting them is also made super easy through a few clicks.
FAQs about Fortnite for iPhone
#1 : Fortnite Being Blocked from iOS, Who Will Be Affected? And How?
Those who haven't already installed Fortnite won't be able to see this application in your Apple App store
As of August 17th, the 3rd season of Fortnite was officially over. iOS Fortnite mobile players can only stick with the current season. They cannot upgrade the game or get new costumes.
Fortnite Battle Royal iOS players cannot afford to take the risk to update their devices to the newest iOS that may rise compatibility issues with the older version of this game.
For regular Fortnite iOS mobile players, even if you have your gaming data backed up for good, rolling back to the previous backup version won't bring the game back, since all the apps still have to be re-downloaded from the store yet Apple has this game removed. Those who have already uninstalled the app are just as the same as those who never installed this game.
#2: When Will Epic Fortnite Be Reinstated in Apple App Store?
As of now, according to The Wall Street Journal, Fortnite is trying to get back to App Store with the help a lawsuit against Apple's monopolistic. The hearing is scheduled on Sept. 28 and hopefully Fortnite iOS players can end up as the winner.