With increasingly more iPhone battery problems emerging every year, from overheating, draining, to swelling which bulges the screen, we iPhone users become more and more concerned with our iPhone battery health and safety. To get weekly informed of the iPhone battery diagnostic and check iPhone battery health regularly can help us detect problems in time and take action in advance - reporting problems to Apple, having a battery replacement or an iPhone trade-up.
You should frequently check iPhone battery health for at least once a week especially if your iPhone battery is draining fast! Also, if you're covered under AppleCare+, check your iPhone battery health to know when to replace the battery.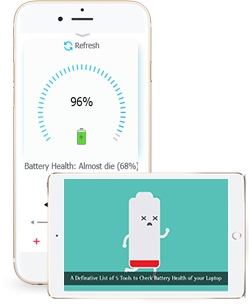 How to Read iPhone Battery Diagnostics?
What are the criteria that determine a healthy iPhone battery?
1. iPhone cycles: technically speaking, when your iPhone cycle reaches to 800, meaning you have charged your iPhone for 800 times, your iPhone battery is somehow aged. And it is typical that your current iPhone might have been used for 3 years.
2. iPhone wear level: technically, when the iPhone wear level reaches at 25% (85% of new), the iPhone battery should be changed to a replacement.
3. iPhone battery capacity: this data has two functions. A. calculate the wear level by yourself in case you do not trust the auto calculator; B. compare the battery replacement with the original one and see whether it is detected with the same capacity (as good) as the previous one.
Therefore, if your current iPhone 6 battery has a charging cycle of 800 with a wear level at 25%, bet you might have been using it for about 3 yrs, and it's time to think about getting a new iPhone battery replacement.
How to Check iPhone Battery Health?
There are mainly 5 iPhone battery health levels offered by DearMob iPhone Manager: Perfect, Good, Bad, Very Bad, and Almost Die.
These battery health notifications is in pair with the iPhone wear level:
0% - Perfect (100% of new)
1-10% Good (90-99% of new)
11-20% Bad (80-89% of new)
21-30% Very Bad (70-79% of new)
Above 31% - Almost die(below 70% of new)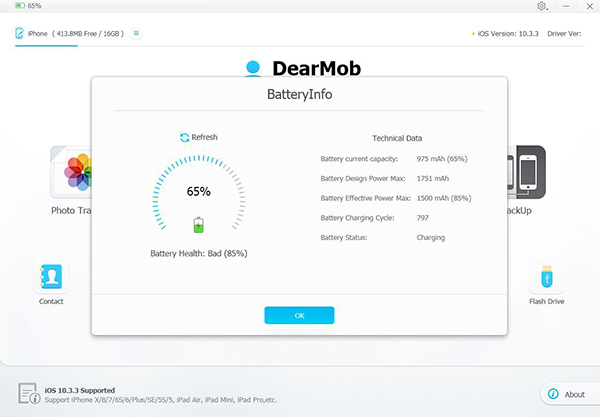 Of course, you don't necessarily have to get an iPhone battery replacement immediately when the battery health score goes to "Bad" or "Very Bad". The gradings here merely present technical suggestions on when to change an iPhone battery rather than "you should change it right now or it will get exploded". Generally, the battery scoring "bad/very bad" can sustain another 2-3 years of nearly sufficient battery supply, while for iPhones with battery health at "Very Bad" level might have to resort to more frequent charging in case of iPhone battery draining super fast.
Top iPhone Battery Health Checkers Recommendation
Top recommended iPhone battery checking tools on various platforms are introduced here. You can get what you demand for roughly by checking these apps out.
CoconutBattery checks the status of the battery in your Mac and the battery of iPhone/iPad/Apple Watch connected to that Mac. It detects your iPhone current charge, battery capacity, design capacity, iPhone battery Cycles, temperature and watts of charging. You will need: Mac running OS X 10.7 upwards/iDevice running iOS 7 above.
DearMob iPhone Manager can let you get instant check on iPhone battery health by clicking on the Battery icon on the main user interface. It will list out your iPhone battery health score, percentage of wear level, battery capacity, design capacity, battery charging cycle, and battery status. You will know when to get an iPhone battery replacement! Supports macOS 14.0 Sonoma and Windows 10, capable of diagnosing iOS 11.
This iPhone battery checker works on iOS device directly. It showcases the remaining battery runtime for each activities including 3G talk, 3G browsing, WIFI browsing, video, audio and standby, so that you can indicate when to get a charger in time. But if you are about to check iPhone battery cycles, this app won't help.
How to Get An iPhone Battery Replacement?
When you are out of Apple iPhone warranty or Applecare+ service, you can consider purchasing an iPhone battery online from reputable eBay/Amazon sellers and replace your iPhone battery yourself follow the YouTube iPhone battery replacement guide online.
But if you don't trust your skill at doing this or online batteries' quality:
1. At Apple store, you'll suffer from being without your phone for a couple of days since a lot of people might be waiting in line. And WAIT TIMES vary from 2 Weeks to "Available Without Extended Delays"
2. You can also go to a phone-repair shop if you want someone more skilled at doing the work with more trustworthy iPhone battery source.