"Does anyone know how to fix deleted photos from iCloud but still on iPhone? I recently encountered an issue where I deleted a bunch of photos from my iCloud account through icloud.com, but surprisingly, they're still appearing on my iPhone 14 Pro." - Apple user from Reddit.com
iCloud, the cloud-based service offered by Apple, is designed to store data and synchronize data across all our Apple devices. When we deliberately delete unwanted photos from iCloud, such as accidental downloads or unnecessary screenshots, we naturally expect them to be removed from our iPhones as well. However, the problem is many iPhone users discovered that the photos they had deleted from iCloud still showing up on their iPhones. Fortunately, there are effective solutions available to tackle this issue. In this post, let's dive into 7 proven solutions to fix "deleted photos from iCloud but still on iPhone".
7 Fixs - Deleted iCloud Photos Still Showing Up on iPhone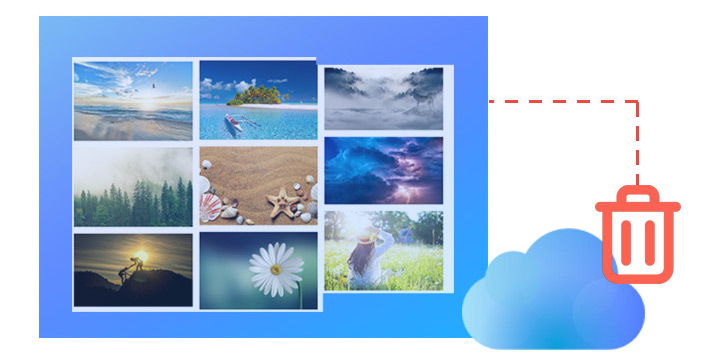 Solution 1. Check Apple ID
It is crucial to ensure that you are using the same Apple ID on both your computer and iPhone when signing in to iCloud. The synchronization process between devices only works when the same Apple ID is used. To verify your Apple ID on iCloud, navigate to the Accounts section in the iCloud application.
Solution 2. Disable iCloud Photos
If you've used the same Apple ID to sign into other iDevices that store the photos that you already deleted from iCloud, then those photos may be re-uploaded to iCloud. Thus, we suggest you try disabling iCloud Photos on other iDevices, so the iCloud Photos sync doesn't get confused. To do so,
Step 1. Go to Settings on another iPhone or iPad.
Step 2. Tap your name and then choose iCloud > Photos.
Step 3. Deselect "Sync this [Device]".
Solution 3. Give It More Time
There may be a delay of days before getting the photos already deleted from iCloud removed from your iPhone device. Synchronizing your entire photo library takes a lot of time, depending on internet speed, power conditions, Apple service, and many factors. Therefore, it is important to ensure you have a stable network connection and be patient, allowing sufficient time for iCloud to synchronize the changes to your iPhone.
Solution 4. Free Some Space on Your iPhone
Insufficient storage space on your iPhone can lead to issues with iCloud syncing data, resulting in the photos deleted from iCloud still showing up on your iPhone. To troubleshoot this problem, try deleting unnecessary videos and clearing app caches on your iPhone. To troubleshoot this problem, try deleting unnecessary videos and clearing app caches on your iPhone.
Solution 5. Restart iCloud Backup
Still no luck? Try turning off iCloud Backup and then turning that back on. This can help refresh the iPhone and most importantly force restarting all paused uploads and syncs. Hopefully, it can do the trick.
Step 1. Go to Settings. Tap your name.
Step 2. Tap iCloud > Photos.
Step 3. Deselect "Sync this [Device]" to turn off iCloud Photos.
Step 4. Select "Sync this [Device]" to turn on iCloud Photos.
Solution 6. Turn Off iPhone Storage Optimize
The iPhone Storage Optimization feature is designed to preserve storage space by keeping high-resolution versions of photos on iCloud while retaining smaller-sized versions on the iPhone. While this feature is useful when your iPhone is low on storage, it can also lead to the problem of deleted photos persisting on the device. To address this, disable the Optimize iPhone Storage option.
Step 1. Go to Settings on your iPhone.
Step 2. Scroll down to find Photos & Camera and tap it.
Step 3. Select Download and Keep Originals.
Solution 7. Try an Alternative Way to Delete iPhone Photos
Let's fade it! Relying solely on iCloud to delete, transfer, or organize your iPhone photos is not a smart move. iCloud is primarily designed for data syncing and backup purposes. If you've already tried all the other solutions mentioned in this post with no luck, or if you simply want to skip the hassle of troubleshooting, then we highly recommend using DearMob iPhone Manager instead.
This powerful iPhone management tool allows you to effortlessly delete, transfer, and manage your iPhone photos without depending on Wi-Fi or a network connection. It lets you delete a bunch of selected photos from your iPhone in a flash. And the best part? You can easily undo the deletions if needed. Plus, it lets you quickly back up photos you ticked to the computer. Once you've safely backed up your photos, you can delete them from your iPhone, freeing up valuable storage space without the fear of losing precious memories.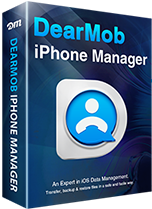 Delete and transfer iPhone photos by albums or types
Backup iPhone photos with original picture quality and EXIF data
Backup & decrypt purchased media files from iTunes, Apple Music…
Options to encrypt privacy-sensitive photos, convert HEIC to JPG
Manage 15+ iOS file types, incl. video, photo, music, and contact
Step 1. Free download and install DearMob iPhone Manager on Windows or Mac. Click on Photo.
Step 2. Browse your iPhone photo albums and select the photos that you want to delete from your iPhone. Hit Delete.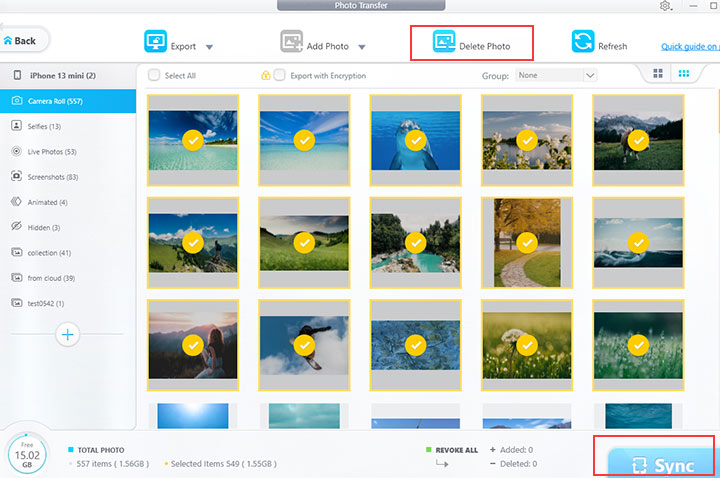 Tips:
Before deleting the selected photos, you can hit Export > Export to back up the selected photos to your computer.
Step 3. Click on Sync to remove all the selected photos from your iPhone right away.