Even if Media Player Classic is one of the best media player for Windows 10, unfortunately, there is no Mac version of Media Player Classic to work fantastically on Mac OS. For Mac users, they would definitely want to find a Media Player Classic Mac alternative to help playing Windows media files, and for Windows users? There is always a place for best Media Player Classic alternative for Windows in case Media Player Classic stops working sometimes. So, let's jump right in to the best 5 free Media Player Classic alternatives for both Mac and Windows.
Top 6 Media Player Classic Alternative for Mac and Windows (10)
No.1: 5KPlayer – All-in-one Free MPC Alternative
★★★★★ Rating: 5 OS: Windows & Mac Type: Free
As an all-in-one Media Player Classic alternative, 5KPlayer works seamlessly on both Mac and Windows. We put it on the No.1 place of MPC alternatives is not only because its rich features such as free downloading 1080P 720P videos from 300+ online video sites, wirelessly streaming MP4/MOV/M4V videos from PC/Mac to Apple TV via AirPlay for free. It is the main ability of playing multimedia files that counts including small and sweet features like adding subtitles and rotating videos. Let's see what files this player plays:
*The best media player 64 bit to play WMV, WMA windows media files on Mac.
*Play MOV QuickTime files on Windows.
*Extended UHD videos rendering to play 4K 8K on average Mac and PC.
*Play MKV, AVI, MP4, DVD, 3D videos without efforts.
Go to the best iTunes alternatives for Mac >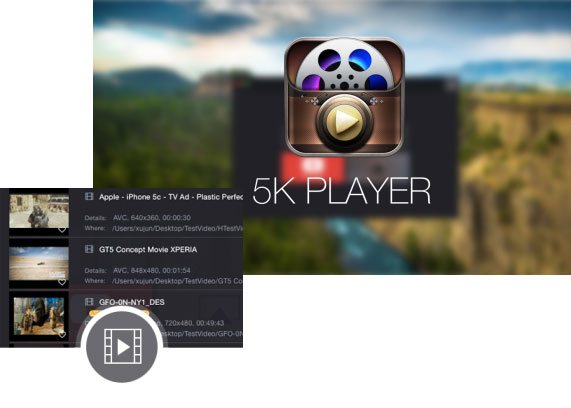 No.2: Elmedia Player – Universal Media Player Classic Alternative for Mac
★★★★☆ Rating: 4.5 OS: Mac Type: Free/Pro Version
Mac users know and appreciate Elmedia Player as one of the best alternatives to Media Player Classic. It supports variety of formats, such as FLV, SWF, WMV, AVI, MOV, MP4, MP3, FLAC, M4V, MPG, MKV. You can stream MP3 file and any videos from your computer to Chromecast, AirPlay & DLNA-compatible devices. Embedded subtitles and external subtitle files are also supported for streaming. Elmedia Player allows you to create playlists from local files and to cast them to Smart TV.
Salient features:
1. Online playback of video from Dailymotion and other sites without ads.
2. Support of 4K, 8K videos, Flash files: FLW, and SWF
3. Streaming local video and MP3 tracks to DLNA, Chromecast and AirPlay-enabled devices.
4. Playing and streaming Blu-ray discs.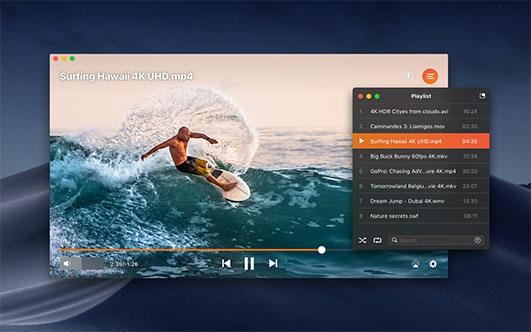 No.3: VLC – Open Sourced Media Player Classic Alternative
★★★★☆ Rating: 4.5 OS: Windows, Mac & More Type: Free
VLC player is famous for its ability of playing almost every video audio codecs in a web player that allows you to stream media from the web. And the latest VLC player surely makes itself a good Media Player Classic Mac and Windows alternative. But this open sourced player still is not bug free, and has problems like VLC player audio delay, VLC can't play MKV, DVD, MP4 videos are also frequently asked questions in Videolan forum.
Salient features:
1. Watching DVDs and all media files
2. Integration with web channel streaming services
3. Plays BluRay videos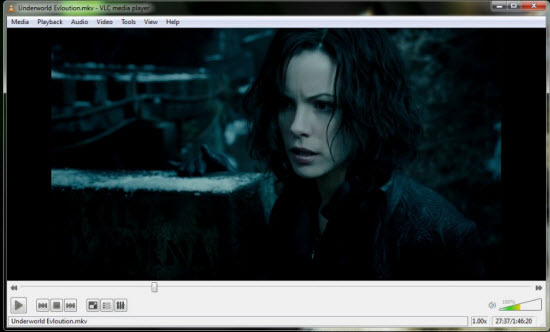 No. 4: RealTimes – Upgraded Multi-Purpose Media Classic Alternative
★★★★ Rating: 4 OS: Windows & Mac Type: Commercial
RealTimes is the deviation of Real Player, the previous Real Player is just for PC, but RealTimes now is a multi-purpose Media Player Classic Alternative for both Mac and Windows, and it does much more than playing video and music.
Salient Feature:
1. Download videos to play your favorite video offline, but you may need a RealPlayer Downloader alternative cuz RealPlayer downloader still has problem.
2. Stream videos from PC to Roku or Chromecast to enjoy movies on TV.
3. RealTimes mobile App lets you watch videos on the go.