Top 3 Free AirPlay Senders for PC/Mac AirPlay Audio and Video
Written by Kaylee Wood | Last update: April 28, 2020
AirPlayer sender, just as its name implies, can stream audio, video and other media files over AirPlay to another AirPlay-enabled device. AirPlay sender devices include computers running iTunes, and iOS devices such as iPhones, iPods, and iPads running iOS 4.2 or greater. With AirPlay compatible free AirPlay software installed, any computer can be turned into AirPlay senders now. Here list top 3 free Airplay senders for Windows 10/8.1/8/7 PC and Mac OS , surely you can find the best free AirPlay sender that suits you the most!
5KPlayer - Best Free AirPlay Sender and Receiver
5KPlayer from DearMob is the No.1 free Airplay sender and receiver for PC/Mac by virtue of streaming video in MP4, MOV, M4V and Music in MP3 from iPhone/iPad to Mac and Windows 10/8.1/8/7 PC as well as streaming media from Mac/PC towards Apple TV wirelessly and totally FREE.

What are the Top 3 Free AirPlay Senders for PC and Mac?
There are a lot of AirPlay receivers available in the market, but not much free AirPlay senders. According to built-in AirPlay function and easy accessibility of those free AirPlay senders, here are a few summarizes about the selected top 3 free AirPlay senders from the not so long list.
Top Free AirPlay Sender 1 — 5KPlayer
As a new Free AirPlay sender, DearMob 5KPlayer was just being added to the free Airplay senders list. It is an HD media player launched by DearMob, Inc. in January 2015 and since then achieved quite good comments from the users because it works perfectly as both AirPlayer sender and receiver on Mac OS and Windows 10/8.1/8/7 PC perfectly. So to speak, besides AirPlay AVI, MKV, FLV from and to any AirPlay enabled devices and apps, it also supports AirPlay freely from and to every device that equipped with 5KPlayer. Such as streaming media from iPhone/iPad/iPod to Mac and PC as well as AirPlay from Android to Apple TV.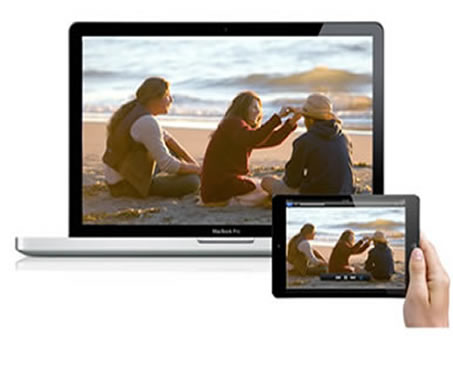 Top Free AirPlay Sender 2 — Kodi
Kodi (formerly known as XBMC) is a free and open-source media player software and entertainment hub developed by the XBMC Foudation. It can be installed on Linux, OSX, Windows, iOS and Android. Since version 11, kodi has become an AirPlay target, allowing any device/platform that can run XBMC to receive AirPlay content from an iOS or iTunes source. But as a free AirPlay sender, it can only stream audio from Apple TV 2 to AirPlay speakers. Luckily Kodi is updated somewhat regularly, the current stable version is 14.1, and surely it will work as a free AirPlay sender on more devices with more stability.
Top Free AirPlay Sender 3 — Elmedia Player from Eltima
A super versatile AirPlay sender is Elmedia Player from Eltima. For as long as you install this program and connect iPhone to computer with Elmedia Player, you can AirPlay videos in pretty much any format except for VIDEO_TS, EXE, and SWF from computer to AirPlay devices. With Eltima's product lineup maining focusing on Mac-based programs, you may rest assured with Elmedia Player to stream videos.
Top Free AirPlay Sender 4 — AirPlayit
AirPlayit is a powerful, yet easy to use free AirPlay sender developed by Digiarty Sofware in 2012. It is a video audio streaming software designed to stream videos audios to iPhone, iPad, iPod touch and Google Android OS mobile devices. AirPlayit helps Mac users free AirPlay multimedia data from Mac to various mobile devices and support Airplay from Android to Apple TV. However, it remains version 2.0 and stopped updating for the last two years for some reason.
Guides on How to AirPlay with 5KPlayer
With DearMob 5KPlayer, you can stream video & audio over AirPlay to nearly any devices in your house: Mac, PC, Apple TV, iPhone, iPad, Android and speakers. For a quick look of how this free AirPlay sender works, see the guidance below.
Step 1: Free download 5KPlayer on your Mac/PC (if you haven't already).
Step 2: Launch the free AirPlay sender and then click the "AirPlay" icon on the top right corner. The icon will turn to red if you successfully enabled the AirPlay function. And then choose the AirPlay receiver from the appeared menu.
Note:Do make sure the AirPlay receivers are connected on the same WiFi as AirPlay sender.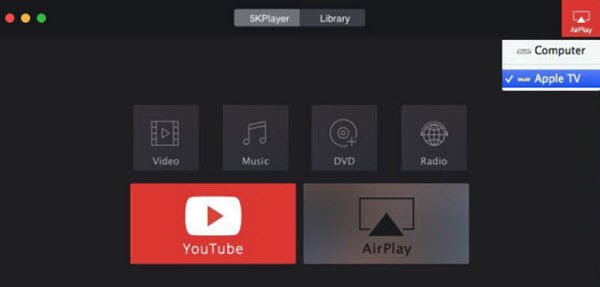 DearMob 5KPlayer comes out with very strong ability, armed with features like video audio playing, online video downloading free from Dailymotion, Facabook in MP4, AVI, MKV, ect. and AirPlay sending and receiving, which cool features make it one of the top competitive free AirPlay senders to share video on larger screen support Airplay mirroring without quality loss so as to create the ultimate entertaining environment. Free Download this top Airplay sender now to get your media streamed in the way you want! And you can also take a look at the top 3 AirPlay receivers: 5KPlayer VS X Mirage VS AirServer for reference if you want to have a decent AirPlay reserver as well.
Related Articles
[Solved] AirPlay 2 Not WorkingGetting a first hand on Apple AirPlay 2 can be full of AirPlay 2 not working errors. This page collects all sorted problems.
Play RTSP Stream on Windows 10 & MacWe list out top best free RTSP players to help you play RTSP streaming and view RTSP streams of IP cameras on computer.
Beamer for Windows 10/8/7 PCLooking for Beamer for Windows 7/10? This program that can AirPlay MKV MP4 AVI to TV is a free alternative to Beamer Windows.
Home | About | Contact Us | News | Privacy Policy | Agreement | Site Map
Copyright © 2023 Digiarty Software, Inc. All Rights Reserved.
5KPlayer & DearMob are brands of Digiarty Software, Inc. Any third party product names and trademarks used in this website are property of their respective owners. All the related logos and images, including but not limited to Apple's AirPlay®, Apple TV®, iPhone®, iPod®, iPad®, iTunes® and Mac® are registered trademarks of their own. Digiarty is not owned by or affiliated with Apple Inc. and any of those companies.