Now, Get Ready to Play 4K Videos Music Easily with 5KPlayer
5KPlayer is an easy free 4K video player that even kids and the elderly can use it to play MP4, MKV, AVI, WMV, MOV, etc videos and MP3 AAC FLAC music on computer without troubles. In favor of the 64-bit version on Mac and Windows 10, it is also a hardware-accelerated 4K media player capable of playing highly-compressed 4K, H.264 8K and 10bit HEVC/HDR videos in blazing fast speed with original qualities remained. Just drag and drop your media files to this multimedia player, it starts playing immediately.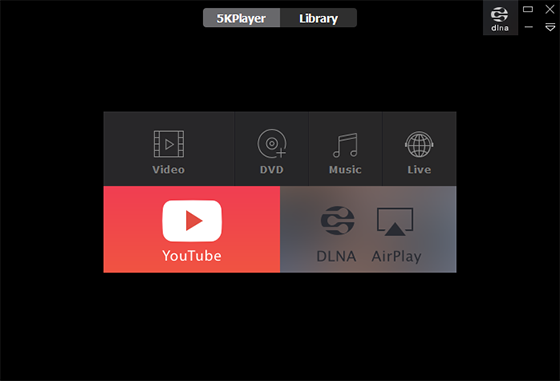 Step 1. Download this best free video music player on your Windows or Mac computer, install and launch it.
Step 2. Play your videos or music with 5KPlayer. When playing different media files, 5KPlayer offers the quickest yet easiest way to open your file.
● If you simply want to play videos or music from your computer, you can:
1. Drag'n drop the video or music to 5KPlayer to play.
2. Click on the "Video" or "Music" icon on the main UI of 5KPlayer to add files to play.
3. Right-click on the media to choose 5KPlayer to open it.
4. Set 5KPlayer as your default media player first and then double-click on the video or music to play.
● If you need to play highly-compressed 4K/8K videos smoothly, you can use 5KPlayer's Hardware Acceleration tech.
After opening a video, right-click on the playing window to choose "Hardware acceleration". Then, check the hardware information of your computer and choose the way you like to help fast decode the 4K/8K video in H.264 or HEVC.
● Playing 360° videos with 5KPlayer is also as easy as ABC.
Drag and drop a 360 degree video to 5KPlayer and click on the "360° Playback" option to activate 360° playback. Choose 360°, 180° SBS or 180° T-B mode and then drag your mouse to pan around your 360° video from top to bottom or side by side.
● If you want to cut video during playback, you can just click on the "scissors"

icon on the playback bar of 5KPlayer to access the video cut window.
Notice: You can also right-click on the video you are playing to enable advanced settings like sync video audio, add subtitles, adjust playback speed, set aspect ratio, and more.