How to Update Windows Media Player to Version 12 Manually?
If your have the problem of playing MP4 on Windows Media Player, or adding subtitles problems, the first solution is to update the Media Player on the latest version, you may check for updates and if not, you may want to update Media Player on Windows 10 manually just by following the above steps.
Step 1: Click the start button of your Windows 10 PC.
Step 2: Click on All Program and find Windows Media Player, click on it.
Step 3: Now you have launched Windows Media Player on your Windows 10, find the help button in the menu bar to check for the Media Player updates.
Note: If the tool bar is not showing on the interface of Windows Media Player for Windows 10, just right click the windows and choose to show menu bar.
Step 4: Click on "Check for updates" to see what version of Media Player are you on and then continue to finish Media Player updates for Windows 10.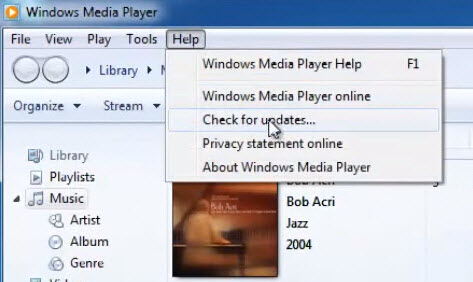 And if you want to set your media player to be updated automatically, you have to go through the following settings:
★ Go to Organize => Choose Options => Click on Player => You can choose to automatically update Media Player once a day, once a week or once a month => Tap OK and you have set your media player to be automatically updated.
Another Tip: make sure you have logged into the media player account or you have accessed microsoft before taking the Media Player updates
Now you have updated to Windows Media Player version 12, let's learn about the new features of updated Media Player for Windows 10.
1. Media Player version 12 plays more music and video than the previous version, including Flip video and unprotected songs from iTunes library.
2. Sync media files to a portable device like iPhone/iPod/Android so you can enjoy music or movie on the go.
However, Windows media player still can't play DVD in Windows 10 and Windows 8.1, and you also have to install MKV Media Player codec pack to be able to play MKV files. Want to download the best DVD player for Windows 10? Update your Media Player to 5KPlayer - the best alternative media player for Windows 10 now!