How to AirPlay PC to Apple TV Video Music?
Written by Kaylee Wood | Last update: April 28, 2020
AirPlay PC to Apple TV best tool here. Now Windows PC users can employ the brilliant Apple TV 4 tvOS 2 to AirPlay video movies with razor sharp image and ultra clear sound. Every little surprise of Windows AirPlay streaming, be it wireless projecting, receiving or mirroring, is now at service for PC users to AirPlay PC videos music to Apple TV, AirPlay from Windows 10 is also available now! Now take a look at this guide on AirPlay for Windows and learn how to set it up right now!
AirPlay Windows PC to Apple TV
5KPlayer is the best choice to AirPlay mirroring Windows PC to Apple TV. Once installed, it takes every image to stream from PC to Apple TV, and everything in PC speakers to Apple TV, no wires or adapter needed, 4K HDR supported and every pixel presented, click to free download it!

What Do I Need to AirPlay from PC to Apple TV 4/3/2?
Because AirPlay for Windows technology was based on iOS devices and Mac to stream .mov, .mp4, .m4v, videos to Apple TV since its debut, it takes external help to enable AirPlay on PC. By and large, since Windows 10 upgrade, quite a few independent software supporting AirPlay for Windows PC to Apple TV emerged, but were quickly banned, causing huge inconvenience to users, thus generating the demand for a stable, solid and up-to-date AirPlay for Windows 10 tool/8/7 from PC to Apple TV 4.
Bulit-in AirPlay for Windows 10 Renders Permanently Stable AirPlay Windows to Apple TV 4
5KPlayer able to working with AirPlay 2 is the best choice to AirPlay Windows PC outshines bunches of alternatives!

Hired built-in Bonjour Protocol to stream .mov, .mp4, .m4v videos and .mp3, .aac music to Apple TV, which is exactly how Apple turns its iPhone (SE/6s/6s Plus), iPad Pro and Mac into AirPlay senders — Its built-in AirPlay for Windows PC to Apple TV 4 remains permanently reliable and secure.


Certainly here's other surprise! Your PC powered with Windows 7/8/10 is now able to receive video music from iPad/iPhone as competent as Mac (macOS Sierra). Even more strikingly, this best free AirPlay for Windows PC tool leverages your viewing experience by enabling Apple TV Mirroring from PC.
AirPlay Windows to Apple TV 4 tvOS 2 & Hold to Facebook Chat Simultaneously
Turn on this best free AirPlay sender to project the ongoing movie from Windows (Windows 10 included) to Apple TV, then users can simultaneously respond to a Facebook message, pick up a Line call without the playback area being blocked.
Now you can type an new e-mail or process a photo on Windows PC without missing a single dialogue on the spacious Apple TV screen and robust AirPlay speakers.

AirPlay Windows: Support MKV, AVI, WMV and More from PC to Apple TV 4
Considering your media collection may include .mkv, .avi, .divx videos and .ogg, .wmv music, etc. which AirPlay won't recognize natively. 5KPlayer features one-click conversion to convert video to MP3, or change the video format so that they can go from PC to Apple TV 4 without choke.
AirPlay Windows technology itself, be it AirPlay from Windows PC to Apple TV, or from Mac, iPhone SE/6s/6s Plus/7/8/X, iPad/iPad Pro to HDTV, supports only 5 media formats: namely .mp4, .mov, .m4v videos and .mp3, .aac music. Fitting into this drawback is the best video converter software for Mac and PC to convert the old video clips into AirPlay supported format which are otherwise impossible for Apple TV to recognize.
AirPlay 4K Content from Windows to Apple TV 4
5KPlayer's AirPlay Windows to Apple TV function can go up to 4K content. For most AirPlay servers on Windows, 4K streaming places higher demand than they can load. However, 5KPlayer has the tagline function to play 4K content via Apple TV 4 without choke and support 5.1 Surround Sound AirPlay altogether, because HD streaming of 5KPlayer is based on its built-in HEVC H.265 streaming technology.
Video Music AirPlay from Windows PC to Apple TV 4: Tutorial
Download 5KPlayer for Windows PC or Mac, install and launch it. This best free AirPlay for Windows free tool can replicate your video collection from PC to Apple TV fairly the precision of reality. Apart from that, it can enable your computer to receive videos music from iPhone/iPad/iPad Pro.
Step 1: Connect computer and TV to the same Wi-Fi before you start to AirPlay.
Step 2: Tap the AirPlay icon on the top right of 5KPlayer, choose Apple TV name to enable AirPlay.
Note: Please confirm before you use AirPlay from PC to Apple TV, that two devices should connect to the same Wi-Fi or Ethernet.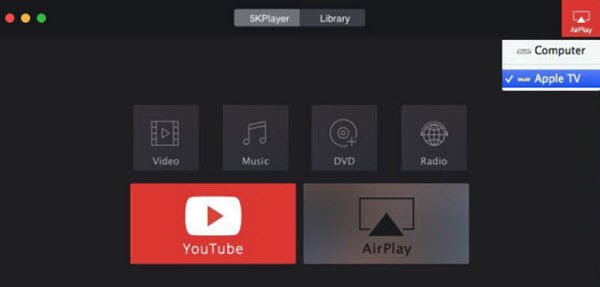 This highly-integrated AirPlay Windows tool from PC to Apple TV maintains the original stability of AirPlay to Apple TV for PC users. Windows PC users wouldn't have to worry about whether the upgrade to Windows 10 may hamper the AirPlay Windows 8 to Apple TV utility, because 5KPlayer solves the incompatible problem all from the roots. With its built-in Bonjour Protocol, this AirPlay for Windows free tool also realizes AirPlay to PC from iPhone or iPad/iPad Pro, and you can rely on it to set up AirPlay Mirroring from iPhone to Mac/PC. This intelligent helper abounds in another useful trick — it helps you to enrich the old media rig by downloading videos online free of charge.
Related Articles
6 Ways of Screen Mirroring PC to HDTV 2023An introduction on 6 ways to achieve screen mirroring PC to TV. Use the most state-of-the-art gadgets that can achieve screen mirroring Windows 10. Find out how to mirror PC to TV in the easiest manner.
Top 3 Free PC AirPlay Receivers DownloadInstall a PC AirPlay Receiver on your computer, and you can turn a Windows 10 PC into an AirPlay receiver for video, music, movies. This page offers top 3 free PC AirPlay receivers download to stream MP4 MOV MP3 from iPhone 7 (Plus), iPad iOS 10 to PC powered with Windows 10/8/7.
How to AirPlay iPhone 11, 11 Pro and 11 Pro Max?Just got your new iPhone 11? How to use AirPlay on iPhone 11? This guide will try to give detailed steps to teach you AirPlay iPhone 11 video music and AirPlay mirroring iPhone 11 screen to TV, Mac and Windows.
Home | About | Contact Us | News | Privacy Policy | Agreement | Site Map
Copyright © 2023 Digiarty Software, Inc. All Rights Reserved.
5KPlayer & DearMob are brands of Digiarty Software, Inc. Any third party product names and trademarks used in this website are property of their respective owners. All the related logos and images, including but not limited to Apple's AirPlay®, Apple TV®, iPhone®, iPod®, iPad®, iTunes® and Mac® are registered trademarks of their own. Digiarty is not owned by or affiliated with Apple Inc. and any of those companies.