RealPlayer Downloader Alternative Solves RealPlayer Not Working Problem
Written by Kaylee Wood | Last updated: April 29, 2020
To solve RealPlayer downloader not working problem, if you have to change to another browser instead of your habitual one, clarify a bunch of setting of the toolbar, or even give up downloading the videos that RealPlayer downloader manager unable to download, why don't you free download this best RealPlayer downloader alternative which not only enables you to free download music movies and short videos from over 300 online streaming sites including Dailymotion, Vine, Instagram, etc, but also absolutely trouble free that gives you a more pleasant videos download experience.
[Warning] YouTube music & copyright-protected contents are not supported for download.
Best RealPlayer Downloader Alternative Download Online Videos Free
As the best free RealPlayer downloader alternative, 5KPlayer is a must have video downloader program for your Mac and PC, except the fact that this RealPlayer downloader alternative keeps better video quality than RealPlayer downloader, it also a saver to solve RealPlayer downloader not working problems.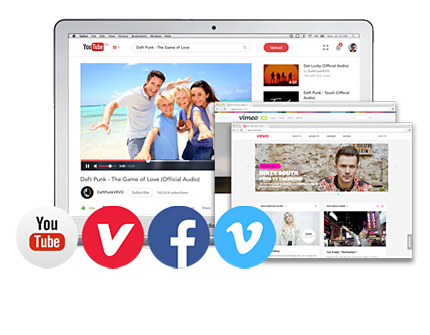 Why Free RealPlayer Downloader Alternative Is Needed?
"Any alternative software of RealPlayer and RealPlayer downloader? RealPlayer looks gross and so clumsy and sometimes the RealPlayer downloader is not working. "
Problems of RealPlayer downloader not working:
1. "If your download consists only of an ad or just a few seconds of the video with RealPlayer downloader, then the video is not available for download."
2. "RealPlayer downloader stopped appearing on Chrome, Firefox. I reinstalled the latest Real Player version (14.0.2.633) but still no joy."
3. "I installed RealPlayer downloader freeware to download any video appears on my chrome but whenever I try to download any video it starts downloading and crashes after some time. If I try to open a URL in RealPlayer it displays the same message that the RealPlayer downloader has stopped working."
4. "The videos do get downloaded, and can be viewed. The main problem is that simultaneous downloads of other videos are lost when the RealPlayer downloader freeware crashes when the first video in the download list reaches completion. Is there a solution or workaround?"
Still trying to solve the above problems of free RealPlayer downloader one by one? Why not try the ultimate solution of downloading the best free RealPlayer downloader alternative and solve RealPlayer downloader not working problems for good?
What Makes 5KPlayer Free RealPlayer Downloader Alternative Superior?
1. RealPlayer downloader alternative download videos, Dailymotion and Facebook and download seconds videos from Instagram and Vine which are famous for streaming funny short videos shot by artists and general individuals. You can download short videos and make a mash-up or gif just for fun or share to your friends.
2. RealPlayer downloader alternative download videos in 8K, 5K, 4K, etc. and keeps the original quality. Downloading videos in ultra high definition not only requires high performance hardware but also needs a rigorous video downloader. This RealPlayer downloader alternative is such an online video downloader to guarantee you a swift and smooth 8K video download experience.
3. RealPlayer downloader alternative is not only an online video downloader that download video of MP4, MPEG, MKV, AVI, etc. but also download music audio of MP3, AAC, AC3, FLAC , etc. it can also download video to MP3 directly save both video and music.
4. RealPlayer downloader alternative is simpler in use without any restrictions, simply press YouTube Download button, enter the URL of the video and press analyze button which enables you to download videos directly by analyzing the URL. Of course, when one makes it audio files can be also downloaded as an audio file as well.
How to Free Download Videos with RealPlayer Downloader Alternative
In order to download videos without quality loss, free download and launch this free RealPlayer downloader alternative – 5KPlayer on your Mac or PC first.
Step 1: Locate the target video.
Find your target videos on Dailymotion, Metacafe, Facebook and other 300 more online video sites by using any browsers: Chrome, Internet Explorer, Firefox, etc.
Step 2: Copy & Paste the URL to RealPlayer downloader alternative.
Copy the URL of the target video or video playlist and then click the "Copy & Paste URL" button on the downloading panel of RealPlayer downloader alternative.
Step 3: Start to download the video with free RealPlayer downloader alternative.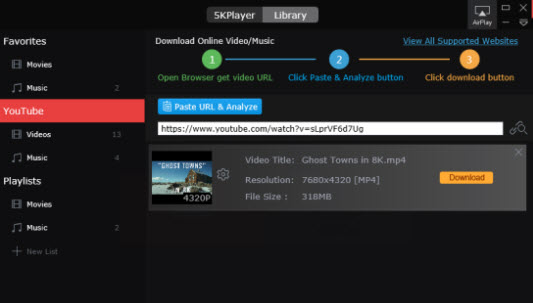 The detailed information will show below the address bar after finished analyzing, you are free to choose the definition and format of the video you want to choose, once it done, hit "Download".
Note: After you have successfully downloaded the video with RealPlayer video downloader alternative, you can either click it to play the video directly with 5KPlayer to watch the video or convert it to MP3 if you just want to listen to free music or movie soundtrack. By the way, this best RealPlayer downloader can make your Windows PC be compatible with Apple TV and AirPlay videos music from PC to Apple TV, now you can enjoy watching videos and movie on TV with this RealPlayer downloader alternative as well!
Home | About | Contact Us | News | Privacy Policy | Agreement | Site Map
Copyright © 2023 Digiarty Software, Inc. All Rights Reserved.
5KPlayer & DearMob are brands of Digiarty Software, Inc. All other products or name brands are trademarks of their respective holders. All logos, trademarks and images relating to other companies that may be contained wherein are applied in the Internet that are not used for commercial use. Digiarty's software is not developed by or affiliated with such companies.