Top Free MOV Player | How to Play MOV Files on Windows/Mac
This article aims to introduce a great free MOV player which can play . MOV files on a broad range of operating systems like Windows 10 and Mac (OS Sierra), Windows XP, Windows 7 and Windows 8. This well-received MOV file player 5KPlayer is equal to play MOV movies downloaded from the internet, MOV videos recorded by cameras or from other channels. It lets you play MOV files at any video resolution without fuss, say, 1920 x 1080, 4096 x 2160.
How to Play .MOV Files with a Free MOV Player?
You need to use 5KPlayer to play different kinds of MOV files on Windows 10 and Mac OS/iMac/MacBook. As a downright compact .MOV player without a dime, it is completely clean coming with no plug-ins, no ads, no viruses, no Trojans, no malware. And no additional codecs are required.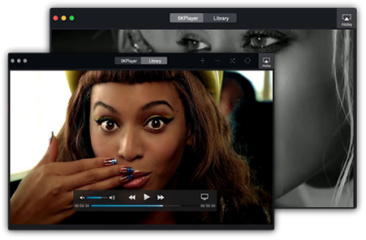 A common situation is when we intend to play a media file such as a MOV video file with our current multimedia player but fail. Maybe, it happens due to data corruption. But in most cases, it results from compatibility issue. If you have difficulty finding a MOV player to play MOV files no matter on Windows 10 PC or Mac, here you can get the ultimate solution to fix this - 5KPlayer is a top-notch free MOV player for both Windows and Mac OS you shouldn't miss.
What is .MOV and How to Play?
MOV format is a QuickTime media container format, developed by Apple Computer Inc. It is natively supported by such MOV file players as QuickTime Player. Yet despite all that, some MOV files cannot be played in QuickTime Player casually. MOV is a multimedia container format that can include one or more tracks, each of which stores a particular type of data: audio, video, effects, or text (e.g. for subtitles). Thus, QuickTime may have trouble to process all MOV files successfully.
Compared with Mac users, Windows users make MOV playing much harder. MOV isn't accepted by Windows Media Player, except for Windows Media Player 12. If you believe that you only need to download Windows Media Player 12 for MOV playback on Windows, you are totally wrong. This is because Windows Media Player 12 is only available for Windows 7 and later. If you are working on older versions like Windows XP, you are highly recommended to try 5KPlayer.
Best Free MOV File Player Recommended– 5KPlayer
5KPlayer is a lightweight standalone free media player designed to play MOV files movies videos, MP4, AVI, WMV, MKV and so much more file types on old or new Windows and Mac operation systems. Unlike some free MOV players, 5KPlayer never bundles with unwanted programs, viruses or other unfriendly stuffs. It is able to play MOV and other multimedia files without any glitches. And it is also a good option to play HD MOV videos including 4K UHD MOV files without video-audio sync issue or other problems.
Note: 5KPlayer is not just a free MOV player. It is an all-in-one video music player available to play MKV, MP4, WMV, AVI, FLV and other video formats. And it is also the ultimate solution to free play 4K UHD videos smoothly. It can also help play DVDs, listen to online radios like BBC, free download online videos songs from 300+ sites including YouTube, Vevo, Vimeo, DailyMotion and Facebook, and free stream video audio to Apple TV with built-in AirPlay receiver and AirPlay sender.