2020 Top 5 Best Media Players for Windows 10 Review
Posted by Kaylee Wood | Last update: April 28, 2020
Still whining about that Windows Media Player has been shown the door of Windows 10 OS? Still pissed off that Windows Media center was no longer part of Windows? Don't be vexed, cuz the 2020 top 5 free media players for Windows 10 will be introduced in this article, you just need to take a deep look into this review and find out which Windows 10 media player is the best to manage and play your media files on your Microsoft Windows 10 PC in 2020.

5KPlayer User Exclusive Offer! [$29.95] - for Video Editing & DVD Ripping
Download Best Free Media Player for Windows 10 in 2020
As the No.1 media player Windows 10 download on Softonic, 5KPlayer is the best extremely compatible media player not only because it plays all kinds of video and music without any plug-ins, but also because it is multifunctional, ultra clean, simple and fast.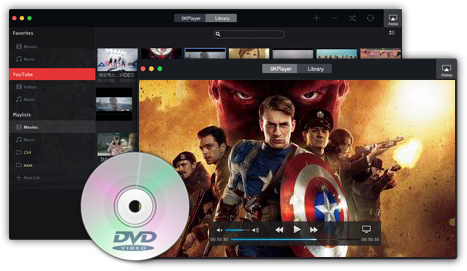 Windows 10: Features, How to Update & More >>
Like Windows 8, no media player app comes with Windows 10 (except for iTunes and alternatives for Windows 10). It incorporates the separate X-Music Box and X-Video Box to support the latest entertainment option. But they got a lot of users complaining about the service and they aren't cheap.
The good news is, online media streaming solution can be relied on Netflix/Hulu and Movies Anywhere for Windows 10 that can centralize the far-flung streaming films and purchased movies. Whereas, local movie playback solution is still not as clear. Trying to find the best media player for Windows 10 besides Windows Media Player that is both versatile and free of charge? Let's jump right in!
How to choose a media player for windows 10?
There are so much media players and even most of them are free for you to use. Of course, the default media player, Windows Media Player is included in clean installs of Windows 10 as well as upgrades to Windows 10 from Windows 8.1 or Windows 7. However, we can find that Windows Media Player cannot meet our needs of video playback and that is why we are turning to look for a better player for Windows 10.
A good media player for Windows 10 should:
1. Free and secure to use
2. Support play DVDs
3. Built-in with codecs that do not included in Windows 10
4. Able to access high-res video files in large size
5. Have extra features to be your one-stop video playback solution
Top 5 Best Free Media Player for Windows 10 in 2020
1. 5KPlayer - The Exclusive Cross-Screen Windows 10 Media Player.
As the newest media player for Windows 10 among the rest, 5KPlayer does come with a slew of most up-to-date features including playing 8K ultra HD movies on windows 10 PC and iMac, hardware decoding 4K UHD videos, and AirPlay from Windows 10 to Apple TV or Mac. Yes, this best Windows 10 video player supports Apple's AirPlay technology and DLNA streaming which can stream media wirelessly instead of plugging a cable into your Windows 10 PC or tablets to beam your media files. This freeware is also one of the top Windows 10 4K video players which is designed to become the best Windows Media Player for Windows alternative that allows you to free:
If you are a diehard user who wants to find the most compatible media player for Windows 10, the answer is listed above. If it's possible, you can try them one by one to find out what do you want the most. The 5 media players for Windows 10 above are all have their own features, some are able to play DVDs on Windows 10 while the Windows Media Player is not designed for that, and some are willing to play all videos and music files you want to play, and some can even stream media files from phones to PC or PC to smart TV.
Judging from all the amazing features, 5KPlayer is no doubt the best media player for Windows 10. It is more than a powerful but free multimedia player, it also is a universal AirPlay/DLNA sender and receiver. With 5KPlayer installed, it can not only receive media from iPhone/iPad/iPad/Mac, but also stream media from Windows 10 to Mac and TV, or to another Windows PC. What's more, not sure if I mentioned, it is a free video downloader software for Windows 10 which totally supports download videos from 300+ online video sites, and 5KPlayer helps turn your Windows 10 PC device to a huge media library with a single media player. By the way, this single multimedia player - 5KPlayer also supports macOS Sierra, Mac El Capitan, Mavericks, Yosemite as well.
Related Articles
10 Incredible MKV Players for Windows 10 Free DownloadWhat are the top free Windows 10 MKV players? Here lists best 10 MKV players for Windows 10 to playback MKV files and solve various problems surrounding MKV playback. Check them out and free download your best choice of MKV player for Window 10.
Top 10 Best Music Players for Windows 10To expand your choices, top 10 music players for Windows 10 are listed here for you to free customize or replace the default Microsoft music player for Windows 10 -Groove Music. Play any music on Windows 10, discover new songs on Windows 10.
Fast Video Player Windows 10 Download - Video Player with Ultrafast Downloading SpeedDownload this fast video player, able to play videos effortlessly and download videos from YouTube, Vevo, Vimeo on Windows 10 and Mac with its accelerating kernel. Experience the non-stop multimedia experience with the fast video player for Windows 10/7/8.1.
Home | About | Contact Us | News | Privacy Policy | Agreement | Site Map
Copyright © 2020 Digiarty Software, Inc. All Rights Reserved.
5KPlayer & DearMob are brands of Digiarty Software, Inc. All other products or name brands are trademarks of their respective holders. All logos, trademarks and images relating to other companies that may be contained wherein are applied in the Internet that are not used for commercial use. Digiarty's software is not developed by or affiliated with such companies.