How to Play 4K UHD Videos on Computer? – via Free 4K Video Player
If your Windows or Mac computer is not that old, all you need to do is to choose a qualified 4K video player for Mac or Windows 10 to play 4K UHD videos. Though the concept of 4K has emerged for a quite long time, the demand for this type of video is increasing day by day. There are more and more 4K and UHD videos available online and offline in different forms, so the 4K UHD player should also be powerful enough to handle numbers of 4K videos.
Luckily, the Hardware Accelerated video player 5KPlayer is the most ideal one we found as of now for 4K UHD videos playback.
★ First praised feature of this free 4K video player is that it is in favor of Windows and Mac 64-bit, and thus it makes up for the deficiency of a 64-bit media player on a 64-bit computer. Then, it is able to take advantage of the 64-bit CPU and 64-bit operating system to help maximize the efficiency of the 4K video decoding process as much as possible on the high-end PC. Besides, the 5KPlayer 64-bit version could also handle H.264 8K and HEVC 10bit HDR highly compressed videos much more easily than before.
★ With native support for various video codecs including HEVC/H.265, H.264/AVC, Xvid, DivX, VP8, VP9, etc, 5KPlayer easily plays numbers of MP4, MKV, AVI, MOV, WMV, etc 4K UHD videos without external codec pack.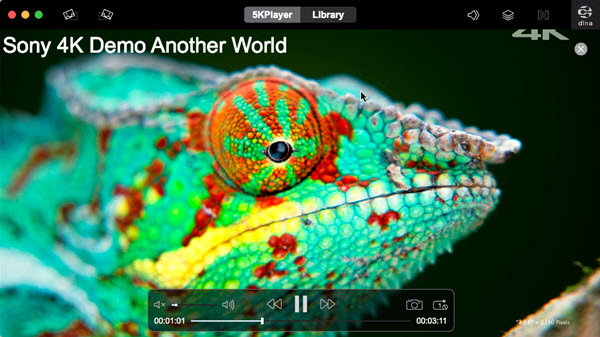 ★ Empowered by Hardware Decoding and Software Decoding tech, 5KPlayer can freely switch from a software player to a GPU-accelerated player to assign the 4K video decoding task to GPU and thus leave more CPU space for other processes. From 720p/1080p/1080i (MKV/MTS/MP4 etc) videos to 4K even 8K files, this free 4K UHD video player can render super smooth playback without glitches. Hardware Acceleration technology is quite useful when you are trying to play 4K UHD/HDR videos on computer no matter it is lower-power or in high configuration. From our experiment about hardware decoding vs. software decoding, turning on hardware acceleration on 5KPlayer helps play 4K videos successfully on lower-end computer and helps save 16% ~ 18% CPU usage on high-end computer obviously.
How to play steps: To play 4K UHD videos on computer with 5KPlayer, just free download this 4K video player on your computer, install and launch it. Then, you can simply drag'n drop your 4K UHD content to it to play or click on the Video icon on the main UI to choose a 4K file to play.