Free 4K Video Player - Best Way to Play 3840x2160 UHD Videos
By playing a 4K Ultra HD (UHD) video, we can see close-ups and minutiae, since the definition is far beyond what a human eye can tell, based on the resolving ability of the human eye (with 20/20 vision). But it is not easy to free play 4K UHD videos on Windows PC (generally, 4096x2160 or 3840x2160) and Mac OS/iMac/MacBook since a common video player has poor support for such super high definitions. You need the help of a powerful free 4K video player for Windows 10/Mac.
How to Choose a Free 4K Video Player to Play 4K UHD Media?
5KPlayer is just what you need for 4K 2160p media playing as it is tailored to ultra HD definition videos with high quality. As the best free 4K 5K video player for Windows 10/Mac, it plays any UHD videos without blemish. Download the clean Mac dmg or PC exe file now without any bundles.
>>> Watch video guide to download 4K videos online <<<
A Mac computer running OS X 10.9.3 or later is in compatibility with 4K video, some Windows 10 computers are also capable of playing 4K videos. But it is hard to reach the truly original resolution 3840x2160. Even worse, it may stumble, show abnormalities or crash during 4K UHD video play. But you should be clear, in the most likelihood, that it is not the problem of Mac or PC, but of the player!
5KPlayer is a free but professional and top-trending player software that is tailored to playing or downloading 4K resolution or other UHD videos and songs on Windows 10/Mac. Unlike other players that may take playing 4K UHD videos as a supplementary or niche function, 5KPlayer focuses on it. In other word, the 4K (HEVC) support is the priority and major selling point of this free HD video player software. Keeping updated with times, it has discarded the drawback of only playing videos or music in regular way traditionally players. It supports any resolutions.
Besides, the free 4K video player has at least the following strengths:
- Compatible with any video/audio codec on Windows 10/Mac;
- Helpful to realize playing 4K 2160p videos across different screens, making it easier to watch 4K content on big-screen TV before long, in addition to Apple TV, since Apple Inc. has authorized many 4K TV manufacturers. It will be possible to experience indoor better-than-Bluray Ultra HD home theater effect;
- Has HEVC decoder which supports the Main 10 profile at 4K at 120 fps;
- Capable of both downloading and playing (4K UHD) videos with built-in online video downloader for 300+ famous and marginal video websites.
It is to say, if you want to choose the best free 4K UHD video player for Windows 10/Mac and 4K video downloader, 5KPlayer is your ultimate choice.
5KPlayer New Year Exclusive Deals - Up to 80% Off Windows 10 DVD Video Software Promo
Get WinX DVD Video Software Pack for Windows 10 with 80% off discount to enjoy the most economical way to rip, backup DVDs, download, edit, merge, and AirPlay your Christmas videos on Windows 10 PC.
How to Free Play 4K UHD Videos with 5KPlayer?
5KPlayer, in modernized design, is gorgeous in looking and easy in use. With only a few clicks, your 4K 2160p video file can be played perfectly.
Step 1: Free download the best free 4K video player on your Mac or Windows 10. Install and open it. Click "5KPlayer" on the top, instead of "Library".
Step 2: Among the listed icons, choose the first one – "Video" and then open your local computer and add the source 4K file from your computer. 5KPlayer accepts any video formats, resolution and definition. Then it just plays the video directly.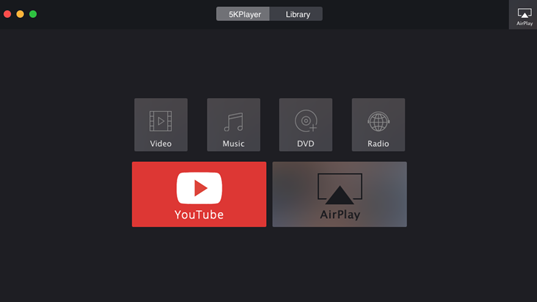 Note: In addition to free playing 4K/5K UHD videos and 1080p/720p HD videos, 5KPlayer, the best free music video player for Windows10/Mac impressively plays DVDs, while supporting, AVI, MP4, WMV, FLV, MTS, MKV playing as MKV player, and Flac MP3 AAC music formats as a MP3 player. Besides, it can free download online videos and songs from 300+ sites including YouTube, Vevo, Vimeo, DailyMotion and Facebook, and help free stream video audio to Apple TV with built-in AirPlay receiver and AirPlay sender.