Free 4K Video Player - Best Way to Play 3840x2160 UHD Videos
Posted by Kaylee Wood | Last update: April 28, 2020
By playing 4K Ultra HD (UHD) videos via 4K video player, we can see close-ups and minutiae, since the definition is far beyond what a human eye can tell, based on the resolving ability of the human eye (with 20/20 vision). But it is not easy to free play 4K UHD videos on Windows PC (generally, 4096x2160 or 3840x2160) and Mac OS/iMac/MacBook since a common video player has poor support for such super high definitions. Therefore, you need the help of a powerful free 4K video player for Windows 10/Mac.
Best Free 4K Video Player Download to Play 4K UHD Media
5KPlayer is just what you need for 4K 2160p media playing as it is tailored to ultra HD definition videos playback with high quality. As the best free 4K video player for Windows 10/Mac, it plays any UHD videos without blemish. Download the clean Mac .dmg or PC .exe file now without any bundles.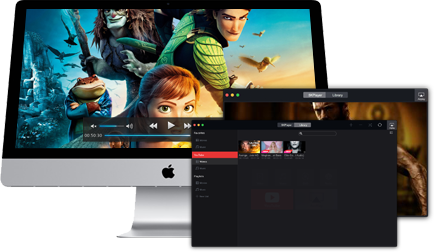 A Mac computer running OS X 10.9.3 or later is in compatibility with 4K video, some Windows 10 computers are also capable of playing 4K videos. But it is hard to reach the truly original resolution 3840x2160 on the display without a real 4K video player. Even worse, it may stumble, show abnormalities or crash during 4K UHD videos playback. But you should be clear, in the most likelihood, that it is not the problem of Mac or PC, but of the default media player!
5KPlayer is a free but professional and top-trending 4K media player software that is tailored to playing or downloading 4K resolution or other UHD videos and songs on Windows 10/Mac. Unlike other players that may take playing 4K UHD videos as a supplementary or niche function, 5KPlayer focuses on it. In other word, the 4K (HEVC/AVC) support is the priority and major selling point of this free 4K UHD video player software. Keeping updated with times, it has discarded the drawback of only playing videos or music in regular way traditionally players. It supports any resolutions.
Besides, the free 4K video player has at least the following strengths:
- Supports Hardware acceleration to boost high-res video decoding by utilizing the GPU acceleration from NVIDIA®, INTEL®, DXVA 2.0;
- Compatible with any video/audio codec on Windows 10/Mac including the HEVC and AVC;
- Helpful to realize playing 4K 2160p videos across different screens, making it easier to watch 4K content on big-screen TV before long, in addition to Apple TV, LG/Samsung/Sony TV, since they have authorized many 4K TV manufacturers. It will be possible to experience indoor better-than-Bluray Ultra HD home theater effect;
- Has HEVC decoder which supports the Main 10 profile at 4K at 120 fps;
- Play 4K 360-degree videos on Windows 10, supporting both 180-degree SBS and T-B modes;
- Support Apple Pro Display XDR for Mac Pro and 6K video playback from 6K cameras/camcorders;
- Capable of both downloading and playing (4K UHD) media with built-in online video downloader for 300+ famous and marginal video websites.
It is to say, if you want to choose the best free 4K UHD video player for Windows 10/Mac and 4K video downloader, 5KPlayer is your ultimate choice.
How to Download and Install Best Free 4K Video Player Full Version
The free 4K video player full version – 5KPlayer is available to free download on the official site and other popular freeware download sites like Softonic, Cnet, Majorgeeks, etc. You can also safe download this robust 4K media player for your Mac and Windows (10) on this page.
Step 1: Free download the best free 4K media player on your Mac or Windows 10. Install and open it. Click "5KPlayer" on the top, instead of "Library".
Step 2: Among the listed icons, choose the first one – "Video" and then open your local computer and add the source 4K file from your computer. This 4K video player accepts any video formats, resolution and definition even up to 8K. Then it just plays the video directly.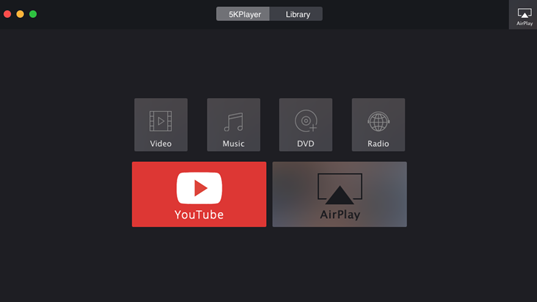 Note: In addition to free playing 4K/5K HDR videos and 1080p/720p HD videos, 5KPlayer, the best free 4K video player for Windows 10/Mac impressively plays DVDs, while also supporting, AVI, MP4, WMV, FLV, MTS, MKV, etc videos and Flac MP3 AAC music formats as a free music player. Besides, it can free download online videos and songs from 300+ sites including YouTube, Vevo, Vimeo, DailyMotion and Facebook, and help free stream video audio to smart TV with built-in DLNA streaming feature.
External Sources:
Download or Play 4k Videos on Windows and Mac for free: Here is what TricksNow.com thinks of the best 4K media player should be like -combining 4K video download with 4K video playback all together.
Home | About | Contact Us | News | Privacy Policy | Agreement | Site Map
Copyright © 2020 Digiarty Software, Inc. All Rights Reserved.
5KPlayer & DearMob are brands of Digiarty Software, Inc. All other products or name brands are trademarks of their respective holders. All logos, trademarks and images relating to other companies that may be contained wherein are applied in the Internet that are not used for commercial use. Digiarty's software is not developed by or affiliated with such companies.