Play DAV: DAV Player Free Download for Windows & Mac
Posted by Kaylee Wood | Last update: April 28, 2020
"Hi, I have a DAV file recorded by a CCTV system and I can't find a player to play it. Can someone please HELP???" --- By VinK from Yahoo Answer
"Does anyone know how to play a .dav file on your MacBook???" --- By Samuraiud from Apple Support Comminities
Still gripping about can't find a proper DAV player? Having tried VLC, Windows Media Player and QuickTime but with no luck? Just look at here! A free robust DAV file player is introduced to help you directly open/play any DAV files recorded by various CCTV cameras or digital radio recorders like DVR365, DVR-1600HP, etc.
5KPlayer - The Best Free DAV Player to Play & Convert DAV Files
To play DAV files on Windows 7, 8, 10 and Mac OS, you will need 5KPlayer - a professional .dav file player superior to Windows Media Player, VLC, QuickTime, etc. It's absolutely your key to smooth playback of 360-degree videos, DAV, DVR, MP4, AVI, MKV, MOV files in SD and HD. Featuring DXVA2, QSV, NVIDIA Hardware Acceleration technology, it also handles HD & UHD videos at ease.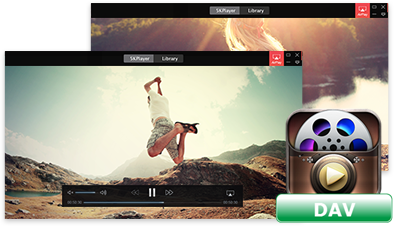 DAV Player - The Smartest Way to Open a DAV File
In order to play DAV files on your computer, you can resort to DAV file player, DAV converter or even video capture software. But, it is to be noted that using DAV converter or DAV video capture program is quite time-consuming as well as quality-killing. In this scenario, playing DAV files with a standalone DAV player is surely the most direct and smartest way! Now, let's take a look at the best DAV player-5KPlayer.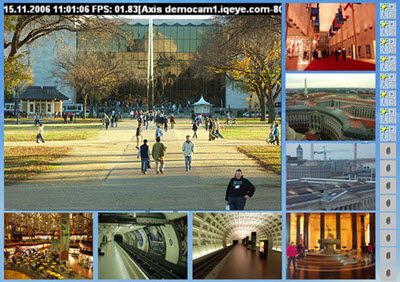 5KPlayer is a powerful media player which plays DAV files on both Windows 10/8/7 and Mac OS, no matter the original file is compressed with MPEG or H.264. Being the choice of over 1.6 million users around the world, this DAV player is embedded with 450+ video codecs and 180+ audio codecs, saving you the hassle of finding and downloading any codec pack. What's more remarkable is that this perfect DAV file player is totally free.
No ads, no malware, no spyware, no virus, no plug-ins, and no need of third-party tool! I bet no free DAV player is as flawless as this one. For DAV player free download, end your search here.
FYI, this CCTV DAV player plays DAV files from:
All the CCTV Cameras produced by Sony, Panasonic, Canon, JVC , etc.
All the digital video recorders (DVR) porduced by Panasonic, Samsung, TiVo, Razer, etc.
As a powerful DAV player software, 5KPlayer also integrates the DAV video converting function. See how to convert DAV to MP4/AVI/MOV by step.
Convert DAV video files to MP4, AVI, MOV, iPhone, iPad, Android, etc.
Step 1: Move your cursor to the DAV video file in 5KPlayer Library and you will see the "Convert" button with a drop-down arrow.
Step 2: Hit the arrow and select "convert to MP4" to activate 5KPlayer built in DAV video converter software.
Step 3: Choose the output format you want, such as MP4, AVI, MOV, iPhone, iPad, Android, etc.
Now, you can enjoy your DAV videos on your portable devices anywhere you like, bathroom, bedroom, subway, company...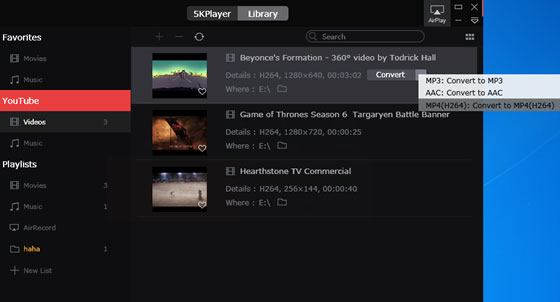 DAV files vs DAT files
As you can see from the spelling, DAV videos and DAT videos has only one different letter and people often mistake DAV for DAT. But truth is, they 2 are totally different video formats in real terms: For example, the DAV stands for Digital Video Record while DAT stands for all the VCDGear, Cyberlink PowerDirector created DAT videos. Fortunately, this DAV player - 5KPlayer is also a top-class DAT player that works for both Mac and Windows 10. So you don't have to worry either you use it to play DAV or DAT.
As an amazing DAV file player, 5KPlayer integrates the advantages of other media players and at the same time features its own unique functions, for example converting DAV file to AVI, MP4, FLV, WebM to upload to YouTube, downloading HD videos from Facebook, Vimeo and 300+ online sites, and streaming video music from Mac/PC to TV.
Home | About | Contact Us | News | Privacy Policy | Agreement | Site Map
Copyright © 2023 Digiarty Software, Inc. All Rights Reserved.
5KPlayer & DearMob are brands of Digiarty Software, Inc. All other products or name brands are trademarks of their respective holders. All logos, trademarks and images relating to other companies that may be contained wherein are applied in the Internet that are not used for commercial use. Digiarty's software is not developed by or affiliated with such companies.