Best Free HD Video Player - Play 1080p HD MKV M2TS Videos
Posted by Amanda Hu | Last updated: October 12, 2019
What player would cross your mind when you are on your way to watch a (1080p) high definition video? Likely to your great sorrow, the default HD video player software in your Windows PC or Mac disappoints you with the following issues:
- It stutters or crashes frequently when playing a 4GB movie;
- It does not support all video formats and does not open some encoded videos;
- The player with countless adjustable functions for advanced HD geeks is difficult for the inexperienced.
What a Qualified Free HD Video Player Will Do for You?
A qualified HD video player can make the image of your 1080p movie more crystal and the whole play process smoother. 5KPlayer is the best free HD video player for Windows 10/8.1/7/XP and Mac, which gets on definitely well with HD (720p, 1080i/1080p) and Ultra HD (4K, 5K and 8K) videos no matter they are in MKV, AVCHD (M2TS, MTS), TP, MPEG-TS, AVC, MOD or HD FLV formats.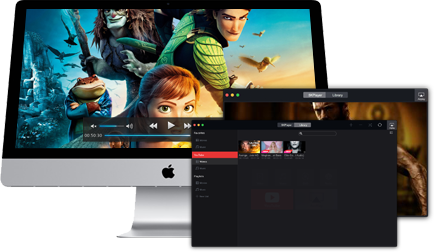 When referring to HD video, it has strict specifications. Generally, a 720 Progressive Scan video is 3-7G in size, while the size of 1080p video ranges from 5-15G. That is to say, any HD video file is larger than 5G. It is harder to find a good HD video player than a standard video player, because HD video has high requirement than the kernel architecture and processing ability of a player.
5KPlayer is the best alternative if you need a high-quality and all-in-one HD video player software for Mac or Windows OS. In the review of top 5 HD movie players, it proves suitable for any kind of computer display regardless of your hardware configuration or the maximum resolution of your display. With intelligent core, 5KPlayer deals with encoded HD videos with facility. It has large capacity (uncompressed) video playing system to be compatible with large sized HD/UHD video files. Specifically, it is a good free HD media player that seamlessly supports 4K video play, MKV video player and so on and so forth. Best of all, it is 100% free and clean.
How to Play an HD Video on Windows/Mac with 5KPlayer?
5KPlayer can play any HD videos on your PC or Mac. The following steps will show you how to play an HD video with 5KPlayer on Mac OS in an easiest way as an example:
Step 1. Free Download the HD Video Player on Mac
Download the best free 720/1080p HD (flv) video player on your iMac or MacBook. With extremely low CPU consumption, it only takes you a few seconds to download and install 5KPlayer. Then just launch it whenever you need to play an HD video.
Step 2. Add Any HD Video in 5KPlayer
By clicking the "Video" item on the UI of 5KPlayer, you can add any of your HD videos, browse on your computer, and click Open, and then get ready for playing. It supports traditional HD movie formats, HD media container formats, camcorder recordings and shootings, region coded DVDs, and HD Blu-ray videos with multiple audio and subtitle tracks.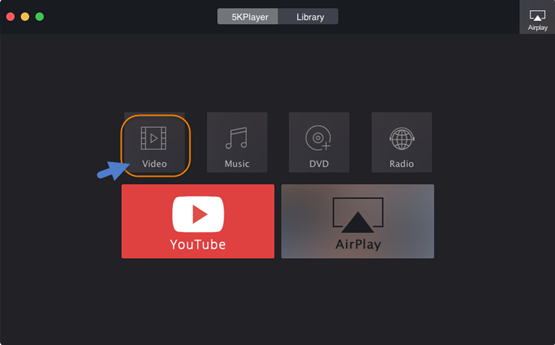 Note: As illustrated above, 5KPlayer is one of the best free HD 1080p video player programs for Mac/PC. But more than that, the free video music player plays MP4, AVI, flv, as well as plays MP3 music. More uniquely, 5KPlayer helps downloading online videos songs from 300+ sites including YouTube, Vevo, Vimeo, DailyMotion and Facebook, and help free stream video audio to Apple TV with built-in AirPlay receiver and AirPlay sender. You can also listen to internet radio and establish multimedia library.
Related Articles
Full HD Video Player for PC (Win 10) and Mac Free Download Free download the best full HD video player to play 1080p, 720p full HD videos in MKV, AVI, RMVB, VOB, MP4, M4V, etc. on your PC (Windows 10) and Mac (El Capitan).
Top Four HD 4K Media Players for Mac El Capitan Top 4 4K HD video players for Mac El Capitan are listed here to help you play WMV, FLV, MKV, rmvb and rm files on your Mac computer. Get the right HD video player for your Mac/iMac with 5K Retina display/Macbook Pro/Macbook Air.
Top 3 Free HD Video Players for Windows 7 Free Download Top 3 video players for windows 7 are recommended here, free download the best free HEVC video player for Windows 7 to play HD/4K videos movies on Windows 7/8/10 freely.