Best Free HD Video Player - Play 1080p HD MKV M2TS Videos
Posted by Kaylee Wood | Last update: May 18, 2021 | 5 Min Read
Which video player would be ideal to watch a (1080p/1080i or 720p) high definition video? If you're like me, finding the default HD video player on Windows 10 PC or Mac disappointing due to the following issues, the very HD player below may wipe out all your headaches once and for all!
- It stutters or crashes frequently when playing a 720p or 1080p/1080i HD video;
- It does not support all video formats and won't open HD videos in MKV, MTS, AVCHD, H.264, format etc;
Is there an HD video player for Windows 10/Mac to tackle all those wild and wonderous movies effortlessly? The brand-new 5KPlayer is the answer!
Download A Qualified Free HD Video Player for Windows 10/Mac
A qualified HD video player tweaks your best 1080p videos see-through and stunning. 5KPlayer is the best free HD video player for Windows 10/8.1/7/XP and Mac, which gets on definitely well with HD (720p, 1080i/1080p) and Ultra HD (4K, 5K and 8K) videos no matter they are in MP4, AV1, MKV, AVCHD (M2TS, MTS), TP, MPEG-TS, AVC, MOD or HD FLV formats. Now click to download it below : ↓↓↓
Features and The Prevalence of HD Videos
When referring to HD video, it has strict specifications. High-definition video is video of higher resolution and quality than standard-definition. And there are common high definition video (480P, 720P, 1080P) and ultra high definition video (4K, 5K, 8K). It is harder to find a good HD video player than a standard video player because when loading an HD video file, it demands high CPU capability of the device and also better processing ability of an HD player.
You acquire your HD video files in different ways, they could be those which you ripped from HD DVDs, or filmed with your high-end digital video camera, downloaded from video hosting sites, or even recorded with your HD video surveillance. So they could be in stored in various video containers and coded in different codecs, such as VOB, MP4, FLV, MKV, DAV, etc. HD video files are in need for a professional HD video player which could deliver the true high resolution, color fidelity, and acute frame rate to ensure that quality of the video output is beyond an acceptable standard for whatever purpose it is.
5KPlayer is the best choice if you need a high-quality and all-in-one HD video player software for Mac and for Windows OS. You can free download this full version HD video player to prove it is suitable for any kind of computer display regardless of your hardware configuration or the maximum resolution of your display. With intelligent core and GUP accelerated, 5KPlayer deals with encoded HD videos with facility. It has large capacity (uncompressed) video playing system to be compatible with large sized HD/UHD video files. Best of all, it is 100% safe and clean.
Top 4 HD Video Players 2021 Worth Downloading
5KPlayer – Elegant Free HD Video Player with AirPlay & DLNA Support
With even more elegant playing UI, no outline-frame, and salient capability to decode and playback 4K 1080p 1080i videos, this GUP accelerated HD media player - 5KPlayer can totally free your main processing unit from some heavy subtasks during any digital video playback - 360 degree video music, 3D movies. It uses DXVA2, NVIDIA, QSV, AMD H/W acceleration to activate IGPU for hardware decoding on Windows, Windows 10 included.
This HD player, once topped Softonic's front-page download chart, also handles HDR video playback as well as 4K Blu-ray videos, proving itself one of the best free media players in demand. If you are interested in big screen enjoyment on TV, it can also let you free download and stream HD videos to smart TV in a sec.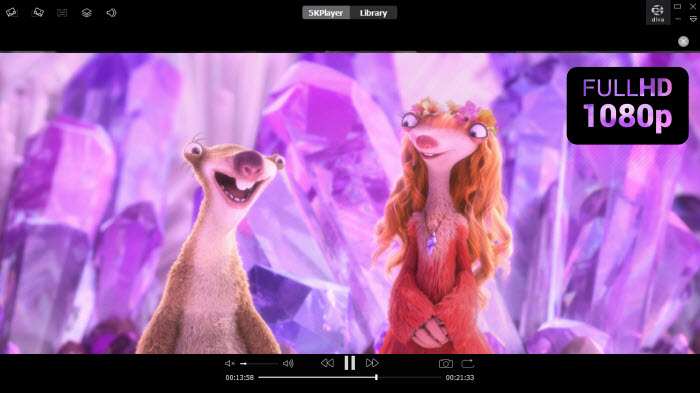 Top 5 HD Playback Features of 5KPlayer:
3D 360 degree 4K 8K video playback ability
4K 8K Video DLNA Streaming to smart TV
HD 4K 8K Video Download from 300+online Sites
iOS 14 4K Screen Recording
H/W accelerated decoding
UHD video editing – subtitle insertion, video rotate, video deinterlace, video cutting
However, at present, this HD video player does not support H/W acceleration on Mac, nor discrete GPU decoding, but these features will be added soon in the following updates.
VLC Media Player – Open-source HD Video Player for Advanced Users
The latest version of VLC supports both GPU decoding using VA-API VDPAU and discrete GPU decoding using nVidia, ATI, Intel. It also supports hardware acceleration on Windows and Mac so that you are not restricted to one place but can switch to any of these systems for smooth video playback. However, you may find hardware-accelerated decoding not working in VLC 2.2.2 sometimes. For instance, when you set the H/W acceleration to Automatic mode and open a MP4/WMV file, your GPU is not used while the CPU usage goes high (automatic is disabled in ver. 2.2.x). And when you set hardware acceleration to DXVA 2.0 and open a MP4/WMV file, VLC crashes immediately. It is confirmed that this problem will be settled in 3.3.x.
Enable GPU Accelerated Decoding in VLC 3.3.0-git Vetinari
Open VLC Media Player and click on Tools > Preferences or press Ctrl-P to open the settings window of the program. If you are using the simple settings interface, click on Input & Codecs on the left sidebar and check the Use GPU accelerated decoding box there.
Note: Choosing between Direct 3D11 Video Acceleration and DirectX Video Acceleration (DXVA) 2.0 in VLC 3.0.0-git Vetinari: for common HD video playback, the DXVA 2.0 is good enough to present a smooth enjoyment. However, when open a 3840*2160 4K 10-bit video, the CPU consumption goes all the way higher ranging from 70 to 90, which makes us wonder whether HW decoding is truly working.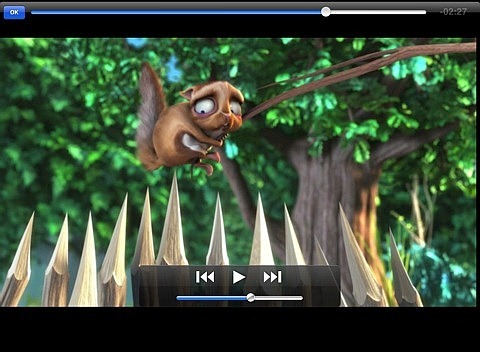 PowerDVD – Best Blu-ray DVD 4K HD Player
Shining with Big-Screen TV mode, TrueTheater image enhancement, 4K and 360 degree video support, this standard blu-ray HD player is capable of playback UHD 4K video on 4K screens. PowerDVD's great rendering ability can let you smoothly watch videos up to 120/240 fps. Besides visual quality, it also supports Dolby trueHD and DTS as well as lossless audio formats such as FLAC and DSD. It claims that its 4K dedicated hardware acceleration can result in an average reduction in CPU loading of 63 per cent, and prevents computers from stuttering.
However, TrueTheater functions will be disabled when hardware acceleration is activated. And this media player casting doesn't work with protected media. Displayed video from a phone is upside down on a 4K monitor during our test. Also, no matter how brilliant the software is, CyberLink's PowerDVD 15 starts at $59.95 which is not a free choice to make.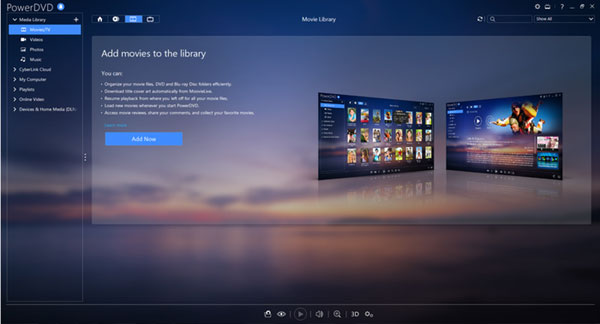 Media Player Classic - BE - Revamped HD Player Based on MPC-HC
Derived from the original MPC developed by Gabest, this big name HD player has also released Media Player Classic for Windows 10 and its Mac version for an increasing number of HD videos. Just like the straight-A 5KPlayer, this free program has its own DirectX Video Acceleration, helping users better able to play DVB-C, DVB-S, and more Digital TV video formats in 1080i API, as well as other mainstream formatted MKV, H.264, H.265, MP4, VP8 and VP9 videos in 720p, 1080p.
Technically speaking, MPC-BE proves to be an eligible HD video player worth downloading, yet we often come across complaints from users online, for example,
---- "Why am I seeing strange glitches in the 1080p VP9 video when playing it with Media Player Classic?"
If the same happens to you, chances are that hardware acceleration of MPC-BE is not working correctly. You may try & fix that by opening Options → Internal Filters, click > Video Decoder > Video Decoder check the video formats followed by >(DXVA)>, including H.264/AVC, HEVC, MPEG-2, VC-1, WMV3 and VP9 so as to drive fast-moving HD videos into high gear.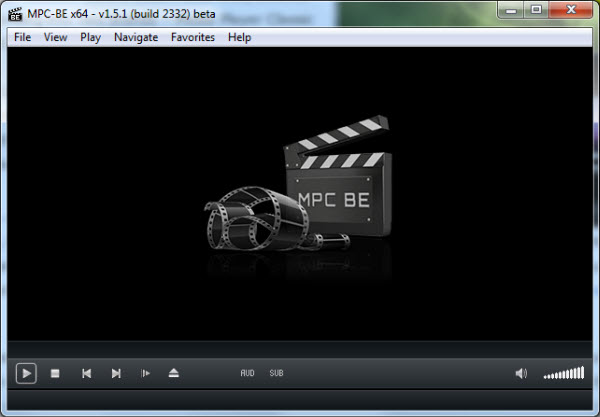 Table of Top 4 HD Video Players Worth Downloading
| | 5KPlayer | VLC Media Player | PowerDVD | MPC-BE |
| --- | --- | --- | --- | --- |
| Windows/Mac OS Support | Y | Y | Y | Windows Only |
| Free | Y | Y | $39.99 | Y |
| DVD Support | Y | Y | Y | Y |
| Hardware Accelerated Decoding | Y | Y | Y | Y |
| AirPlay | Y | N | N | N |
5KPlayer – The Superlative HD Player for Windows (10) & Mac

First praised feature of the HD player is surely its upcomging combination of Hardware Decoding tech and Software Decoding tech to assign some tasks to GPU and leave more CPU space for video movie playback. From 720p/1080p/1080i (MKV/MTS/MP4 etc) videos to 4K even 8K files, this free HD video player can render super smooth playback without glitches.

Supporting TrueTheater technology impeccably, 5KPlayer can also relive DVDs AVI FLV WMV movies etc in HD audiovisual effect by upscaling the video colors, contrast and brightness with DTS/Dolby multidimensional sound. Through automatically adajusting the video aspect ratio from WMV FLV AVI SD to MKV MP4 MTS HD to match the golden ratio of pupil, this HD video player will help you enjoy videos movies comfortably.

Ranking high in the list of HD video players on Softonic Download Chart with 70% positive reviews, 5KPlayer defeat other HD players by arming itself with video music download ability and DLNA function for HD streaming to TV in a unit.
How to Play HD MKV M2TS Video on Windows/Mac with 5KPlayer?
5KPlayer can play any HD MKV MTS M2TS video on your PC and Mac. The following steps will show you how to play an HD video with this HD video player in an easiest way:
Step 1. Free Download the HD Video Player
Free download 5KPlayer, install and run it on your computer. With extremely low CPU consumption, it only takes you a few seconds to download and install 5KPlayer. You can launch this lightweight HD player in sec whenever you need to play HD MKV MTS etc videos.
Step 2. Play HD MKV MTS Video in the Free HD Player
By clicking the "Video" item on the main UI of 5KPlayer, you can add any of your HD MKV MTS M2TS AVCHD videos, browser on your computer and then click Open to get ready for playing. It acts as a compatible HD video player supporting tradditional HD movie formats, HD media container formats, camcorder recordings and shootings, region coded DVds, and HD Blu-ray videos with multiple audio and subtitles tracks.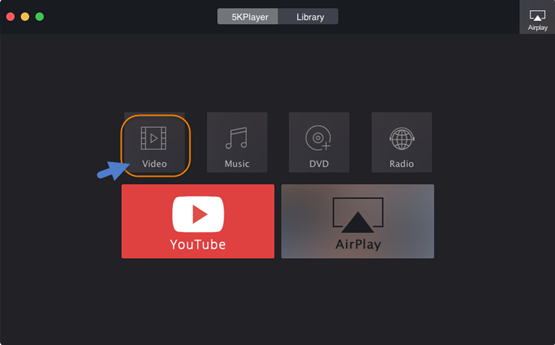 Step 3. Adjust the Progress
Once you open the video file with this HD video player, you are given an order to play the HD MKV MTS etc video. And 5KPlayer plays it immediately. You can control the playing progress by dragging the progress bar, pausing it or moving it forward/backward, control the volume or add subtitles to your HD 1080p 1080i 720p 4K videos movies at will. By right-clicking the UI of 5KPlayer, you can choose 5KPlayer Hardware Acceleration to improve the smooth playback when there is any lag or stutter of HD 1080p 1080i 720p and 4K videos.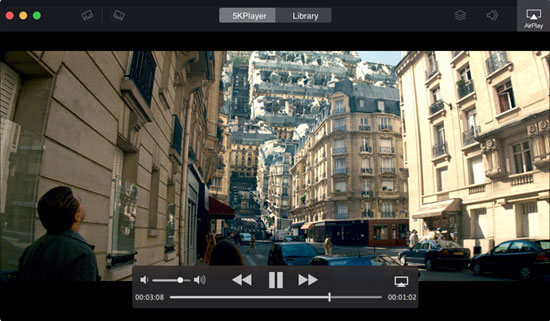 Step 4. De-interlace HD 1080i to 1080p with 5KPlayer
There are two basic ways to record and display a video image: Progressive scan (480p, 720p or 1080p) & Interlaced scan (480i or 1080i). Interlaced video can reduce the signal bandwidth to cut down the budget since more bandwith (progressive video) means a more expensive as well as complex system. But interlaced scan is more likely to cause blurring and flickering that will influence your viewing experience. So, you need HD video player 5KPlayer that can handle these two types of videos and deinterlace videos to render crystal clear images.
Deinterlace videos with 5KPlayer: Right-click the playing windows of 5KPlayer -> click Video -> click Deinterlace -> choose the deinterlace methods you need.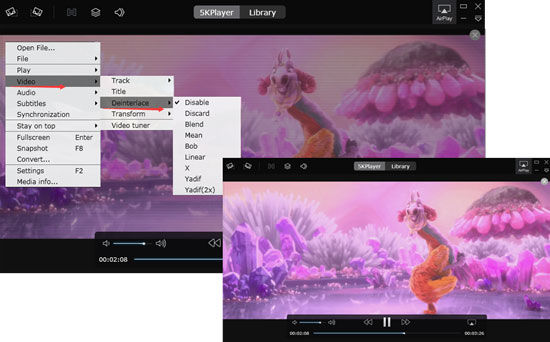 HD Video Formats Supported by 5KPlayer:
AVCHD (.m2ts, .mts), .mkv, AVC (.mp4), .mpg. mpeg, .ts, .mov, .wmv, .xwmv, .mod, .tod and the like.
The way of free playing an HD video file on Windows 10/7/8.1 is similar to that on Mac. Just make sure you've downloaded and installed the right edition for your OS before opening and playing the media.
Note: As illustrated above, 5KPlayer is one of the best free HD 1080p video player programs for Mac/PC. But more than that, it plays MP4, AVI, flv, as well as plays MP3 AAC FLAC music. More uniquely, 5KPlayer helps downloading online HD videos songs from 300+ sites including YouTube, Vevo, Vimeo, DailyMotion and Facebook, and help free stream video audio to smart TV with built-in DLNA sender. You can also listen to internet radio and establish multimedia library.