How-to Guide on Free 4K Streaming from PC/Mac to Apple TV
Since 4K streaming is growing as a big share of viewing and Netflix ensues to roll out a bunch of new encodes covering that matter, it is predictable that 4K streaming will be the star of next High-res stage. But how and where to get free 4K video streaming services? Searching for ways to have almost all the 4K/5K UHD videos and 1080p video clips or movies streamed from one device to another, like from Windows PC/Mac to Apple TV? Here, the all-in-one free 4K streaming player -5KPlayer can assist you in tackling these problems.
How Does 5KPlayer Offer 4K Video Streaming Services?
--Through AirPlay! If you are looking for a free 4k video streaming software to stream 4K movies like Unbroken, Hobbit series, or Starving Games series for free to a big UHD TV with great surround sound, don't hesitate to download 5KPlayer! If you want to stream those 4K films seamlessly and smoothly, don't hesitate to download 5KPlayer! If you desire to avoid any 4K streaming format problems, then again, don't hesitate to download 5KPlayer!

>>> Guide to 4K 8K UHD Videos Free Play/Download/AirPlay <<<
Highlights of 4K Streaming Free Software - 5KPlayer
First of all, the free 4K video streaming software -5KPlayer shines at, as its name suggests, high resolution, which allows the player to play not only videos of standard definition, HD and UHD videos like 4K/5K movies, but also even 8K movies in a smooth and seamless way.
The other design highlight of this 4K streaming freeware is that it supports AirPlay, which can then stream 4K videos from Windows PC/Mac to Apple TV 4, iPhone/iPad/iPod to Mac, Macbook air to Macbook pro, as well as iMac to Apple TV and AirPlay enabled speakers, freeing your 4K video display from one confined screen to another screen.
5KPlayer is also compatible with AirPlay enabled third party Apps like Spotify, Pandora, etc., empower your Mac/PC to receive the streams of free 4K videos from those APPs. Please do make sure that the videos you download are in formats like: MOV, MP4, M4V.
Last but not least, the 4K video streaming freeware 5KPlayer also enables users to AirPlay AVI, MKV, WMV, DIVX, FLV and all other popular video formats.
How to Get Free 4K Video Streaming Services from 5KPlayer?
Step 1: Download and launch this free 4K video streaming software. Remember to connect your iPad and computer to the same Wi-Fi network before the streaming process.
Step 2: Click AirPlay icon on the top right corner on the interface of this free 4K streaming player (5KPlayer) and a list of AirPlay video receivers will popup. Select Apple TV.
Note: The AirPlay icon on the 4K streaming freeware UI will turn red if the path is enabled.
Step 3: Drag and drop a 4K video for streaming onto the 5KPlayer interface.
This omnipotent free 4K video streaming software will start streaming your 4K video from PC/Mac to Apple TV and all you need to do is leaning back and enjoy the show. The whole free 4K streaming process is fast and seamless without a bit loss in image quality. And While the Mac/PC is carrying on 4k video streaming to Apple TV, you are free to do other things on your computer like online shopping etc. 
Note: Make sure the video format you choose for free 4K streaming works with AirPlay, since airplay now only supports audios in MP3, M4A, ACC and video in MOV, MP4, M4V. If not, for audio files, you can convert the file format to MP3 and ACC directly by 5KPlayer; but for video files, you may need a video converter to convert your videos first.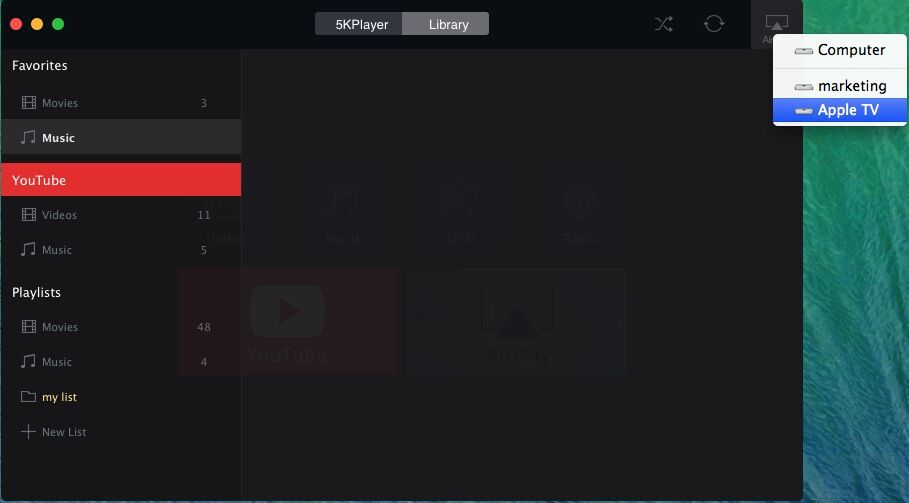 5kplayer, as a free 4K video streaming software, capacitates your Mac/PC to freely stream films and music and provides free 4K video streaming services, but it is far more than just a free 4K streaming player. It is an all-in-one cutting-edge media player that also caters for your other needs: free video download, supporting almost all audio/video formats. It's a must-have for your Mac and Windows PC!
Related Articles
3D Movie Streaming: Free Stream 3D Movies to HDTVFinding a free 3D movie streaming way to stream 3D movies to HDTV to have a theater effect at home? Here you could get the free film 3D streaming solution to stream 3D movies like Netflix 3D movies, YouTube 3D movies, VUDU 3D films, etc.
How to Watch UHD 4K Video via Apple TV 4?Bigger plans for Apple TV 4 without 4K streaming? It seems that 4k content streaming is the very place where Apple intends to drag its feet. Absent 4K streaming, will Apple TV 4 be able to play 4K videos and games? How to play 4K content via Apple TV 4? Your concern will be resolved here.
How to AirPlay from iPhone5/6/6S to Mac This tutorial will show you how to use AirPlay on iPhone 5/5s, iPhone 6/6plus to stream video and music to Mac.
Home | About | Contact Us | News | Privacy Policy | Site Map
Copyright © 2017 DearMob, Inc. All Rights Reserved.
AirPlay®, iPod®, iPhone®, iPad®, iTunes® and Mac® are trademarks of Apple Inc., registered in the U.S. and other countries. DearMob's 5KPlayer is not developed by or affiliated with Apple Inc.