Best 4K Video Player Mac to Play 4K UHD 4320p Videos
Posted by Amanda Hu | Last updated: October 12, 2019
Which piece of 4K video player Mac (macOS Catalina supported) software would be eligible enough to play 4K 4320p 2160p UHD videos that are terribly CPU-demanding? Which is the best 4K video player Macbook Air/Macbook Pro that can support your toughest 4K UHD videos? Now pick up your favorite from the list of 2020 top 5 4K players Mac.
2020 Best 4K Video Player Mac Download Free – 5KPlayer
Trendy in the era of 4K resolution is the top-class 5KPlayer – not only able to play 4K videos, 5KPlayer is most saliently as a comprehensive 4K video player Mac (macOS Catalina supported) to play 4K UHD videos, download 4K videos and render 4K streaming via DLNA, now check to download 2020 best 4K video player for Mac below: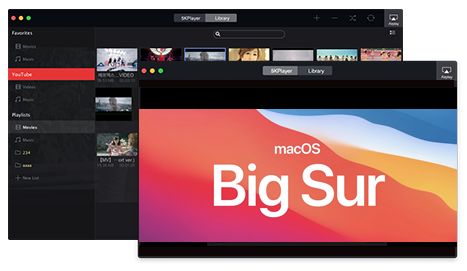 Speaking of the best 4K video player Mac, it's important that you choose a 4K player Mac with a comprehensive codec pack for macOS Mojave/Catalina – especially when you're switching from QuickTime video player whose format-range is relatively less comprehensive. 4K Ultra HD videos, or 4320p videos are often encoded in HEVC (H.265), H.264 codec, and shot with latest iPhone models, so you need the real 4K player for Mac to play them successfully.
1. 5KPlayer - Free 4K Video Player for Mac (macOS Catalina/Mojave)
5KPlayer is a free 4K video player Mac that's packed with top-trending 4K videos decoding packs. It adapts intuitively to the environment of macOS Catalina/Mojave/High Sierra/Sierra or earlier to play 4K UHD videos in MOV, MKV, MP4 and virtually any mainstream video format that you throw at it. In other words, 5KPlayer is designated for Mac as a UHD 4K video player – manifesting itself not only for superb ability to play high resolution videos, but also 4K videos in virtually any video format that you throw at it. Apart from being a free 4K video player Mac, 5KPlayer also serves to help in the following fields: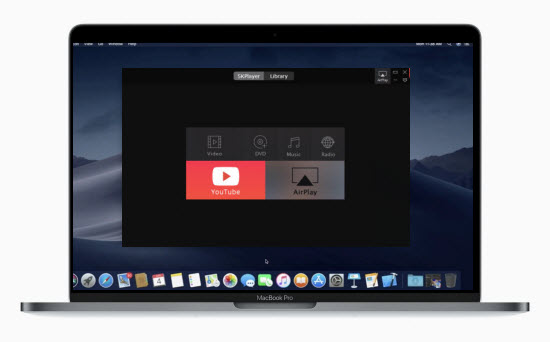 Wireless 4K Streaming
Use the 4K video player Mac Catalina as a DLNA controller, and you may wirelessly stream 4K videos from Mac computer to a DLNA-certified smart TV to enjoy the stunning 4K motion pictures to the fullest.
4K Videos Download
For a multi-purpose 4K player Mac, having the ability to directly download 4K videos from movie websites like YouTube, Vimeo, Vevo means you'll have an infinite media collection in 4320p resolution, hence living the 4K video player Mac to the fullest.
The above-introduced 5 4K video players Mac distinct for their each features, and if you'd like to pick 5KPlayer, one of the best free HD vdieo players for Mac as the media hub for you Mac computer, you may take its advantage to the fullest. To explore more about what makes 5KPlayer distinguishably good as an UHD player for Mac macOS Catalina/Mojave or earlier, you may check through this guide on hands-on test: UHD player for Mac.