Best Free FLAC Player Download to Play FLAC Music
Which FLAC player is the best choice to player FLAC music files on your computer? Without file format conversion or complicated modification to your present media player? If yes, you have come to the right place. Here, in this article, you will learn which is the best free FLAC player and how to use this FLAC player to play your FLAC audio files ripped from CD, downloaded from music PT websites or received from a friend, etc.
What is FLAC Format?
There are two kinds of audio compression, namely, lossless compression represented by FLAC and APE and lossy data compression like MP3, WMA and OGG. FLAC standing for Free Lossless Audio Codec is an open source audio coding format for lossless compression of digital audio. That is to say, no sound quality is lost in the process of compression. FLAC can maintain all original audio data but reduces its file size by 40 - 50%. In this case, FLAC is popular as an archive format for the owners of CDs and other media who want to preserve their audio collections. If they have a FLAC copy of the audio tracks, they will never worry the original data is lost or damaged, because a FLAC file is always ready to help restore all original data. But if they want to play FLAC files directly to enjoy audiophile-quality FLAC music, they need a professional FLAC player like 5KPlayer.
Best Free FLAC Player – 5KPlayer
"A few days ago, I downloaded dozens of lossless FLAC music online but all of them can't be played with iTunes on Mac. Some guys suggest me to convert FLAC to MP3 or install FLAC codec to fix this, but I think both of the solutions are very inconvenient. Is there any FLAC player that can play lossless FLAC music files directly?"
In fact, neither Mac iTunes nor Windows Media Player will play FLAC files directly. But 5KPlayer can make it. It is well designed for lossless, gapless playback of FLAC music albums and live recordings on Windows and Mac OS, including Windows XP/7/8/8.1, Mac OS X 10.10 Yosemite. It is simple, lightweight, powerful and workable without additional FLAC codec or plug-ins. Playing FLAC with 5KPlayer FLAC player is as easy as ABC.
How to Play FLAC Music Files on iPhone 7/6S/6? >>
How to Play FLAC Music Audio with 5KPlayer?
With 5KPlayer, playing FLAC music files is as simple as playing MP3 and common audio files. Read to learn how to play FLAC with this FLAC player.
Step 1. Download the free FLAC player, install and launch
The file size of 5KPlayer is much smaller than other FLAC players in the market. And it comes with native support for FLAC, thus you don't need to install other items to assist it.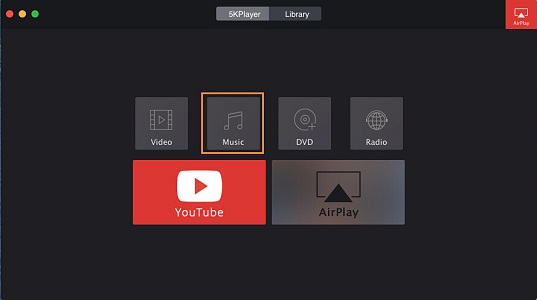 Step 2. Load FLAC music files.
Dragging and dropping FLAC files in the main window is the most convenient way to load FLAC music files for playing. Additionally, you can make use of the "Music" or "Open with" option to open FLAC files with this FLAC player. Once loading successfully, you can enjoy lossless FLAC music immediately.
Useful features:
Play, pause, search;
Step forward, back forward;
Decrease/increase FLAC music volume or mute;
Create, edit, and listen to playlists of FLAC music;
Create a list of favorite FLAC music;
Support the playback modes like random broadcast, all repeated broadcast, the single repeated repetition.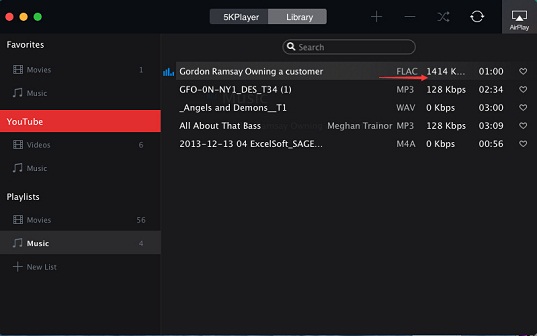 Note: Besides serving as a free music player to play FLAC, MP3, WAV, WMA, M4A, AAC and other audio files, 5KPlayer is an all-in-one video music player available to play MKV, MP4, AVI, FLV, MOV and other video formats. And it is also the best solution to free play 4K UHD videos smoothly. Other functions of 5KPlayer includes playing DVDs, listening to online radios, free downloading online videos songs from 300+ sites including YouTube, Vevo, Vimeo, DailyMotion and Facebook, and help free stream video audio to Apple TV with built-in AirPlay receiver and AirPlay sender.
Related Articles
DTS Player - Play DTS 5.1 Steoro Sourround Sound, Dolby AC3, FLAC/ALAC, etc Need professional DTS player to play MKV WAV AAC OGG files with DTS 5.1 audio? Free DTS 5.1 player download here to play DTS 5.1, DTS-HD, Dolby AC3, etc files and FLAC/ALAC lossless, movie DVDs without codecs or converting.
Best FLV Player Free Download for Mac and Windows 10/8.1/8Free download this best FLV Player 5Kplayer to playback your favorite FLV videos, movies, MVs etc on your Mac and Windows 10 wit fascinating theater effect.
How to Play VOB Files with Best Free VOB Player?Best free VOB player can play VOB movies, online VOB files and damaged VOB videos. Plus its strength in DVD video playback, VOB file resources in video sharing sites are available to download with this VOB file player.