Top 5 Best FLAC Player for macOS 2020 Review
Posted by Amanda Hu | Last updated: October 12, 2019
Since there are many Mac users asking what's the best FLAC player on Mac that might as well be equally capable as footbar2000 on Windows. Here we've tested out 5 best FLAC music players for Mac 2020, each catering for different requirements. Rationalize your choice of FLAC player download according to their solid performances instead of pure "i think".
2020 Best Free FLAC Player for Mac [Catalina Supported]
As the top Mac FLAC music player downloaded on many download sites, 5KPlayer is the extremely compatible media player for Mac and Windows 10, not only because it plays all kinds of MP4 MKV 4K HD etc video and FLAC AAC OGG etc music without any plug-ins, but also because it is multifunctional, ultra clean, simple and fast.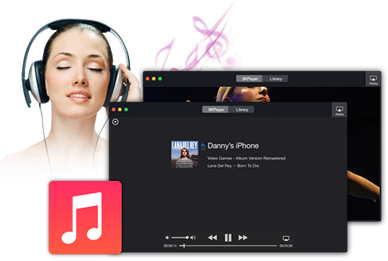 Top 5 Best Free Mac FLAC Player 2020 Roundup
1. 5KPlayer - More Than Just a FLAC Player for Mac [Catalina Supported]
Besides being one of the best music player for Windows 10, 5KPlayer also works great on macOS as a professional free FLAC player for Mac. It guarantees 100% smooth playback of high-res FLAC/ALAC audio and can even free download convert FLAC to MP3/AAC format from online music sites including YouTube, VEVO, Soundcloud, plus more. With built-in internet radio tuning and CD/DVD audio playback ability, this Mac music player expands your music appreciation to all the existing formats possible.
This feature-rich, lightweight, elegant FLAC player Mac combines most of the desires one can ever wonder from a professional FLAC player on macOS:
- Plays back FLAC file, ALAC, MP3, AAC original audio data and broken/corrupted FLAC files.
- Supports DTS multi-channel surround sounds, up to 7.1 surround sound support.
- Supports up-to 5.1 Surround Sound AirPlay to Apple TV and wireless speakers
- Hardware accelerated Free Lossless Audio Codec decoding
- One click convert FLAC to MP3/AAC free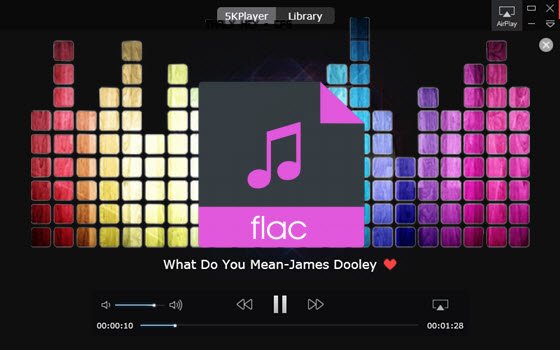 Best FLAC Player for Mac Verdict:
If you desire a lightweight feature-rich FLAC player with elegant interface, then you should definitely give 5KPlayer a try, which is also the most wise choice from all the listed candidates.
5KPlayer is more than a FLAC music player for Mac, it also is a universal media player for both Mac and Windows OS. It has supports for macOS Catalina, Mojave, Sierra, Mac El Capitan, Mavericks, Yosemite and Windows 10/8/Vista/7 as well, allowing you to edit audio video files in various ways including subtitle insertion, video rotation, equalizer applying, to name a few. Download it free now in case you miss its powerful playback streaming donwload abilities.