What is High Resolution Lossless Audio Player Software?
As the name suggests, it is a player that supports playback of HD lossless audio!
To understand high-resolution lossless audio player software, we should first know what HD audio and lossless audio are:
High-resolution audio aka high-definition audio or HD audio, generally refers to audio signals with bandwidth and/or dynamic range greater than that of Compact Disc Digital Audio (CDs) – sampling rates greater than 44,100 Hz and with bit-depths greater than 16. These HD audio files are closer to the original sound with clearer effect.
From the earliest HDCD attempt in 1995 to Pure Audio Blu-ray, to High Fidelity Pure Audio in 2013, the HD audio keeps evolving to higher standard. And gradually developed many file formats capable of storing high-resolution audio including FLAC, ALAC, WAV, AIFF and DSD. FYI, HD audio files are generally made lossless.
Lossless Audio refers to the audio file that can be decompressed to an exact digital duplicate of the original audio stream, therefore far less compression would be conducted in comparison with lossy audio, which makes it way bigger than the regular files.
Lossless formats like Free Lossless Audio Codec (FLAC), Apple's Apple Lossless (ALAC), MPEG-4 ALS, Microsoft's Windows Media Audio 9 Lossless (WMA Lossless), Monkey's Audio, TTA, and WavPack are commonly used for storing.
Therefore, HD lossless audio player software should at least support the above all formats and can render the audio quality to the closest state to the original.
Best Free All-round HD Lossless Audio Player for Windows Mac
5KPlayer is one of the best free HD lossless audio players that supports FLAC, ALAC, WMA Lossless formats with bless of hardware acceleration feature to boost its decoding efficiency. Since lossless audio files are commonly larger than the average, hardware decoding would be a better option than software decoding which can consume most of your CPU usage. This lossless music player can also play back lossy audios like MP3, M4A, ACC and video formats including 3GP, MP4, FLV, WMV etc.
Features of this HD lossless music player:
*Supports HW-acceleration
*Supports almost all popular lossless codecs
*Supports lossless audio formats FLAC to MP3 AAC conversion
*Supports 7.1 surround sound playback and 5.1 surround sound AirPlay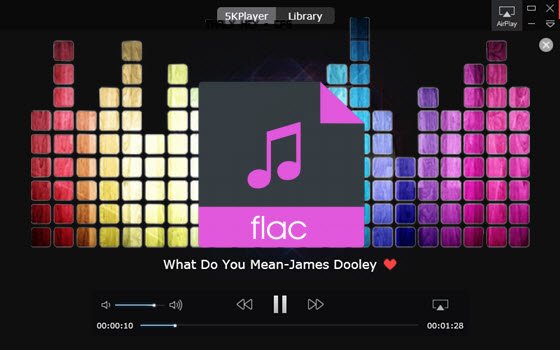 Simply load your lossless audio file via drag-n-drop and it will start playing
Other great lossless audio players are, but not limited to VOX Music Player, Audirvana, Nightingale, VLC, Winamp, footbar2000, Clementine etc. For detailed comparison, please refer to
Best Free FLAC Player for Lossless FLAC Music Playback
2019 Top 5 Best Flac Player for macOS
Apart from the above audio playback features, this lossless music player also supports high-res video playback up to 4K 8K in 3D. Music lovers can free download online latest hot single releases in MP3 or MP4 MV and convert them to MP3 ACC. Paired with wirless AirPlay speakers, your enjoyment can extent to wider space.
Related Articles
Best Free FLAC Player DownloadThe best free FLAC player is recommended here, aiming to help play lossless FLAC music files ripped from CD or downloaded online on Windows and Mac OS.
Best Free Audio Player The best free audio player is nominated to play all audio music file types incl. MP3, WMA, M4A, M4R, lossless FLAC, etc.
Top 10 Best Music Players for Windows 10To expand your choices, top 10 music players for Windows 10 are listed here for you to play any music on Windows 10.