Best Portable FLAC Player FiiO Lossless Music Player Reviews
Posted by Kaylee Wood | Last update: April 28, 2020
When you type portable FLAC player into Google search box, you will get list of results in which Fiio FLAC lossless music player always catches your eyes. Gaining various positive reviews and great sales performance for its great compatability with lossless FLAC WAV ALAC APE and lossy AAC MP3 AMR OGG etc music format, FiiO FLAC player outstrips other portable FLAC music players from Sony, Astell & Kern, iRiver, etc on Amazon or Ebay. If you want to choose a portable FLAC music player from FiiO, you can refer to this FiiO FLAC player review about FiiO X7, X5 3rd gen, X5 2nd gen, X3 2nd gen, X1 2nd gen, X1 and M3 to choose the best FLAC player to play lossless music freely.
Portable FLAC music players or Digital Audio Players attract many music lovers and audiophiles for their Hi-Fi and Hi-Res headphones and IEMs to enjoy FLAC lossless music and HD audio. Among them, FiiO FLAC music player proves itself the most superior and popular one with the great adaptability to lossless formats FLAC WAV ALAC APE, lossy formats AAC MP3 AMR OGG, fashionable appearance, friendly budget, etc. With Fiio portable FLAC player X1, X3, X5, X7 and M3 series coming out one after another, you may get confused which FLAC player of FiiO is better. Here is a overall comparison of the high-rated and well-selling FiiO portable FLAC player series for you.
FiiO Portable FLAC Music Player Series Reviews
# 1. FiiO X7
FiiO X7 is currently the company's flagship lossless FLAC music player loaded with tons of features: supporting FLAC lossless ultimate sound, reasonably sized for one-hand operation, WiFi attachable, etc. For starters, the FiiO X7 FLAC lossless music player is powered by Rockchip RK3188 SoC paired with an ESS ES 90185 DAC chip and Titanium-colored appearance with a nice 3.97" touch screen display (a resolution of 480×880) to well handle FLAC/APE/ALAC/WAV/AIFF/WMA/MP3/DSD64/DSD 128/PCM/ogg vorbis, etc at up to 384kHz/64bit (5.6MHz/1bit for DSD). FiiO X7 is actually a Android based smart portable FLAC music player coming with its own customized music app FiiO Music that can handle lossless music more proficiently than usual Android music player apps. With 32GB internal storage with up to 128 GB storage expansion and 3500mAh battery for up to 9 hours playing, The FiiO X7 will allow you to play vast of FLAC music songs anywhere anytime.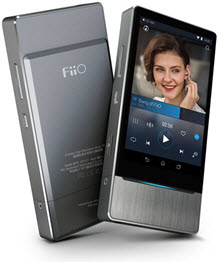 # 2. FiiO X5 Series
FiiO X5 series includes X5, X5 2nd generation and X5 3rd generation. FiiO X5 FLAC player comes with powerful dual core CPU to handle most demanding audio formats including lossless FLAC ALAC APE WAV WMA and DSD without a hint of strain, even at the 192kHz/24bit. Supporting dual 128GB microSD cards for 256GB in total, FiiO X5 would give you endless enjoyment of music. Compared to 1st gen X5, FiiO X5 2nd gen FLAC music player is 15% lighter and 12% smaller for easy carrying, but it not weakens its performance except the audio formats. While X5 3rd generation is much like FiiO X7 with Android OS, 32GB internal storage and 3.97″ touch screen. In other words, FiiO X5 3rd gen portable FLAC player is combination of X7 and X5 2nd gen. Whatever, your enjoyment is not just limited to your ears as all your senses are rewarded by the X5 series.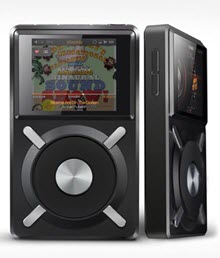 # 3. FiiO X3 Series
FiiO X3 mastering FLAC music player is built-in 8GB flash memory and micro SD card slot supporting up to 64GB expansion for lossless playback of APE/FLAC/ALAC/WMA/WAV at up to 192kHz/24-Bit. With built-in 3000mAh rechargeable battery for up to 10 hours of playback, this FLAC lossless music player enables you to wander in the ocean of music. Now, it's the star product of FiiO portable FLAC player – FiiO X3 2nd generation. X3 2nd gen always ranks high on the buying chart of shopping platforms for its great compatibility with APE, FLAC, WAV, WMA, and ALAC Apple Lossless formats, supporting AAC, OGG, MP2, and MP3 files, long battery life, large storage capacity and so on. What I say can't compete with what you see. So, buy one to have a soothing, emotional, exciting and happy music experience.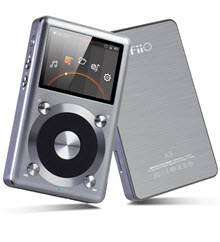 # 4. FiiO X1 Series
Promoting "Sound in Your pokect", FiiO X1 comes out with 4 colors (silver, gold, blue and black) and matting finish for preventing scratches. X1 portable FLAC music player features the same basic design that's highly reminiscent of an early iPod, with a large scroll wheel dominating the front of the player, and four buttons at each corner for selection of the basic functions. Forget the appearance, FiiO X1 also supports APE, FLAC, WAV, WMA, ALAC, at up to 192kHz/24bit plus MP3 AAC, ogg vorbis, etc formats. With up to 128GB expansion storage for over 11,000 tracks and 1700mAh battery for over 12 hours of use, this FLAC lossless usic player will keep you entertained for a whole day.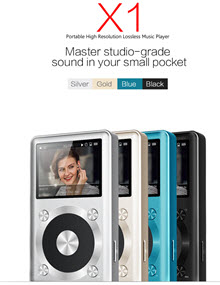 # 5. FiiO M3
With 8GB of built-in memory plus an additional micro SD memory card slot for an additional 64GB, FiiO M3 FLAC music player can hold entire music libraries with thousands of APE FLAC WAV MP3 OGG WMA M4A songs. Charging in less than 2.5 hours, M3 can get 24-hour playback battery capacity for continuous playtime. Due to its 40g light weight, it would be a great sports partner when you are walking, running or jumping. However, if you want to play APE FLAC WAV etc lossless music with HD resolution, this portable FLAC player may disappoint you as it only supports APE (48kHz/16bit), FLAC (48kHz/24bit) and WAV (96kHz/23bit) that are far from the standard 192kHz/24-Bit.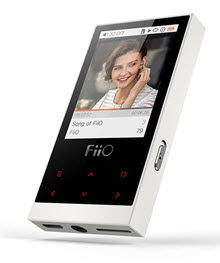 How to Download Music Song to Portable FLAC Music Player?
Be a professional FLAC media player for Mac/PC and online video music downloader, 5KPlayer will help enrich your media library in your portable FLAC player by downloading any FLAC MP3 AAC WAV WMA etc audio music tracks as well as MP4 WMV MKV FLV etc videos from Vevo, Facebook, etc, and convert video MP4 to MP3 as well.
Step 1. Free download 5KPlayer and run it on your Mac or PC. You can see a big red "YouTube" button on the main interface, that's where you can download music songs then.
Step 2. Open a music or video site, find what you want to download and then copy the URL of the video or audio.
Step 3. Click "Paste URL & Analyze" to start analyzing the URL. After the analyzing process, the detailed information of the file will show up next to the cover and you can choose the format you need.
Step 4. Now, you can click "Download" button. If you have downloaded the FLAC music songs from music sites, you can use a USB cable to transfer music songs to your portable FLAC lossless music player from computer. If you downloaded music video MP4 and need the audio, you have to go to step 5.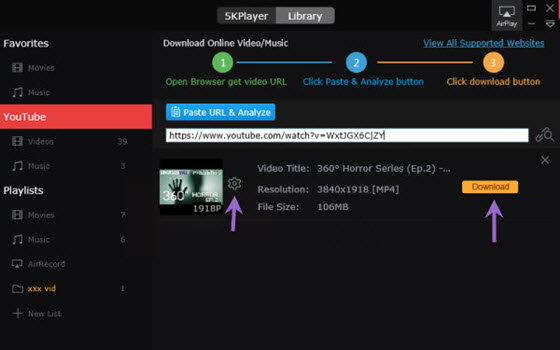 Step 5. Move your mouse to the file you just downloaded, and the "Convert" icon will pop up. Choose the one you need to convert video to FLAC ALAC APE etc music and then USB cable to transfer them to your FLAC music player to play.
Related Articles
Listen to Apple Music without iTunes How to play 2160x3840 or 4096x2160 4K videos? A powerful 4K UHD video player could help handle the high resolution 4K contents on Mac and Windows 10 easily.
Top 5 Best FLAC Player for macOS Easy to use top 5 FLAC music player for macOS for Windows-to-Mac converts. Choose the most suitable Mac FLAC player to download here.
What Is FLAC Music and How to Get It? Here show you the hands-on tutorial to download and play FLAC music Hindi songs with an awesome FLAC music player!
Home | About | Contact Us | News | Privacy Policy | Agreement | Site Map
Copyright © 2023 Digiarty Software, Inc. All Rights Reserved.
5KPlayer & DearMob are brands of Digiarty Software, Inc. All other products or name brands are trademarks of their respective holders. All logos, trademarks and images relating to other companies that may be contained wherein are applied in the Internet that are not used for commercial use. Digiarty's software is not developed by or affiliated with such companies.