How to Solve VLC Media Player Crashing Problem?
Main Solutions to VLC Crashing Problems:
1. How to Solve VLC Crashing MKV >>
2. How to Solve VLC Crashes When Playing 4K/x265 >>
3. How to Solve VLC DVD Playback Crashes >>
4. How to Solve VLC Crashing after VLC Update >>
5. How to Solve VLC VLSUB Crashes While Searching for Subtitles >>
6. How to Solve VLC Crashing Windows 10 >>
7. How to Solve VLC Keeps Crashing Mac >>

VLC MKV Crash? [Solved]
Question: I'm not sure if the mkv file is corrupted, but when it is opened with VLC player, VLC loads up and displays nothing. Can't even close VLC after that. And also, VLC is running with 50% of the CPU. I have to use End Process to kill it.
Answers:
1. Disable Pre-loading of MKV files:
On Windows: Open VLC media player > click on Tools to choose Preferences > select All under Show Settings at the bottom left corner of your screen > Expand Input/Codecs and Demuxers, and then choose Matroska > uncheck Preload MKV files in the same directory > click on Save.
On Mac: Click on VLC on the top left corner of your desktop > Preferences > click on Show All > Expand Demuxers and choose Matroska > uncheck Preload MKV files in the same directory > click on Save.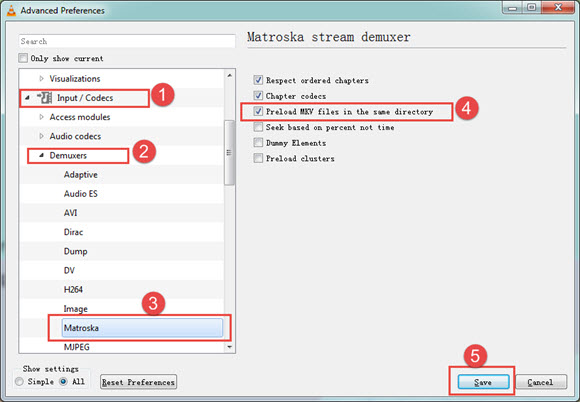 2. Change Hardware-accelerated decoding:
Someone has changed the hardware acceleration of VLC from Automatic to DirectX Video Acceleration(DVXA) 2.0, and find it works for VLC crashing MKV. If you wanna try, you can click on Tools > Preferences > Input/Codecs > Hardware-accelerated decoding > choose DirectX Video Acceleration (DVXA) 2.0 and Save.
3. Update your VLC media player:
VLC media player 3.0.1 has already fixed some VLC MKV crash problems, so uninstall your VLC and update itto this version or to the newest version VLC 4.0.
4. Download VLC codec pack:
Like MOV, MP4 and AVI file format, MKV is also multimedia container format that different MKV files may contain different video audio codec. When your VLC lacks specific codecs, your VLC media player will crash to play certain files that have the codecs. So, try to download VLC codec pack to add support for more codecs and file types.
5. Try VLC media player alternative:
I once downloaded various MKV videos in different resolutions and bit rates to play with VLC, and found that VLC plays MKV very successfully and smoothly only when the video is in low resolution. VLC performs badly with skipping frames and mosaics when playing 4K UHD H.264 videos lower than 120Mbps, and VLC crashing happens when the bit rate gets higher or the 4K video is encoded with HEVC. Actually, VLC not playing 4K HEVC/H.265 has been a common problem that is still unresolved by VLC developer, under such circumstance, you may turn to VLC alternative – 5KPlayer.
5KPlayer - Best Free VLC Media Player Alternative for 4K H.264/HEVC MKV Playback
If you try any one of the above VLC crashing solutions, you will find it is not that pleasing. VLC codec pack download may bring virus to your computer, and converting MKV to other formats will sacrifice the video quality. Besides, it is time-consuming to complete the settings. But try 5KPlayer, you can directly play any MKV files in 720p 1080p 4K etc without crashing problem.