How to DLNA Streaming Media from Mobile to PC/Mac and PC/Mac to TV?
Posted by Kaylee Wood | Last update: April 28, 2020
Since DLNA streaming came out, the way to set up home-entertainment network changed from gathering IP addresses to establishing a single protocol. That leads to the great success of the interactivity of DLNA-certified multimedia devices no matter which brands they come from. Including mobile phones, smart TV, tablets, game consoles and media boxes, there are more than 4 billion DLNA-compliant devices on the market and so at least one in your home available for you to enjoy DLNA streaming technology. Thus, here we will teach you how to use DLNA streaming to stream video music from Android/iPhone to computer and PC/Mac to smart TV.
Best Free DLNA Streaming Software to Make Devices Connected
Sharing media files across home network is never easier with DearMob's 5KPlayer, a three-in-one DLNA streaming Windows software that can help you display what are sent from Android/iPhone on computer, connect PC/Mac to smart TV and let TV/mobile phones to browse media library on computer.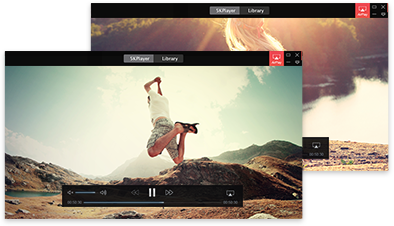 DLNA streaming works well on all DLNA-certified multimedia devices with UPnP (Universal Plug and Play) protocol as long as they are connected to the same network and powered by a kind of DLNA player software or DLNA certified app. As for DLNA streaming on Windows, good news is that you are allowed to directly share media on Windows 10/8.1 to DLNA-supported devices without installing any software, but it is not that lucky to users with computer shipped with Windows 7 or 8 or macOS. So, this guide's existence is to help you freely enjoy DLNA streaming on computer without costing a dime, like streaming android/iPhone to PC/Mac and PC/Mac to DLNA-certified devices.
How to DLNA Streaming Video Music via 5KPlayer?
5KPlayer - UPnP player, is what we choose to help receive DLNA streaming and detect the qualified DLNA-compliant devices to send DLNA contents. Even your computer is in one room and your DLNA-compatible device is in another, you can DLNA streaming video music between the two devices.
DLNA Video Music Streaming from Android/iPhone to Windows/Mac
Step 1. Free download DLNA streaming software 5KPlayer, install and launch it on your computer. And connect your mobile phone and computer to the same network.
Step 2. Play your video or music with the DLNA-enabled app on Android or iPhone, and you will see the DLNA option within the app for you to choose which DLNA device to DLNA streaming media to.
Step 3. Just choose the computer with 5KPlayer, and this DLNA supported player will render the media file from phone on Windows PC/Mac immediately.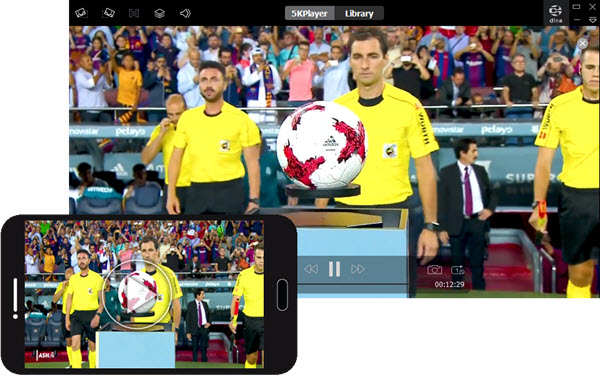 DLNA Streaming Windows/Mac to Smart TV
Step 1. Guess you have installed 5KPlayer on Windows/Mac, the same thing you should do like above is to connect your computer and smart TV or DLNA-compliant devices to the same network.
Step 2. Click on Library on the main UI of 5KPlayer and click DLNA Server to enter DLNA streaming center, where you could add files/folder to this DLNA streaming software for streaming and see kinds of DLNA-supported devices that 5KPlayer can stream media to.
Step 3. Click on Library under DLNA Streamer in the left bar to see your video music files.
Step 4. Just choose one media file to play, click the DLNA icon on the top right corner of 5KPlayer and 5KPlayer will instantly send the video music to smart TV or DLNA-certified device you selected.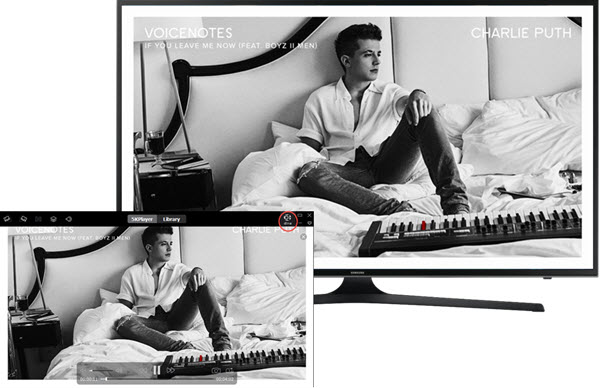 You may think that using DLNA to stream video music is no longer that useful as there are a variety of online streaming services like Spotify and Netflix to enjoy media streaming and sharing, but the fact is that DLNA streaming is typically necessary for downloaded offline media resources to share among devices. That's why DearMob adds DLNA streaming feature to 5KPlayer.
Born to be a DLNA compliant player, DLNA sender and DLNA media server, 5KPlayer satisfies the basic requirements that you put forward to DLNA streaming technology. Without costing a dime, 5KPlayer receives any sharing DLNA media and provide numerous resources for DLNA streaming by download video music from 300+ sites.
Related Articles
Stream Android Video Music to PCFree DLNA streaming service is what you should choose to stream Android video music to PC and other DLNA devices.
Best UPnP Media Server Windows 10Get the best free UPnP media server for Windows 10/8/7 to enjoy multiple media files on PC from Android, iPhone, smart TV, PlayStation, Xbox, etc.
DLNA streaming to Apple TVHow to exercise Apple TV DLNA? Here're top 3 Apple TV DLNA APPs to turn computer into an Apple TV DLNA server.
Home | About | Contact Us | News | Privacy Policy | Agreement | Site Map
Copyright © 2023 Digiarty Software, Inc. All Rights Reserved.
5KPlayer & DearMob are brands of Digiarty Software, Inc. All other products or name brands are trademarks of their respective holders. All logos, trademarks and images relating to other companies that may be contained wherein are applied in the Internet that are not used for commercial use. Digiarty's software is not developed by or affiliated with such companies.