What to Do When VLC Not Playing DVD Windows 10/Mac Occurs?
Here are the top 3 solutions which will help you solve VLC won't play DVD problems once and for all.

☆ Solution 1: Reset VLC preferences accordingly
☆ Solution 2: Resort to VLC alternative media player
☆ Solution 3: Rip DVD to VLC compatible formats
★ Solution 1. Reset VLC Preferences Accordingly
Practice has proved that a majority of VLC fails to play DVD problems can be fixed by resetting preferences. In case you do not know much information about your DVD, for example whether it is encrypted, DRM protected, or which protection tech and region code it uses, we compile the tried-and-true tutorials which are commonly used to troubleshoot VLC won't run DVD on Windows 10/Mac. Just try the steps below.
Note: The first thing you should do is to check for update if your VLC is not playing DVD.
Steps:
Launch VLC > Tap "Help" in the menu bar > select "Check for Updates" to install the latest version of VLC.
If you are using the latest version of VLC and still can't play DVD with it, do as follows: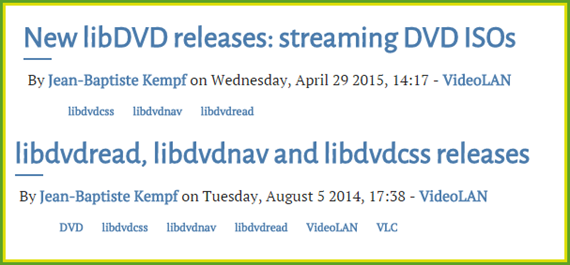 Part 1 of Solution 1: Initiate DVD Playing Function of VLC
Steps:
Launch VLC > Go to the first tab "Media" > Click "Open Disc" > Choose "DVD" in disc selection > Replay the DVD file
Part 2 of Solution 1: Install Libdvdread, Libdvdnav & Libdvdcss
Most commercial DVDs are encrypted by using a wide range of copy protection/encryption techs. To play encrypted DVD with VLC you must install libdvdread, libdvdnav, and libdvdcss which is the optional dependency for VLC to decode encrypted DVDs.
Step 1. Download the new libdvdread/libdvdnav/libdvdcss;
Step 2. Install the downloaded files (here we take libdvdcsss for Windows as an example):
* Open the libdvdcsss-y.y.y.tar.gz (y.y.y is version number )
* Find & enter the subdirectory libdvdcss-y.y.y
* Execute the command:
./configure
make
make install
Step 3. Repeat above steps to get libdvdread and libdvdnav installed.
>>See how to install libdvdcss for Ubuntu (Linux)
>>See how to install libdvdcss for Mac OS X
Note: After installing, VLC will automatically use them when playing DVDs.

Part 3 of Solution 1: ADD Keydb And Libaacs
Some users found that VLC can't play bluray DVD due to the lack of AACS and BD + DRM libraries and keys. So if you are unable to play a bluray DVD, try the following steps:
For Windows users:
Step 1. Download the keydb.cfg and libaacs;
Step 2. Navigate to "C:Users/your username/AppData" > Create a folder named aacs in "AppData" directory > Place the keydb.cfg file in aacs directly;
Step 3. Go to "C: Program Files" > Open "VLC" directory > Drag the downloaded libaacs.dll file to it.
★ Solution 2: Resort to VLC Alternative Media Player
VLC is far from the only media player you can use to play DVDs on Windows 10 and Mac, and there are numerous free standalone DVD player software with integrated support for DVDs, for example 5KPlayer.
As the best VLC alternative, 5KPlayer excels VLC at playing all sorts of DVDs (VOB/VIDEO_TS/ISO) regardless of Disney DRM, CSS, Sony ARccOS, RCE, region codes and even the latest DVD encryption technologies, keeping you from all annoying troubles of VLC not playing DVD on Windows 10/Mac. More amazingly, this powerful DVD player also supports damaged or scratched DVDs without chock. Just give it a try.