Since VLC media player is a cross-platform software, we will explain the solutions one by one when VLC subtitle delay problem happens on popular platforms including Windows, Mac, iOS, Android (phone & TV), Apple TV, etc.
Notice: Subtitles are often classified into Hard (also known as hardsubs or open subtitles) and Soft (also known as softsubs or closed subtitles). Hard subtitles can't be turned on/off and aren't editable, while Soft subtitles are on the contrary. So, make sure your subtitles are not hardcoded when adjusting in VLC. Otherwise, you won't see any changes. For hardsubs, subtitle editor is a better choice.
Main contents:
Sync Subtitles VLC on Windows >>
Sync Subtitles VLC on Mac >>
Sync Subtitles VLC on Android >>
Sync Subtitles VLC on iOS >>
Sync Subtitles VLC on Apple TV >>
Best VLC Alternative to Solve VLC Subtitle Delay >>

Solve VLC Subtitle Delay on Windows, Mac, iOS, Android & TV
How to Sync Subtitles in VLC on Windows PC?
Method 1. When playing a video or movie with VLC media player, you simply use the hotkey to adjust the subtitle delay or forward. If subtitle is ahead of sound, press G. If subtitle is behind sound, press H. With every key press, it will adjust the subtitle by 50 milliseconds, and you will see the confirmation "Subtitle delay 50ms" or "Subtitle delay -50ms" on the top right corner of the playing screen.
However, this way is suitable only when the dialogue and subtitles come with same frame rate. So, you should try method 2 in other situations.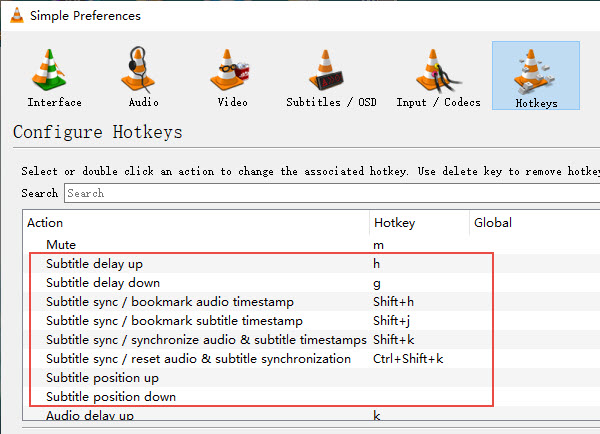 BTW, if VLC subtitles out of sync with audio only, you can use the advance synchronization
Step 1. Hear and see that subtitles are out of sync.
Step 2. Press Shift + H when you hear a sentence that you will be able to easily recognize.
Step 3. Press Shift + J when you read the same sentence in the subtitles.
Step 4. Press Shift + K to correct the sync.
Method 2. Customize the synchronization manually
1. Play a video or movie with VLC.
2. On the top bar of the playing window, click on Subtitle > Subtitles Track to check if subtitles are enabled.
3. Click on Tools and choose Track Synchronization. In the new popup window, adjust the Subtitle track synchronization at your will.
If subtitle delays in VLC, namely the subtitle is behind the sound, just choose a negative number to speed up subtitle. On the opposite side, input a positive number to slow down the subtitle.
Besides subtitle synchronization, you can also adjust the subtitle frames per second from Subtitle speed and determine how long the on-screen text appears from Subtitle duration factor.