Windows Media Player Stops Working on Windows 10/8/7
Posted by Kaylee Wood | Last update: April 28, 2020
Windows Media Player stops working on your Windows (10) PC? It shows an error when you want to open a video file? Or even it won't open to play DVDs? Are you concerned about all the Windows Media Player problems on Windows (10)? Here this ultimate guide will seek to offer you the best solutions correspondingly.
Windows Media Player Best Replacement - 5KPlayer!
Windows Media Player Windows 10 not working? Why not try 5KPlayer - the ultimate solution to all possible playback issues on Windows 10! It supports almost all formats and codec including MP4 H.265 VP8/VP9, MKV, AAC, MP3, FLAC. High-res 8bit 4K 8K videos can also played smoothly. Get it now to unleash great media power!

Solve Windows 10 Media Player Not Responding
Solution: Uninstall and re-install Windows Media Player
There are many hidden reasons to this "Not Responding" outcome, be it high CPU consumption, media library corrupted, server execution failure etc. But there is always a simplest and easy fix – closing all the programs running on your Windows PC and re-launch WMP. If the program turns out still freezing itself and you can't even quit it or check for update, open Windows Task Manager to end the task forcibly. At this stage, you may have to find ways to uninstall Windows Media Player and get the latest compatible version.
Solve "Windows Media Player Encountered A Problem While Playing the File" error message >>
- So how to uninstall Windows Media Player on Windows? Since windows media player is a windows system built-in program, the only place where you can remove it is the "Programs and Features".
Step 1: Open the Control Panel and head to "Programs and Features"
Step 2: Click the "Turn Windows Features on or off" and find Windows Media Player.
Step 3: Clear the Windows Media Player check box to turn this feature off.
Note: "Media Feature" controls all media features including Media Center, DVD Maker, you can also try turning them all off and then enable as a whole. By re-enabling the media feature, your windows media player might have been upgraded to the latest version, but if it hasn't, follow the guide below to get Windows Media Player 12 download.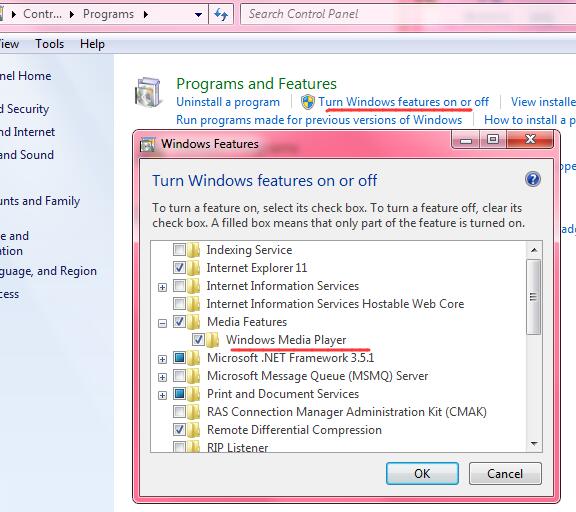 Solve Windows Media Player Codec Problems
Solution: Download Codec Pack or Alternative Media Software
Download codec pack would be a little bit more complex than find a Windows Media Player alternative media software. Decoders are the core parts of a media player, and codec missing or codec conflicting can cause a lot of trouble for the player to read any files and codec overlapping can make the decoding process two times slower. If your problem is codec-related, you'll probably receive a message like "A codec is required to play this file" or "Windows Media Player encountered an error." In this situation, here below we target several popular file codec problems in Windows Media Player Windows 10, read through and get your answer.
You may also like to know:
Solve Windows Media Player Not Playing DVD
Solution: Install DVD Codec or Install Windows DVD Player.
Media player not playing DVD is not rare to see. We wrote a detailed guide on how to play DVD using Windows Media Player. The solutions are 100% workable but are less satisfying in terms of simplicity, since you may either have to install DVD codec or to install Windows DVD Player.
Speaking of Windows DVD Player, it is warned by Windows 10 users that you can get Windows DVD Player for free after upgrading from Windows 8.1 with Windows Media Center, but once you do a clean install of Windows 10 after upgrading, you can lose the right to download Windows DVD Player for free.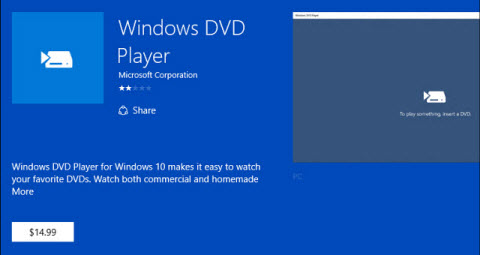 Then how to play DVD on Windows 10? Here, we recommend you 7 free DVD players for windows 10 to replace the bare-bone Windows Media Player and Windows DVD Player for smoothier and more enjoyable playback experience.
Best Windows Media Player Alternative
If you do not want to be an expert in multimedia and just want an easier solution, we would like to recommend a great Windows Media Player alternative - 5KPlayer - to playback any videos, audios, iOS images, DVD, 3D movies etc. This hardware accelerated media player saves a lot CPU usage to minimize the "not responding" possibility in advance. It is lightweight and easy to use. Other features like AirPlay, YouTube video download, iPhone screen recording and file conversion add brilliance to this already robust media player - a must-have you shouldn't miss!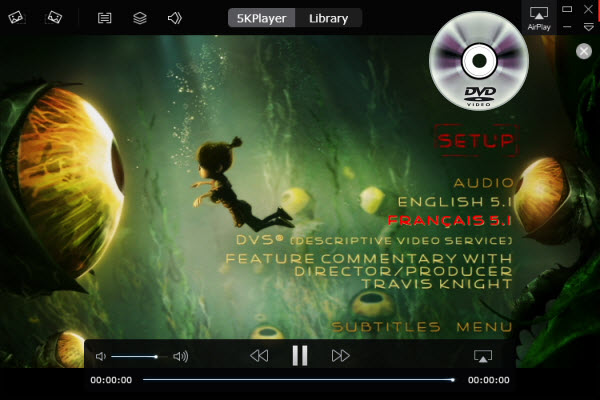 What you can get from downloading this piece of elegant software are not limited to the mentioned features above, there are a lot more to dig. If you are not certain about its performance, why not download it and take a look at the reviews on 5KPlayer VS. KMplayer and 5KPlayer vs. VLC media player to get a closer look at it? Download 5KPlayer now!
Home | About | Contact Us | News | Privacy Policy | Agreement | Site Map
Copyright © 2023 Digiarty Software, Inc. All Rights Reserved.
5KPlayer & DearMob are brands of Digiarty Software, Inc. All other products or name brands are trademarks of their respective holders. All logos, trademarks and images relating to other companies that may be contained wherein are applied in the Internet that are not used for commercial use. Digiarty's software is not developed by or affiliated with such companies.