2. 5KPlayer vs. VLC: Video Playback Ability;
Video/Audio Format Support:
Generally, both 5KPlayer and VLC can support a good many of file formats and partial Blu-ray videos. Different from VLC, 5KPlayer is apparently more dedicated to HD/4K UHD video formats. Refer to the supported format list below:
5KPlayer supported video formats (incomplete):
High Definition Video: AVCHD Video (*.mts, *.m2ts), H.264/H.265/MPEG-4 AVC (*.mp4), MPEG2 HD Video (*.mpg; *.mpeg), MPEG-4 TS HD Video (*.ts), MPEG-2 TS HD Video (*.ts), Quick Time HD Video (*.mov), WMV HD Video (*.wmv, *.xwmv), Blu-ray Video (*.mts, *.m2ts), HDTV Video (*.ts), Matroska Video (*.mkv), 360°
HD-Camcorder Video: JVC HD camcorder Video (*.mod, *.tod), Sony HD camcorder Video (*.mts, *.m2ts), Panasonic & Canon HD camcorder Video
Regular Video: AVI, MPEG, WMV, MP4, FLV, F4V, H.264/MPEG-4, DivX, XviD, MOV, RM, RMVB, VOB, ASF, 3GP, 3G2, QT, DAT, Google TV, WebM, DV, Vpx 8, G2M4, iCod, YUV411, mp2v, MXF
Website Video: YouTube (FLV/MP4/Webm/VP3/VP5/VP6/VP9) SD/HD/4K Videos
Audio Formats: AAC, AC3, ALAC, AMR, DTS, DV Audio, XM, FLAC, etc.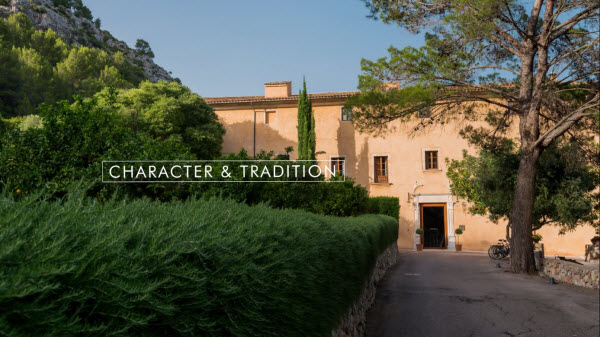 VLC supported video formats (incomplete):
Input Video Formats:
H.261/H.263/H.263i, H.264 / MPEG-4 AVC, Cinepak, Theora, Dirac /VC-2, MJPEG (A/B), WMV 1/2, WMV 3 / WMV-9 / VC-1 1s, Sorenson 1/3(Quicktime), DV (Digital Video), On2 VP3/VP5/VP6, Indeo Video v3(IV32), Real Video 1/2, Real Video 3/4, 360°
Audio Formats:
AAC, AC3, ALAC, AMR, DTS, DV Audio, XM, FLAC, etc.
Container Formats:
3GP, ASF, AVI, FLV, MIDI, QuickTime, MP4, Ogg, OGM, WAV, MPEG-2, AIFF, Raw audio, Raw DV, MXF, VOB, RM, DVD-Video, VCD, SVCD, CD Audio, DVB
Output Video Formats:
H.263, H.264/MPEG-4 AVC, MJPEG, MPEG-1, MPEG-2, MPEG-4 Part 2, VP5, VP6, VP8, VP9, Theora, DV, Dirac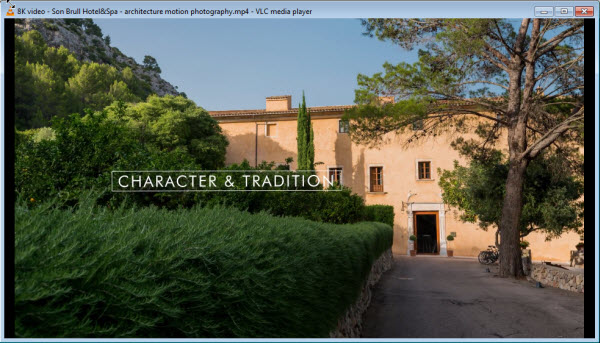 Image Rendering Ability:
Although both 5KPlayer and VLC support H265/H264, 5KPlayer surpasses VLC by providing smoother H.265 playback effect, meaning 5KPlayer deals with 4K and even the highest res -8K video without glitches at all. As its name suggests, 5KPlayer endeavors to offer the world-class visual experience through constant research in image restoring and rendering function. It is now capable of playing 4K/8K videos, playing 3D videos, restoring overexposed white images, and featuring high playback qualities optimized specifically for retina displays. VLC, however, usually encounters "not working problems" and H.265 decoding issues.
CPU Occupation and Consumption:
After installing and running both 5KPlayer & VLC on Windows/Mac, it seems that 5KPlayer is a bit more CPU friendly than VLC. When playing HD(1080p) videos with PC (Pentium E5300 @ 2.60GHz/Intel G41 Express Chipset), the average CPU usage of VLC is about 44% while the average CPU usage of 5KPlayer is around 36%, which indicates that comparing to VLC, 5KPlayer can save at least 8% of CPU usage in general. And the better your computer specs are, the better 5KPlayer will perform.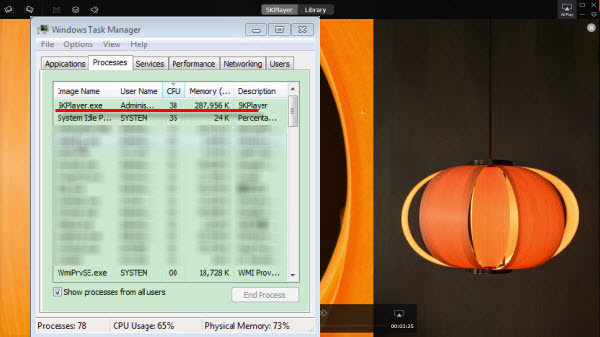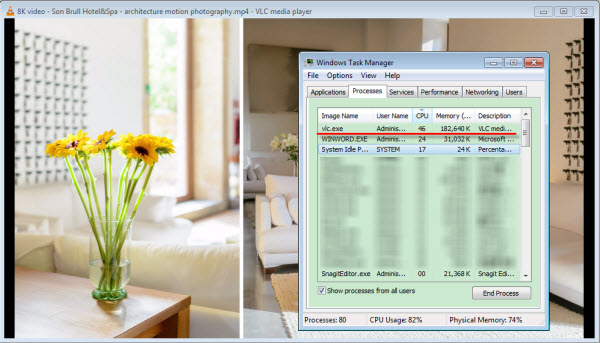 3. 5KPlayer vs. VLC: Video/Audio Resources and Download Ability
Better than VLC, 5KPlayer has taken the whole internet as its repository to provide videos/music of all kinds for everyone. There are over 300 online websites now and more soon to come supporting 5KPlayer's free video download function. You can even convert the downloaded videos/music from Stupidvideos, Vimeo, YouTube to MP3 and ACC in best auditory quality. Besides, with enhanced download speed, 5KPlayer can generally download twice as fast as VLC.
4. 5KPlayer vs. VLC: Rich Add-on Utilities
The importance of this feature largely depends on your demand and positioning. Basic and frequently-used functions like adding subtitles, rotate videos, tack synchronization, audio equalization etc are all provided by 5KPlayer for beginners and intermediate users. But if you are a power user seeking for more advanced functions and customizations like crop, overlay, water effect, Anaglyph 3D playback etc, VLC will be a better choice for now.
5. 5KPlayer vs. VLC: Video Cut Function
Both 5KPlayer and VLC Media Player allows you to keep a part clip of a video directly during a media player. Howerver, VLC lets you cut a video by recording the specific part which will sacrifice some quality indeed. While 5KPlayer gives you real way to cut a video into clips, remaining the interesting contents and throw out the unsatisfactory segments.