List of Top 10 Apple TV Movies to Watch For Free on Christmas
2015 new Apple TV movies give an exclusive way of entertainment on new Apple TV 4 in holiday season. A new way to watch Apple TV free movies in full catalogues is introduced alongside using Apple TV APPs like iTunes, Netflix, Hulu. Read on to find out the list of top 10 Apple TV movies for holiday season.
Top 10 Apple TV Free Movies and TV Shows
Fitting gigabytes of Apple TV movies into a tiny package, the new Apple TV 4 re-defines the way of intelligent home entertainment. With a free streaming software at hand, your computer can function as an AirPlay sender to render video AirPlay from PC to Apple TV, or from Mac to Apple TV.
Here the list of top 10 Apple TV movies[Some are not yet available on tvOS, you may turn to a streaming software instead to download and stream them to TV.
Direct download with 5KPlayer is available by cliking the links given above. Or you'll have to pay for Apple movie rentals according to the iTunes Store price tag. However, here're some free TV shows on Apple TV. Here're 14 Apple TV APPs which you can install for free Apple TV shows.
| | | | | |
| --- | --- | --- | --- | --- |
| ABC News | ACC Sports | AOL On | CBS Sports | Red Bull TV |
| | iMovie Theater | Fusion | M2M | |
| | Young Hollywood | YouTube | WSJ Live | |
It's recommended again to get the hot Netflix movie list 4K to watch on TV with the free streaming software for Mac El Capitan and Windows 10. Besides its utility to make content free and open, you'd get surprised at its built-in package to fix Apple TV common problems like HBO GO Apple TV problems .
Tips: Don't Want to Rent? - Download to Stream Apple TV Movies For Free
Top 10 Apple movie rentals on iTunes are no bargain at all: 30-day rental of Inside Out cost $24.99, and you'll have to finish it in 24 hours once you start playing it on Apple TV.
To get Minions, Inside Out, Hollywood blockbusters and more 2015 2016 new movies top 10 on Apple TV 4 without spending extra, here's how:
It's downright easy to use 5KPlayer to stream 720p, 1080p, 4K Apple TV movies like Alvin and the Chipmunks: The Road Chip. After you download them for free to PC or Mac from YouTube, Metacafe, Vevo and more, turn to the free software to connect laptop to TV wirelessly. In case you want to mirror everything on computer screen, this screen mirroring PC Mac iPhone guide can offer help.
This streaming software supports wireless streaming of unlimited 4K movies from Windows to Apple TV.In the library of iTunes movies on Apple TV there are only less than 4000 clips available. Just have a try and things just double and double and double, 5KPlayer empowers you to free download Apple TV free movies from 300+ video sharing sites.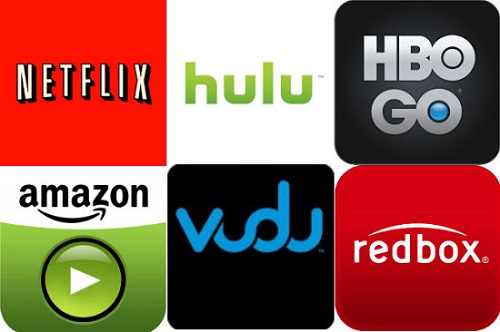 Now Stream New Movies on Apple TV 4 Stunning Screen!
Download 5KPlayer for Windows or Mac, launch it instantly. This best free Chromecast Alternative can stream 4K 5K 8K UHD videos from PC/Mac to TV with losslessly.
How to Stream Movies from Mac/PC to Apple TV 4?
Step 1:  Launch 5KPlayer, hit AirPlay icon on top right of the interface to connect Mac/PC to Apple TV 4 when they are in the same Wi-Fi environment.
Step 2: When successfully connected, the AirPlay icon will turn red to stream new Apple TV movies like Alvin and the Chipmunks: The Road Chip, and Star Wars 7: Force Awakens readily.
Tips and Notes:
AirPlay streaming technology only support video in MP4, MOV, M4A. If you just got a MKV, H.264, or AVI HD movie clip for Apple TV, turn to the fastest video converter for Windows and Mac, you'd be wowed by how fast it can go!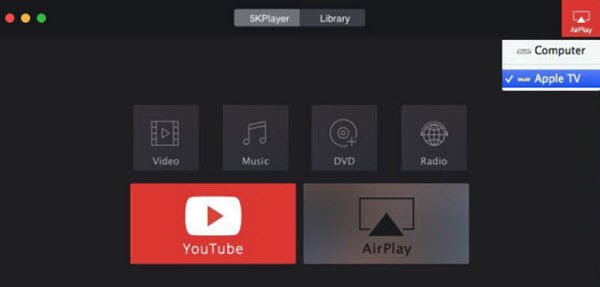 How to Download Movies from YouTube to Watch Movies on Apple TV?
Step1. Launch 5KPlayer, hit the YouTube button
Step2. Search for any Apple TV movies you want to download from YouTube, copy the corresponding URL.
Step3. Click Paste URL & Analyze. Wait for only minutes to complete, even faster than buffering movies on Apple TV.
Where and How Can I Buy Apple TV Movies to Watch and How Much?
Sign up directly via Apple TV for iTunes, Netflix and Hulu Plus, movie rentals on iTunes cost around $24.99 each, while monthly subscription to Netflix or Hulu cost $7.99. Movies on Apple TV that you have purchased via iTunes will be available on other devices, but not on two devices at the same time.
To backup Apple TV movies on Mac, PC and iPhone iPad, use 5KPlayer to download once and for all.
Can I Copy Apple TV Movies to iPhone/iPad?
>> Copy Any Movie and Music to iPhone iPad
You can re-download Apple TV movies previously purchased on iTunes. Alternatively, 5KPlayer empowers you to free download online movies and USB sync them to iPhone iPad.
>> Copy Apple TV Movies to iPhone/iPad Purchased on iTunes
Downloading previous movie purchases requires iTunes 10.6 or later, iOS 5 or later, or Apple TV OS 4.3 or later. Not all previously purchased Apple TV movies are available for downloading to your other devices.
Spend no penny and get a lot many, this Apple TV movies free streaming software integrates lossless 1080p 4K video download with wireless streaming from PC/Mac to Apple TV as a whole. One of the advantages of Apple TV is that you can spend less money, and get more content than cable TVs. Screen mirroring to Apple TV from Mac or Windows via 5KPlayer is another binge-worthy function, try it and get a go!
Related Articles
Instruction to Free HBO Go Apple TV Problems [Solved]A cover-all guide on HBO GO App not working on Apple TV: HBO go activate Apple TV[solved], HBO GO App problems in video playback[Solved], and other frequent HBO GO to Apple TV errors all handled with a free HBO streaming tool.
Hot Netflix Movie List For Free: Watch Top Netflix Movies on PC Mac HDTV The hot Netflix movie list offers top 20 most watched movies on Netflix as well as Netflix 3D movies, Netflix 4K movies, and 2015 2016 new movies on Netflix. Discover the 20 best Netflix movies from the list to watch for free on Mac PC Apple TV.
Top 6 HD Video Streaming Sites: Hidden Features You Should KnowThe selected top 6 HD video streaming sites empower you to free download streaming video, or watch full movie online. Learn how to make the best of free license to YouTube, Vimeo, and some other video streaming sites, and how to choose among Netflix, Dailymotion and other paid video streaming services.
Home | About | Contact Us | News | Privacy Policy | Site Map
Copyright © 2017 DearMob, Inc. All Rights Reserved.
AirPlay®, iPod®, iPhone®, iPad®, iTunes® and Mac® are trademarks of Apple Inc., registered in the U.S. and other countries. DearMob's 5KPlayer is not developed by or affiliated with Apple Inc.