How to Stream Video Music from Laptop to TV Wireless?
With a huge collection of videos and music in your laptop, it will surely be pleasant to watch movies while chatting with friends on it. But compared to a HD and showy TV screen only yards away, this 15-inch screen seems kind of feeble. 5KPlayer here helps you wirelessly connect laptop to TV to stream movies, and you can enjoy the video collection on a bigger screen without either cables or any latency.
What's Do I Need to Connect Laptop to TV Wireless?
In terms of suitable wireless adapter to connect laptop to TV, you have three options to choose from according to your different connection demands: A free laptop to TV wireless adapter, an USB cable, or a WiDi plugin. Please read on for the comparison.

Most Stable Wireless Connection: Run a cable
Cable connection is old and wired, but compared to trendy connection from laptop to TV wireless, certainly it is the best choice for stability and speed. An inexpensive and direct cable can ensure almost zero delay, but the problem is that you have to be physically tethered to the TV by the length of cable.
[ Tips and Notes ]
Make sure your laptop have an output port or DVI, and get yourself the right cable. For most wired adapters on sale, audio streaming is separated from video connection, and you'll need another audio patch for sound.
How Does 5KPlayer Improve Wireless Connection from Laptop to TV?
The technology behind the wireless connection from laptop to TV through 5KPlayer is the streaming skill called AirPlay. AirPlay was first proposed by Apple devices only but is now made possible to work on Windows PC with 5KPlayer. It is the service with which you can share video and music across devices without storing a copy at each. Solidly rooted in Apple base, 5KPlayer now makes AirPlay free and open to both Mac and PC users who need to wirelessly connect laptop to TV. However, just like the drawbacks of any other wireless connection, AirPlay delay/latency from laptop to TV is inevitable.
[ Tips and Notes ]
5KPlayer not only creates the connection, it also troubleshoots the connection by built-in function to solve AirPlay delay. And as most users find it feeble if a wireless port stops working, 5KPlayer provides the fool-proof solution in case the laptop to TV wireless connection doesn't work.
Most Convenient Wireless Connection: WiDi
WiDi (Wireless Display Technology) is the option better appealing to the demand for wireless streaming from laptop to TV. This option at around $50 enables audio and video streaming at the same time.
[ Tips and Notes ]
Take care that not every laptop has a WiDi built-in, and that small latency is inevitable for wireless streaming.
[ Free Alternative ]
There's one free-of-charge alternative that covers WiDi advantages. Please turn to 5KPlayer:
5KPlayer is an AirPlay built-in freeware that enables wireless video/audio streaming from laptop to Apple TV. You can connect your laptop at bedroom to the TV in the living room without clunky cables, with audio and video streaming all at once. You don't have to worry about its compatibility because 5KPlayer supports both Mac OS X and PC Windows OS, including Windows 8 and Windows 10. Most importantly, it doesn't cost a penny.
Two Steps to Set up Wireless Connection from Laptop to TV
Download 5KPlayer, install and launch it on your Mac or PC. This self-integrated wireless connection constructor can easily channel the audio and video from your laptop to Apple TV through only mouse clicks. No clunky cables or plugins will be required.
Step 1: Set up the wireless connection from laptop to TV
* Tap the AirPlay icon on the top right of 5KPlayer, select your Apple TV 4 name in the drop-down list to set up the wireless connection.
* Note: Please confirm your laptop and TV are connected to the same wireless network before you can start to stream video or audio.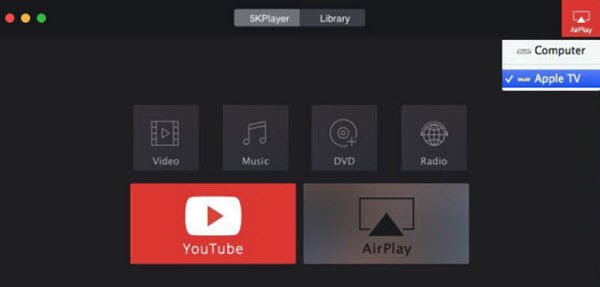 Home | About | Contact Us | News | Privacy Policy | Site Map
Copyright © 2017 DearMob, Inc. All Rights Reserved.
AirPlay®, iPod®, iPhone®, iPad®, iTunes® and Mac® are trademarks of Apple Inc., registered in the U.S. and other countries. DearMob's 5KPlayer is not developed by or affiliated with Apple Inc.