How to AirPlay iPhone 12 to Mac in 3 Steps?
Written by Kaylee Wood | Last update: October 14, 2020 | 3 MIn Read
Apple's AirPlay technology enables you to AirPlay iPhone 12 to Mac or Windows 10 with a free & 3rd-party AirPlay sender. This guide details on a how to use iPhone AirPlay to PC/Mac. Now that you have the latest iPhone 12 hand, learn the easiest way to enable iPhone 12 AirPlay to facilitate wireless video and music streaming? Let's get a closer pictures of the new iPhone 12 model and learn to use iPhone 12 AirPlay here and now!
AirPlay iPhone 12 Must-Have Tool
iPhone 12 AirPlay doesn't natively recognize Mac or PC as targets. However, with a freeware installed on computer, you can enable AirPlay on iPhone 12 iOS 14 to AirPlay MP4 MKV AVI. Install and launch 5KPlayer on Mac/Windows, and your iPhone 12 can detect it as the destination to send videos and music, saving you the trouble of USB syncing!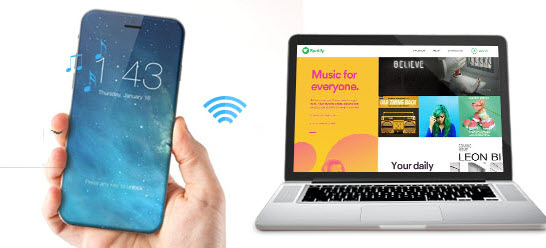 Part 1: AirPlay iPhone 7 New Features We Can Expect
Hexa-core A10: Better iPhone 7 AirPlay Stability
With the long-expected iPhone 7 (Plus) finally greeting audience with its TSMC aided to develop Hexa-core A10, this move really makes multi-task processing on iPhone 7 easier than ever. That being said, you can count on a much-improved iPhone 7/7 Plus Airplay stability. Compared with the 1.8GHz dual-core A9 processor in iPhone SE/6s/6s Plus, which features a 70% faster processing speed than the iPhone 6 with A8. The AirPlay quality you can get from this brand-new model embraces almost no AirPlay lags and image stutters from iPhone 7/7 Plus.

The native AirPlay from iPhone to Apple TV (Mac) only may not appeal to most Windows user as you have to rely on QuickTime Player, which you don't often use at all as a media player.
That being said, a free video player 5KPlayer overhauls to enable you AirPlay from iPhone 7 to Mac: With H.265 streaming technology, you can expect this non-faulty AirPlay sender to easiliy take iPhone 7 video AirPlay to the next stage, when the rest of out-dated AirPlay servers still trapped by AirPlay not working with iOS 9, 5KPlayer proves its iOS 10 compatibility right after the September 13th release. If you've got plans on iPhone 7/7 Plus, or you already have one, but the old AirPlay receiver is already suffering AirPlay not working with iOS 10 problems, then try 5KPlayer.
Apart from it excellents AirPlay iOS 10 performance, 5KPlayer can easily work as a screen recorder iOS 10 so that it can record what happens on your iPhone screen, and save the record into mp4 videos.
Part 2: AirPlay iPhone 7 to Mac and Recorded iPhone Screen: Videos, Games, etc.
Now that we have confirmed Apple chose not to switch its iPhone 7 screen from LCD to OLED, iPhone 7/7 Plus sticks to the 4.7-inch, 5.5-inch screen respectively, then sharing video without iPhone 7 AirPlay would ask you to huddle; Furthermore it's perhaps too early to expect for OLED from iPhone 7/7 Plus. Apple's screen manufacturer - JDI just announced their plan to put OLED screens into vast production in 2020. Then perhaps it's not iPhone 7 but 8 to be wraparound with OLED.
In this case, the easiest way to blow up your video is to AirPlay iPhone 7/7 Plus to Mac/Windows. Turn this computer you are using right now into an AirPlay receiver by installing 5KPlayer on Mac, so that you can enable AirPlay on iPhone 7. Once you connect iPhone 7/7 Plus and the computer to the same Wi-Fi, the built-in Bonjour protocol enables iPhone 7/7 Plus AirPlay (iPhone SE/6/6 Plus) and channels any videos, music to the computer, just like the process of AirPlay iPhone 6 to Mac with 5KPlayer.
How to Enable iPhone 7 AirPlay without Homescreen button?
The discontinuation of the home button on iPhone 7 (Plus) makes the way you can start wireless streaming a bit of different from before, now let's take a look at how to use AirPlay on iPhone 7 without the home button:
Step 1: Turn on Assistive Touch on iPhone
Turn on the Assistive Touch on iPhone 7 by: General > Settings > Assistive Functions > Assistive Touch
When a half-transparent button appears, tap on it to visit Control Center, which jumps out from the button of the iPhone 7's screen, then you may enable AirPlay on iPhone 7
Step 2: Directly swipe up from the button of iPhone 7's screen can call out the Control Center for you, where you may set to iPhone 7 AirPlay to Mac.
Tips: When watching videos on iPhone 7 iOS 10, users can directly AirPlay YouTube videos with the iOS YouTube APP, or AirPlay YouTube Music APP by pressing on iPhone screen > AirPlay > Computer (choose your computer name).
AirPlay iPhone 7 to Mac Hands-on Guide
Download to your PC or Mac this AirPlay receiver for iPhone 7/7 Plus, which helps install the Bonjour protocol to your computer so that it recognizes the streaming signals your iPhone sends to AirPlay iPhone 7 (Plus). When the installation is successful, double click the icon to launch it.
Step 1: Connect your iPhone 7/7 Plus iOS 10 and Mac to the same Wi-Fi to enable AirPlay on iPhone.
Tips and Notes:
- iPhone 7 AirPlay with 5KPlayer instantly replicates the video and audio of iPhone 7 to Windows (Mac). To switch video clips, you can directly start another video on iPhone.
Step 2: Swipe up the shortcut panel on iPhone 7/ 7Plus, choose:
AirPlay -> AirPlay destination -> Start
To activate iPhone 7/7 Plus AirPlay.
Tips and Notes:
- If you need to AirPlay iPhone 7/7 Plus whole screen to Mac (Windows), and record the screen movements, 5KPlayer can also help. Please refer to this screen mirroring iPhone 6s/6s Plus guide which also suits iPhone 7 fine. AirPlay iPhone 7/7 Plus is an exclusive feature to wirelessly stream videos.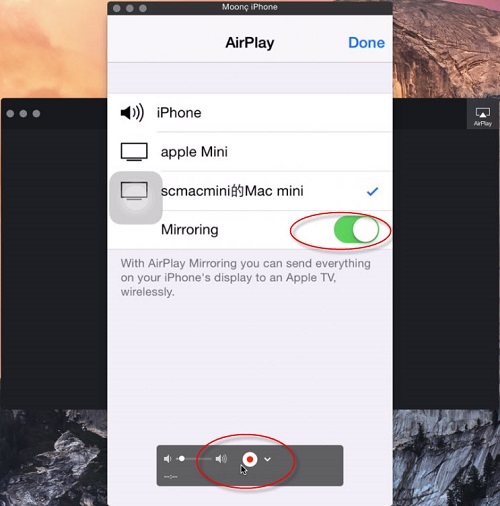 The above AirPlay iPhone 7 improvements remain to be updated. Currently 5 prototypes of the new iPhone 7/7 Plus are still under test, though attached with a slew of new designs: OLED screen, Li-Fi support, the ditched out headphone jack, and wireless charging, they may not all finally reach the iPhone 7/7 Plus handset. But one thing: If you are considering the iPhone 7/7 Plus level AirPlay, your AirPlay server should be up to 4K streaming. In this regard, the 5KPlayer is worth a try.
Home | About | Contact Us | News | Privacy Policy | Agreement | Site Map
Copyright © 2021 Digiarty Software, Inc. All Rights Reserved.
5KPlayer & DearMob are brands of Digiarty Software, Inc. Any third party product names and trademarks used in this website are property of their respective owners. All the related logos and images, including but not limited to Apple's AirPlay®, Apple TV®, iPhone®, iPod®, iPad®, iTunes® and Mac® are registered trademarks of their own. Digiarty is not owned by or affiliated with Apple Inc. and any of those companies.