All right, now wake up your iPhone 7/7 Plus or before/or iPad, follow the steps and see how to record iPhone screen without quality loss.
Part 1: How to Record iPhone 7/7 (Plus) Screen Without Jailbreak?
First, download and install the iOS 10 screen recorder - lightweight 5KPlayer on Mac or Windows - Windows 10, MacOS Sierra or earlier supported - detailed below is the guide on how to achieve iOS 10 screen recording via Windows PC, and you can work likewise on Mac with 5KPlayer.
Step 1: Connect your iPhone, iPad to Windows wirelessly.
Launch 5KPlayer, and make sure your iPhone, iPad and PC are connected to the same Wi-Fi.
Step 2: Swipe up from the bottom of iPhone screen, hit the AirPlay icon, and choose your computer name as the AirPlay target, toggle swicth the "Mirroring" option.
When iPhone and computer are successfully connected, everything on your iPhone screen will instantly replicate to computer display.
Step 3:. Find the red-spot on your computer screen, and by the time you hit it, recording starts right away.
Step 4:. To stop recording, hit the red spot agsain.
How to edit & playback your iPhone screen record?
Playback:. All iPhone/iPad iOS 10 screen recordings can be found if you click "YouTube" on the main interface of 5KPlayer. They're kept in the "AirRecord" tab on the bottom left corner.
Edit: You can rotate the iPhone/iPad screen recordings by clicking the rotate button up-left of the playback window - or refer to this guide on how to rotate videos for step-by-step instructions.
Reasons You Shouldn't Download Untrusted Screen Recorder iOS APPs
Thinking of a screen recorder iOS APP for iPhone? You're just not recommended to do so: For one thing, installing such APPs violates Apple's rules - who already yanked all screen recorders from shelf; For another, since you can only access them after jailbreak or through untrusted provider, you run the risk of virus.
To make things easier, capturing iPhone/iPad screen via Mac/PC Windows 10 enables easy editing once you finished recording, and exporting is just without hassle either by USB sync or AirDrop transmission.
To that end, you're just good to go with 5KPlayer - Fitting one-click iOS 9/8 screen recording, fix for audio video out of sync, and AirPlay into a lightweight built, 5KPlayer tops the list of today's recommendation as an iOS screen recorder. You can directly free download it:
Part 2: Vidyo - Screen Recorder iPhone APP (Download Cautiously)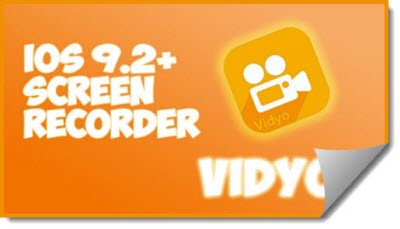 Price: $ 4.99
Review - Vidyo is definitely a surprise when screen recorder iOS APPs became Apple Store's no-no. To tell the truth, Vidyo is easy-to-operate, multi-functional and overall stable in performance.
Just like 5KPlayer, it allows you to record iPhone/iPad screen by stimulating the AirPlay Mirroring function. Vidyo is able to capture video or audio from iPhone/iPad input, so you can record footage taken with the front/back camera, or record your own voice through the microphone.
But fitting all these into an iOS APP is dangerous, especially given the fact that Apple typically banned any iOS screen recorder APP. Likewise, Vidyo is on the chopping board and currently it's only available outside the APP store. However, today we have collected a quality source for Vidyo screen recorder download, which is given by the ipahub:https://ipahub.com/app.php?id=1067611079, that being said, you still have to be cautious before you download this officially yanked iOS 10.2 screen recorder.
Price: Free
Review - Recording iPhone/iPad screen was made possible by Apple together with the introduction of iOS 8 and OSX Yosemite - so this is a Mac-only utility if you want to record iPhone screen. Generally speaking, a pretty good free screen recorder except for audio and video out of sync in recordings now and then. If you're looking for one iOS screen recorder that also works for Windows, please look back to 5KPlayer.
How to Record - Just like any other Apple functionalities, record iPhone 7/7 Pro, iPad Mini/Pro screen with Quicktime Player is handy and fast. You can: Connect iPhone and Mac with the lightning cable > Open Quicktime Player > File > New Movie Recording, when the recording window appear, click to get the drop-down menu, where you can select the name of your iPhone/iPad to record, Mic record is optional, which you can enable via the "Built-in Microphone: External Microphone" option.
When all is prepared, hit "Record" to start.
Problems - As you can notice, Quicktime Player is a Mac-only screen recorder iOS which relies on an USB cable. It really isn't bad for Mac users, but not so for Windows: The U.S. DOHS is urging Windows users to uninstall Apple's QuickTime player immediately due to hacking dangers, that being said, please before cautious before you actually download.
Why Choose 5KPlayer - Best Screen Recorder iOS 10.3 to Download?
So now, have you found a free screen recorder that works exactly for you yet? 5KPlayer, Quicktime Player and Vidyo come as top 3 of our recommendation, of which we recommend the first 2, because given the big picture of Apple's APP yanking traditions, Vidyo can be somewhat unstable.
As for Quicktime Player and 5KPlayer - well, Quicktime for Windows doesn't connect your iPhone at this moment, Windows user (Windows 10 included) can directly download this free screen recorder iOS 10 - 5KPlayer below. This free gadget proves not only helpful in recoridng iPhone and iPad videos, but also support the integrated AirPlay iPad Pro 2 to Mac smoothly.
But If you're fine with Quicktime (coming natively with Mac), initiate it now to record iPhone screen with steps given above.
Home | About | Contact Us | News | Privacy Policy | Site Map
Copyright © 2017 DearMob, Inc. All Rights Reserved.
AirPlay®, iPod®, iPhone®, iPad®, iTunes® and Mac® are trademarks of Apple Inc., registered in the U.S. and other countries. DearMob's 5KPlayer is not developed by or affiliated with Apple Inc.