Part 1: iPhone 11/11 Pro/XS/XS Max/XR/X/8/7 iOS 13 AirPlay to Windows 10 Guide
If you're thinking of iPhone 11 and earlier iOS 13 AirPlay to Windows 10, 5KPlayer is probably among the only few to support iOS 11/12/13 AirPlay upon its release: Unlike other AirPlay servers still trapped by iOS 9 AirPlay not working, developers have tackled the system incompatibility back in June. Now all iOS users have instant access to Windows 10 AirPlay, for video streaming in MP4, MOV, M4V, and music streaming in MP3, AAC. First, download this self-integrated AirPlay receiver for Windows 10, and follow the guide below as of how you're going to AirPlay a video to Windows 10 PC.
Step 1: Install and launch 5KPlayer on a Windows 10 powered PC/Lenovo/Dell/HP, then connect the computer & iPhone to the same Wi-Fi.
Step 2: First bring out the control center by swiping up from the bottom of the screen on your iPhone, then tap "AirPlay".
Step 3: Find in the AirPlay receiver list your Windows 10 PC. Now that the computer can work as an Apple TV with 5KPlayer installed, and you can enable AirPlay iPhone to Windows 10 without hassle.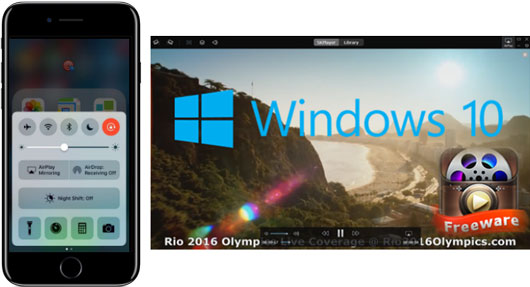 Note: Pick up a video from the following APPs on your iPhone - Video, Home Cinema, Music, or choose one AirPlay-enabled APPs like YouTube or Vimeo.
Tips:
1. iPhone AirPlay to Windows PC supports videos in MP4 M4V MOV format, and music in MP3 AAC format.
2. If you enable iPhone AirPlay to Windows 10 without toggling switch "Mirroring", you can wirelessly stream media files saved under "Video", "Home Cinema", "Music" APP as well as a slew of AirPlay-enabled APPs like YouTube, Vevo, etc.
That being said, if you think differently and plan to Mirror what's on your iPhone screen to Windows 10, say games, photos, Facebook videos, AirPlay Mirror iPhone 11/11 Pro/XS/XS Max/XR/X/8/7/6s/6 Plus to Windows 10 with 5KPlayer is better able to serve you well.