AirPlay Not Working on iOS 10 iPhone/iPad [Solved]
A 3-part guide: Part 1 on AirPlay not working on Apple TV [Solved], Part 2 on iOS 10 5KPlayer AirPlay not working [Solved], and Part 3 iPhone/iPad Mac/PC AirPlay troubleshooting. AirPlay performance gets mainly interfered by invisible external factors, thus resulting in AirPlay not working problems due to AirPlay sender device errors, or your own router's issues — wireless, invisible — that's the point why you could feel helpless when totally unaware of which procedure actually went wrong in terms of AirPlay not working iOS 10.
How to Solve AirPlay not Working on iPhone/iPad iOS 10?
AirPlay stability now taken to the next stage with a free AirPlay troubleshooting tool - 5KPlayer. Here a to-the point guide could help you out from AirPlay not working on Apple TV, from iPhone (7 Plus/6s/6s Plus)/iPad/iPad Pro to Mac/Windows, or even on iOS 10. Just remember "AWRRR".

5KPlayer AirPlay Not Working iOS 10 [Solved] "AWRRR"
5KPlayer AirPlay Not Working General Guide: Use this guide if you have AirPlay not working problems from iPhone/iPad to Mac/PC. "AWRRR" refers to the 5 things to do when you use 5KPlayer for AirPlay troubleshooting.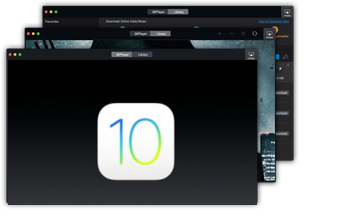 A for AirPlay
Make sure the AirPlay is turned on: Check in iPhone/iPad control center > AirPlay
W for Wi-Fi
Connect your AirPlay sender and receiver to the same Wi-Fi or Ethernet.
RRR for Reboot > Reboot > Reset
Reboot: the iPhone/iPad/iPad Pro and Mac/PC, keep the devices powered off for more than 30 seconds.
Reboot: remove your router's power cord for more than 30 seconds.
Reset: your iPhone/iPad/iPad Pro, you can reset through Settings > General > Reset.

Tips and Notes:

Make sure you don't tap "wipe all the content and settings" in your device.
Technically saying 90% of AirPlay not working, or AirPlay icon missing problem could be solved through "AWRRR". But the problem is that you have to watch out at any time in case it goes wrong again at crucial moments.
To help you keep a monitoring eye on the AirPlay condition of your Apple devices, 5KPlayer serves as a sensitive alerting guard in case anything goes wrong in the process of AirPlay. It has indicative AirPlay icon on the main interface that will turn red when AirPlay is enabled, and the playback area could help you in AirPlay troubleshooting.
Solve AirPlay Not Working Other Errors with Free AirPaly Troubleshooting Tool
Comprehensive collection of user feedback shows that AirPlay not working embodies generally in two kinds of cases: the function totally absent, or the AirPlay delays/latency. 5KPlayer provides not only the agile indicator for the function absence by informing the users at once in terms of AirPlay not working, it can also solve AirPlay video delay from iPhone/iPod/iPad Pro to Mac within simple mouse clicks. A whole world of amazing functions is in store at your AirPlay kingdom, and you could really explore how to AirPlay iPhone 7/Plus and even screen mirroring iOS 10 with yourself eligible to solve AirPlay not working problems in daily life.
AirPlay Mirroring Not Working [Solved] with 5KPlayer
AirPlay mirroing takes AirPlay one step further by replicating the whole destop of iPhone/iPad/iPad Pro or Mac/Windows to the target device, sending bigger data all at the same time.
If you have problem with AirPlay Mirroring not working properly, disconnect your AirPlay sender and receiver from the Wi-Fi > close all running programs in background > re-launch AirPlay Mirroring.
5KPlayer fixes the screen mirroing unstable problems through working on the wireless streaming protocol. See to this how to use screen mirroring guide for iPhone (7/SE/6s/6s Plus)/iPad/iPad Pro iOS 10 Mac/Windows and Apple TV, and the special case of screen mirroring iPhone 6s/6s Plus with iOS 10 for corresponding solution.
Guide: AirPlay not Working - Video and Audio Out of Sync [Solved]
Download 5KPlayer for Windows or Mac, install and launch it. This sensitive AirPlay condition guard can seamlessly adapt to your Mac El Captain or Windows 10 to solve AirPlay not working. Here we first focus on troubleshooting Apple TV AirPlay. You could also turn to full guide on how to use AirPlay for guide on AirPlay for Windows, AirPlay from iPad to PC, or from iPhone iPad to Mac..
Step 1: Solve AirPlay not working on Apple TV from Mac/PC
* "A" ->> Make sure the AirPlay sender (Mac/PC) and AirPlay receiver (Apple TV) are in good working mode.
* "W" ->> Confirm that the 2 devices are connected to the same Wi-Fi when AirPlay not woking — sometimes it's just the network.
Tips and Notes:
If you have AirPlay mirroring not working puzzles, 5KPlayer can also fix its problems with built-in screen mirroring optimized module. See to it that how to use screen mirroring with 5KPlayer.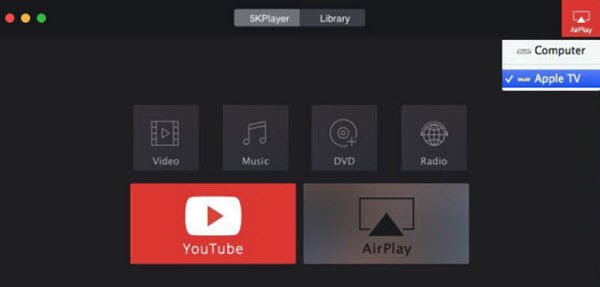 This AirPlay troubleshooting tool can really understand your puzzles in solving AirPlay not working. 5KPlayer support team keeps updating AirPlay troubleshooting guide based on user feedbacks. Please refer to the introduction tutorial list to explore more functions of 5Kplayer AirPlay. This general guide "AWRRR" proves to be a universal solution to AirPlay not working problems. Now embrace the wireless streaming fun of 5KPlayer, here's our selected top 6 video streaming sites and top 6 music streaming services for fun!
Related Articles
AirPlay iPhone (iPhone 7/7 Plus and Before) Hands-on GuideAirPlay iPhone (7/7 Plus, iPhone 6/6Plus and before) hands-on guide. How to use iPhone 7 iOS 10 AirPlay to Mac, Windows and Apple TV? Take a look at this AirPlay iPhone guide to learn how to AirPlay iPhone 7 to Mac/PC/Apple TV in the easiest way with revamped wireless streaming.
Popcorn Not AirPlay/Stream to Apple TV [Solved]Here provides the ultimate solution to PopcornTime not AirPlay/stream to Apple TV while advising you to get the best alternative in case those problems appears again.
Instruction to Free HBO Go Apple TV Problems [Solved]A cover-all guide on HBO GO App not working on Apple TV: HBO go activate Apple TV[solved], HBO GO App problems in video playback[Solved], and other frequent HBO GO to Apple TV errors all handled with a free HBO streaming tool.
Home | About | Contact Us | News | Privacy Policy | Site Map
Copyright © 2017 DearMob, Inc. All Rights Reserved.
AirPlay®, iPod®, iPhone®, iPad®, iTunes® and Mac® are trademarks of Apple Inc., registered in the U.S. and other countries. DearMob's 5KPlayer is not developed by or affiliated with Apple Inc.