Free Download and Watch Netflix 3D Movies 2018
Written by Kaylee Wood | Last updated: April 27, 2020
TV shows on Netflix are varied, from animations to documentaries. We have Netflix TV shows list updates on a monthly basis. We also have Netflix 4K movie list update regularly. How about Netflix 3D movies? Does Netflix have 3D movies? How to find and watch Netflix 3D movies? Here is the answer.
[Warning] YouTube music & copyright-protected contents are not supported for download.
How to download Netflix movies to iPad/iPhone?
In Netflix 3D library, there are many 3D movies avaliable yet not qualified enough for entertainment. In order to see whether a movie is provided in 3D, you may have to click on the title of each movie on Netflix. If it is a 3D video, there will be a silver plack rectangle saying "3D". However, by doing so, an awful lot of time will be consumed. So, now we are going to save you from the trouble and offer the complete 3D movies list on Netflix.
Netflix 3D Movie List (Updated)
A Turtle's Tale: Sammy's Adventures (2010)
Angelo Rules 3D (2010) – TV Series
Animals United (2010)
Animen: The Galactic Battle (2012)
Beowulf (2007)
Dino King (2012)
Don 2 (2011)
Flying Swords of Dragon Gate (2011)
Little Brother Big Trouble (2011)
Oscar's Oasis 3D (2011) – TV Series
Pina (2011)
Plankton Invasion 3D (2011) – TV Series
Sadako 3D (2012)
Saving Santa (2013)
The Art of Flight (2011)
The Hole (2009)
Thor: Legend of the Magical Hammer (2011)
Tormented (2011)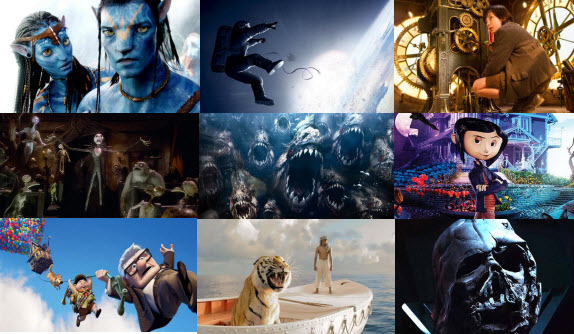 13 Best 3D Movies Netflix Does Not Have:
Avatar 3D
Hugo
Life Of Pi
Gravity
Transformers: Age of Extinction
Jurassic World 3
Star Wars VII: The Force Awakens
The Nightmare Before Christmas 3D
Up 3D
Coraline 3D
Piranha 3D
The BFG 3D (2016)
Alice Through the Looking Glass 3D

To directly watch Netflix 3D movies, you are required to get a 3D TV set. Sony PlayStation 3 (connected TV must support 3D); LG TV Series: LM6200, LM6400, LM6600, LM6650, LM6700, LM7600, LS5700, LS5750, PM4700, PM6700, PM6900, PM9700. But how to watch Netflix 3D movies if you do not have these 3D TVs? You need 5KPlayer. Also take a look at high quality anime series on Netflix - Seven Deadly Sins: Revival of the Commandments.
As one of the best 3D video players, 5KPlayer is also embedded with the function of a Netflix 3D video downloader which supports downloading Netflix 3D movies and ultra HD movies (1080p, 4K, 8K,etc.) from online. It is the best one-stop solution to save and play 3D movies on both Mac and Windows PC. More over, if you prefer large screens in the living room, 5KPlayer can also stream the 3D Netflix content right to your big HDTV. Do not worry about audio or subtitle track delay, since 5KPlayer has also taken those possible problems into optimization. In case you prefer an APP-based experience, take a look at guide to download Netflix APP for Mac.
How to Watch Netflix 3D Movies and Other 3D Movies Without 3D TV?
Since many 3D movies are not provided by Netflix, we recommend you this free 3D movie player 5KPlayer to help you watch 3D movies from all sources – Blu-ray 3D discs, online 3D movies, or Netflix 3D movies.
If you haven't download 5KPlayer for watching Netflix 3D movies, download and launch it.
Step 1: Click "YouTube" button on the main UI to come to the download UI.
Step 2: Copy the correct link of the Netflix 3D movie from the browser and then go back to the download window of this Netflix 3D video downloader.
Step 3: Click the "Paste & Analyze URL" button.
Once the URL successfully analyzed, a detailed information banner will be displayed below the box, including a download button, a thumbnail, video format, definition etc.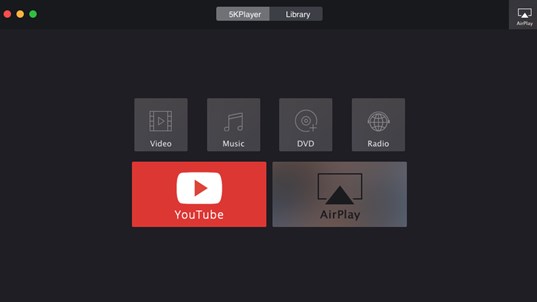 Note: Before you start to download 3D movies, you can click the setting icon to select output format and resolution.
Step 4: Click the download button to star Netflix 3D movie download for free.
Note: Before copying the URL of 3D movies, check the setting icon and make sure the 3D effect is turned on.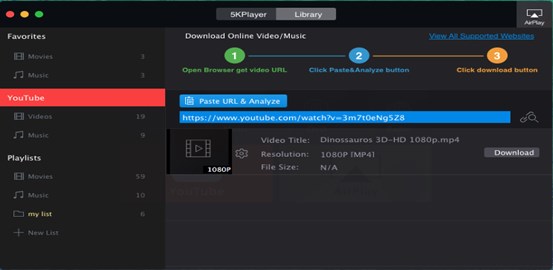 5KPlayer will take you tour in both 2D world and 3D world of Netflix and beyond. In case that you meet any Netflix problems like Netflix won't load, or Netflix app not working problems during 3D movie playback, 5KPlayer offers corresponding solutions. Download 5KPlayer to watch Netflix 3D movies right now!
Home | About | Contact Us | News | Privacy Policy | Agreement | Site Map
Copyright © 2021 Digiarty Software, Inc. All Rights Reserved.
5KPlayer & DearMob are brands of Digiarty Software, Inc. All other products or name brands are trademarks of their respective holders. All logos, trademarks and images relating to other companies that may be contained wherein are applied in the Internet that are not used for commercial use. Digiarty's software is not developed by or affiliated with such companies.