Guide on How to Watch Netflix on TV to Enjoy the Larger Screen
Written by Kaylee Wood | Last update: April 28, 2020
Netflix's streaming library is a big name to conjure with in providing convenient movies and TV shows. But how to watch Netflix on TV, which comes with 50-inch or larger screen and can thus serve more people? What's the best solution on how to get Netflix on TV? Well this free Netflix streaming software named 5KPlayer brings the most efficient yet free solution to watch Netflix on TV.
Netflix makes a name for itself by offering excellent rich media contents, such as the political drama "Hose of Cards", "Orange Is the New Black", "Breaking Bad", "Mad Men" etc. This feast of hit movies and shows makes the television network pale. And what if you have been long reluctant to get Netflix confined to your Mac or PC? While neither the content on TV set or size of your computer are satisfactory, you may wonder if you can watch Netflix on TV.
Speaking of how to play Netflix on TV, a few ways to enjoy Netflix TV shows and movies are available, including connecting your computer to a television or downloading and transferring Netflix movies to HDTV. But those methods mean that to watch Netflix on TV, you may clutter the house with cables or wires or deal with the file format things. Why bother, you can take advantage of the AirPlay feature added by Netflix with a proper AirPlay sender, with which Netflix movies and more Apple TV movies will bring you binge. Here 5KPlayer, a free and professional Netflix streaming software, can easily stream Netflix to TV from both Mac and PC.
5KPlayer, serving as an AirPlay server, allows users to watch list of top 20 Netflix movies, Netflix TV shows by adding AirPlay sender ability to both Mac and PC. In other words, all the contents on Netflix, TV shows, movies, music can be wirelessly streamed to the larger screen with 5KPlayer installed on your computer, with no quality loss. That also means full playback control and being able to do other things with your computer while watching Netflix on TV, and you can also use 5KPlayer to solve Netflix AirPlay not working if you need. Follow the guide below to learn how to get Netflix on TV from Mac and PC.
How to Watch Netflix on TV with 5KPlayer
Note that you will need an Apple TV connected to your HDTV first and make sure your computer and Apple TV are in the same network signal before you stream Netflix to TV.
Step 1: Free download 5KPlayer on your Mac (for windows users, just download the windows version).
Step 2: Launch 5KPlayer and click AirPlay tab on the upper right corner of the interface. To play Netflix on TV, click AirPlay tab and choose the Apple TV from the drop-down menu. Once the AirPlay is enabled the AirPlay tab will turn red.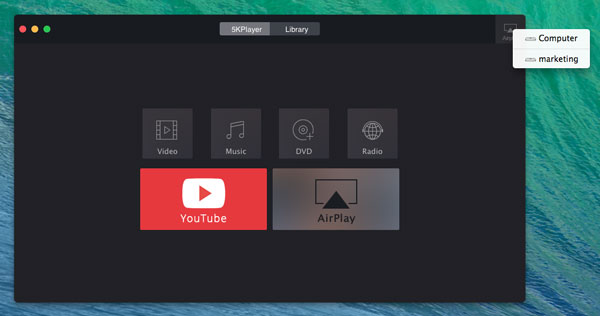 Home | About | Contact Us | News | Privacy Policy | Agreement | Site Map
Copyright © 2023 Digiarty Software, Inc. All Rights Reserved.
5KPlayer & DearMob are brands of Digiarty Software, Inc. Any third party product names and trademarks used in this website are property of their respective owners. All the related logos and images, including but not limited to Apple's AirPlay®, Apple TV®, iPhone®, iPod®, iPad®, iTunes® and Mac® are registered trademarks of their own. Digiarty is not owned by or affiliated with Apple Inc. and any of those companies.