Free Download 3D Movies with Best 3D Video Downloader
Written by Kaylee Wood | Last updated: May 07, 2020
Why would you pay $ 20 to buy a 3D movie ticket, or watch a blurry video from online video sites if you can download 3D movies and watch them on your 3D TV with your Red/Blue glasses putting on, sitting with your family, on your own sofa, to experience a visual feast? Downloading 3D movies online and watching it at home is probably a better choice for most people. Want to download 3D movies online? Want to download Netflix 3D movies? Read this tutorial and be a professional.
[Warning] YouTube music & copyright-protected contents are not supported for download.
5KPlayer – Download 3D Movies Swiftly and Without Trouble
5KPlayer offers you the best solution to download 3D movies from over 300 video streaming sites including Facebook, Onlinemovies, X8movie, etc. and with the highest quality remains. Watch 3D movies without going out, get started with downloading this best 3D movie downloader first!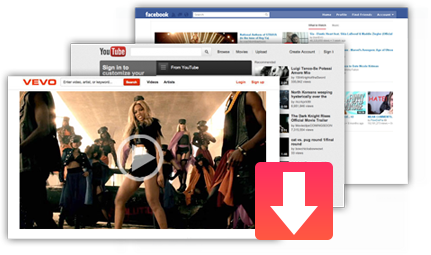 To free download 3D movies, a safe and efficient free 3D movie downloader is badly needed. That's why 5KPlayer has emerged as the best free 3D Movie downloader to help you download 3D movies.
5KPlayer is specially designed to be an online video downloader which supports safely and efficiently downloading Instagram video, 3D movies and ultra HD movies (5K, 4K, 1080p,etc.) from websites. It offers the best one stop solution to both download and play 3D movies. More important than all of that, 5KPlayer is able to AirPlay 3D movies to your 3D TV with the help of Apple TV (stream the 3D movie from Mac to 3D TV so as to playback on a more specialized terminal device), and the function of AirPlay makes the whole thing even more convenient. No USB drive, no cable, no transmitter, you just need a 5KPlayer and a pair of Red/Bule glasses to start a vivid movie adventure.
Dedicated to refining the ability to play and download all kinds of music, videos and movies, this 3D movie downloader is making itself more and more competitive in this field. What's more, it can free extract the audio from the downloaded videos: AVI to MP3, MPEG to MP3, etc. And if you want to convert the video format to another, such as MKV to MP4 or vice versa, you may want to know more about the video converter. Download 5KPlayer to find out how it downloads 3D movies and other thing it is capable of.
Home | About | Contact Us | News | Privacy Policy | Agreement | Site Map
Copyright © 2023 Digiarty Software, Inc. All Rights Reserved.
5KPlayer & DearMob are brands of Digiarty Software, Inc. All other products or name brands are trademarks of their respective holders. All logos, trademarks and images relating to other companies that may be contained wherein are applied in the Internet that are not used for commercial use. Digiarty's software is not developed by or affiliated with such companies.