VLC 64 Bit for Windows 10 Download Free: Tutorial
Posted by Kaylee Wood | Last update: April 28, 2020
Where can I download VLC 64 bit for Windows 10/8/7 computer? How is VLC 64 bit different from the 32 bit version? Search for VLC 64 bit on videolan.org but you downloaded VLC 32 bit by default? VLC x64 can't run on every computer. Scroll down to check out VLC media player 64 bit can run on your computer, if yes, read the download tutorial.
VLC Player 64 Bit Doesn't Work for You? Try This
If you run VLC x64 on a 32 bit Windows OS or low-end computer, chances are that VLC no sound and VLC crash happen. Now a new style best VLC alternative - 5KPlayer - for 64 bit Windows 10 and Mac can seamlessly work with your Windows 10 64 bit and Nvidia GPU. Play 4K 8K UHD videos superfast without a dime!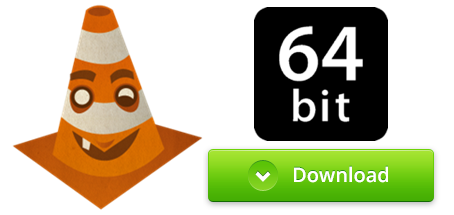 VLC 64 Bit Download and Install Guide
★ Can VLC x64 Run on My Computer?
Before downloading VLC player 64 bit, make sure that it can run on your computer.
☆ For Windows: Is your computer running Windows 32 bit or Windows 64 bit? You may check in this way:
Go to Start Menu > Computer > System Properties. A 64-bit operating system or 32-bit operating system will be specified after the System Type.[VLC Windows 10 New Feature and Bugs->>]
☆ For Mac: VLC player 64 bit can run on every Mac El Capitan. This is because Mac OS X is a hybrid one, it allows VLC to run regardless of its bitness. [VLC Media Player for Mac->>]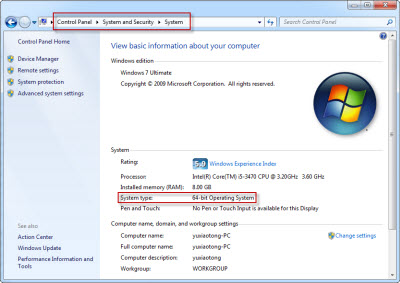 In a word, VLC media player 64 bit 2.2.1 can run on Windows (10) 64 bit and all Macbook/Macbook Pro/iMac Air, if you have VLC not working [fixed] problems, perhaps you have force installed a x64 player on a 32-bit computer.
However, VLC 32 bit can run on both x32 and x64 Windows OS and Mac. Yet chances are that you run into VLC can't play MKV [solved] when .
★ Download VLC 64 Bit Guide
Where to Download?
In order to rip off malware or virus, below 3 recommended ways for VLC download.
1. Download VLC Player 64 Bit from Videolan.org
Search for VLC x64, open videolan.org, and you'll find 4 download buttons available on the download page:
- Installer Package (Exe Installer)
- 7zip Package (No Installer Needed)
- Zip Package (No Installer Needed)
The above 3 are VLC x32, compatible with Windows 10/XP SP2/2003/SP2/Vista SP1/2008 SP1/8.1/8/7.
- VLC 64 Bit Installer
At the bottom of the page is the only VLC player 64 bit download package,an exe installer. To run it successfully on Windows 95/98/Me, first download an install one Kernelex tool: http://sourceforge.net/projects/kernelex/.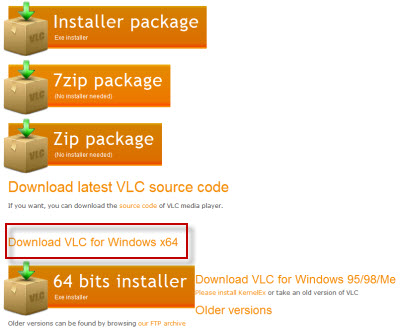 2. Download VLC 64 from FileHippo:
FileHippo collects VLC media player 64 bit 2.2.1 and all its old versions. You are 100% secure and free of any malware or virus.
3. Download VLC Media Player 64 bit from other download sites:
Techradar, Softonic, Softpedia.
How to Install VLC 64 Bit?
- Unzip the 32 bit 7Zip Package and Zip Package, and the VLC media player is for instant use in the folder.
- VLC 64 bit takes a setup process.
Older versions of VLC x64 are right next to the organge button.
★ VLC 64 Bit or 32 Bit?
Compared to VLC x32, there are two major benefits of VLC player 64 bit.
1. More bits means that data can be processed in larger chunks, hence more accurate computing.
2. More bits means a system can point to/address a larger number of locations in physical memory.
However, image processing capability of VLC player 64 bit doesn't rely on your operating system alone, it is a joint cooperation of the hardware: the CPU and GPU. Hence without a solid configuration (3.2 GB RAM-up), VLC x64 may run into such problems as VLC can't play MKV, VLC audio delay and the like.
Capability of VLC 64 bit indeed works better on x64 computers when compared to VLC player 32 bit, yet software performance with multi-line subtitles, VLC crash on Windows, VLC not playing MP4 and other major issues haven't been repaired as expected. On Windows 10 64 bit platform, when system computing speed sees an major uplift, a media player tailored for 64-bit OS - 5KPlayer is much more resilient. Still, the decision goes up to your flavor.
Home | About | Contact Us | News | Privacy Policy | Agreement | Site Map
Copyright © 2023 Digiarty Software, Inc. All Rights Reserved.
5KPlayer & DearMob are brands of Digiarty Software, Inc. All other products or name brands are trademarks of their respective holders. All logos, trademarks and images relating to other companies that may be contained wherein are applied in the Internet that are not used for commercial use. Digiarty's software is not developed by or affiliated with such companies.