H.265 Streaming: Try The New 4K Streaming Mode
Written by Kaylee Wood | Last update: April 28, 2020
Why H.265 streaming? Well with similar file size a H.265 streaming video can render more pixels than a H.264 video or a VP8 video, thus giving better 4K streaming image qualities and saving the streaming time. So here come the questions: Where can I find more H.265 streaming videos? What other video codecs can match H.265/HEVC streaming, and what are the obsolete ones you shouldn't download any more? This article gives the answers one by one.
What's the Best Free H.265 Streaming Player?
The best free H.265 streaming media player that's compatible with Mac/Windows gives download link here. Well, it offers free experience of 4K streaming from iPhone 11 (or earlier)/iPad to Mac/Windows, or from Mac/Windows 10 to Apple TV (4). Try on 5KPlayer that keeps regular updating of video codec for H.265 streaming for you to permanently rely on.

What's H.265 Streaming and Why Should I Use H.265 Codec?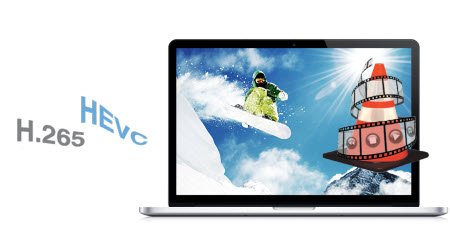 H.265 streaming is the successor of H.264 and is gaining increasing popularity with
4K streaming
been accepted. It's specially nifty of H.265 streaming to maintain 4K UHD video quality even under a high compression rate, while it has some drawbacks:
1. H.265 codec is a more complex codec than others, thus taking longer to decode;
2. H.265 streaming, or 4K streaming places higher demand on your CPU;
3. Most browsers don't support H.265 streaming, including Firefox, Chrome and Opera.
5KPlayer is Bringing H.265 streaming to a Higher Stage
- It set up H.265 streaming from Mac/Windows to Apple TV when connected to the same Wi-Fi or Ethernet. [Only after you transcode H.265 into AirPlay supported format].
- If you don't feel like to transcode H.265/HEVC, use AirPlay Mirroring of 5KPlayer to replicate the whole screen of iPhone/iPad /Mac to Mac/Windows.
- 5KPlayer configures native H.265 codec, rendering more sleek video playback than H.265 streaming with external codec packs. Furthermore, you can play H.264,MKV, MOV, AVCHD, etc.
How to Enable H.265 Streaming With 5KPlayer
Download H.265 streaming video
Step 1: Free download this free H.265 streaming player for Mac El Captain and PC Windows 10.
Step 2: Find the HEVC H.265 codec video you'd like to download, copy the URL.
Step 3: Click the YouTube button of 5KPlayer, and tap "Paste and Analyze", it will finish downloading in a small while.
Tips and Notes: 5KPlayer can download H.265 codec videos. Now see H.265 VS VP9, both are 4K UHD video codecs. While VP9 can play in 60% browsers H.265 cannot, so download it to watch with 5KPlayer smoothly.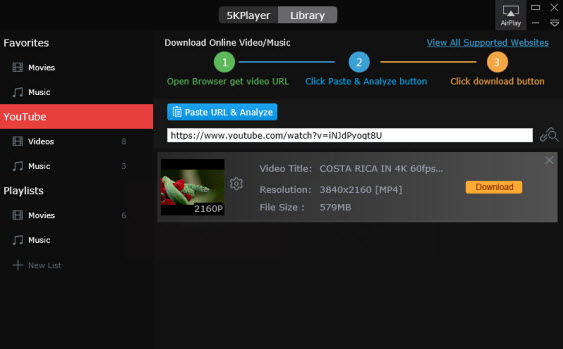 AirPlay H.265 Streaming Video From Mac/Windows to Apple TV 4
Step 1: Connect your Apple TV with Mac/PC installed with H.265 streaming player to the same Wi-Fi or Ethernet.
Step 2: Adjust your H.265 streaming video to fit AirPlay requirements.
Step 3: Remotely control 4K streaming
This best free H.265 streaming player supports adding subtitles, video rotating, video deinterlace. Now with your laptop installed with it you can control Apple TV 4 without annoying cables.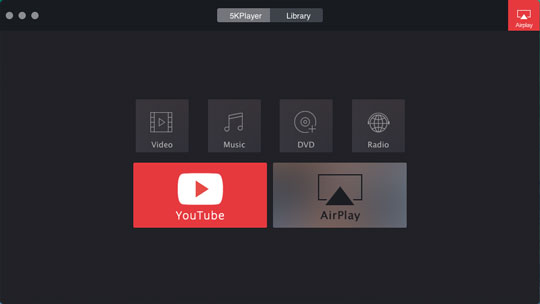 Tips and Notes: You can free convert the H.265/HEVC video into MP3 with 5KPlayer. AirPlay streaming only supports video in MP4, MOV and M4V, while H.265 codec is not an AirPlay supported video codec. If you need to stream the 4K UHD video without any quality loss, try the best video converter for Mac and PC.
Best Websites for H.265 Streaming
YouTube and Vevo, as well as most video sharing websites, don't support H.265 currently. You have to transcode H.265 before uploading a video to YouTube. While as a more space-saving way to store videos, H.265 codec is highly possible to be widespread in near future.
H.265 Streaming VS VP9
With 4K streaming comes the updating of video codec, and 5KPlayer deems the acceptance of H.265/HEVC to be a time-consuming process, thus building support for H.265, H.264, VP8 and VP9 to leave a buffer zone.
H.264 currently is the most widespread video code of 4K streaming, and VP9, which bolsters best compatibility with web browsers, are 4K streaming in different shapes.
Related Articles
Stream MKV to Apple TV 4/3/2 What is the easiest and instant way to stream MKV files to Apple TV 4/3/2? Find it out here.
Free Stream 4K Video to Apple TVThis tutorial will show you how to get free 4k video streaming services from 5KPlayer to easily stream 4k movies, UHD videos from PC/Mac to Apple TV.
Stream AVI Files to Apple TV How to stream AVI to TV via Apple TV wirelessly to play AVI files to TV? Here gives you the best way.
Home | About | Contact Us | News | Privacy Policy | Agreement | Site Map
Copyright © 2023 Digiarty Software, Inc. All Rights Reserved.
5KPlayer & DearMob are brands of Digiarty Software, Inc. Any third party product names and trademarks used in this website are property of their respective owners. All the related logos and images, including but not limited to Apple's AirPlay®, Apple TV®, iPhone®, iPod®, iPad®, iTunes® and Mac® are registered trademarks of their own. Digiarty is not owned by or affiliated with Apple Inc. and any of those companies.