How to Solve VLC H.265 HEVC 4K Playback Problems?
Posted by Kaylee Wood | Last update: April 28, 2020
Robust as it is, VLC still falls short in terms of H.265/HEVC decoding and 4K video playback. You cannot 100% count on VLC to playback H.265 HEVC Ultra HD 4K videos since many problems have already surfaced and spotted by VLC users. What are those VLC H265/HEVC playback issues? How to solve VLC HEVC/H.265 4K playback errors?
Best Way to Solve VLC H.265 Playback Problems at One Go
If you have ransacked the internet but find no way to tackle VLC H.265/HEVC 4K playback problems, we sincerely recommend you the simplest, most brilliant and professional tool 4K UHD video player- 5KPlayer. This H.265/HEVC dedicated media player is designed specifically for 4K H.265/HEVC playback with outstanding Mac/Windows harware decoding feature.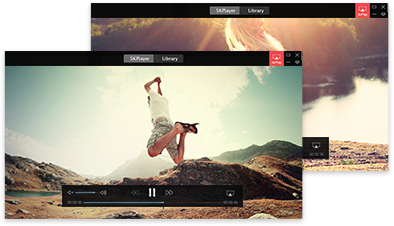 Common VLC H.265/HEVC Playback Issues:
Problem 1:
Playing H.265 encoded videos on VLC Player 2.2.1 and get the errors like
[Codec not supported:
VLC could not decode the format "hevc" (MPEG-H Part2/HEVC (H.265))"]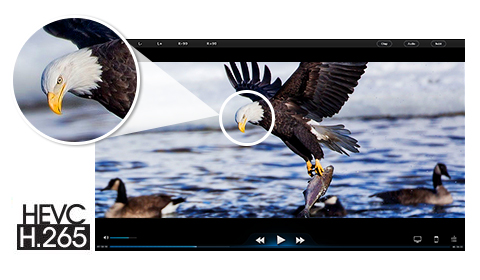 Solution 1: Try the latest version 3.0.0 VLC for H265 HEVC playback.
Although the nightly version of VLC highlights in Blu-ray playback, VLC HEVC and other codecs decoding abilities have been substantially enhanced on average. Tough H.265 VLC codec pack is not recommended, that's your choice to make to help solve VLC not playing GoPro HEVC 4K videos and other playback issues.
Solution 2: Turn to 5KPlayer – best replacement of VLC for H.265 playback.
H265 HEVC exclusive 5KPlayer freeware with in-built H.265/H.264 codecs plays HEVC videos in whatever format – MKV/AVI/MP4 without burden. It has wide format support as well as strong rendering power.
Problem 2:
Playing h265/HEVC in VLC, you get choppy playbacks and endless hiccups and glitches which are largely resulted from the software decoding difficulties and lack of hardware support. This is not technically the problem of VLC; it's the problem of overall software decoding. Software decoding files compressed in H.265 will generally cause video-audio delay or even framedrop. The UVD decoding engine of AMD has boosted the capability of many CPUs for software decoding H.264, but it cannot catch up with H.265 decoding, and it takes effort to spread codec support to countless operating systems.
Solution 1: You can purchase an intel-i7-core processor for pure software decoding of H.265/HEVC, or get a great GPU for hardware acceleration to help decoding H.265. Otherwise, you may have to bow to the hardware reality.
Solution 2: Convert H.265 to H.264 ordinary compression format with proper converter software. Common computers now can handle H.264 decoding with average intel i5 Processer pretty well. So, why not bend the higher bar for H.265 ubiquity a little bit.
How to Use 5KPlayer to Play H265/HEVC 4K Instead of VLC?
Free download

this free H.265 VLC Player alternative; 5KPlayer is elegant and lightweight; Install and launch this H.265 VLC player alternative on your Mac/PC.
Steps: Use 5KPlayer to playback the H.265/HEVC 4K videos failed in VLC;
If playbacks of HEVC/H.265 4K in VLC failed, you can resort to 5KPlayer as an emergency call.
* Drag & drop H.265/HEVC files not playing in VLC to the main interface of H.265 player -5KPlayer;
* Click "Video" button on the main interface to add H.265 video failed playing in VLC;
* Right click on the H.265 file, and navigate to "Open with 5KPlayer" option.
VLC alternative 5KPlayer will automatically play your HEVC H.265 4K video in a smooth manner.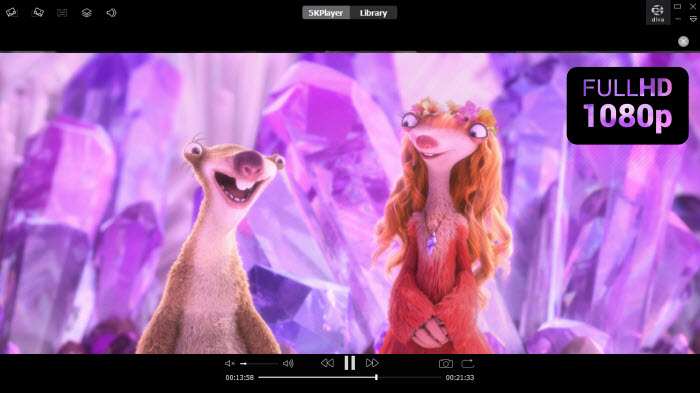 Related Articles
VLC Subtitle Delay? Best Solution Is HereHow to sync subtitles in VLC when VLC subtitle delay problem occurs? Find the best solution here.
Best Free VLC AlternativeHere the best free VLC alternative comes to help free play any videos (movies), audios (music), DVDs and even 4K, 5K, 8K UHD videos on Mac and Windows without any trouble.
How to Solve VLC HDR not Working?VLC HDR not working? Here gathers best solutions to solve VLC 4K HDR choppy playback, VLC HDR washed out colors, VLC HDR drop frames, etc.
Home | About | Contact Us | News | Privacy Policy | Agreement | Site Map
Copyright © 2023 Digiarty Software, Inc. All Rights Reserved.
5KPlayer & DearMob are brands of Digiarty Software, Inc. All other products or name brands are trademarks of their respective holders. All logos, trademarks and images relating to other companies that may be contained wherein are applied in the Internet that are not used for commercial use. Digiarty's software is not developed by or affiliated with such companies.