VLC YouTube function offers us a much easier way to watch YouTube videos and movies without annoying advertisements or popups. If any interesting or educational video has attracted you, you can also save it with VLC to local folder for further viewing. However, YouTube transmission protocols change occasionally, and the changes may break the YouTube module embedded in VLC, thus making VLC unable to open YouTube videos. As YouTube updates unexpectedly, VLC YouTube not working problem may also happen out of your control, and therefore you are suggested to bookmark this guide when you want to stream and download YouTube with VLC.
How to Solve VLC YouTube Live Stream not Working?
First, make sure it is not your poor network causing VLC YouTube not working for video streaming. Second, assure your VLC is in the newest version, if not, update VLC on your computer from its official site.
After scouring, I have only found that in May 2018 YouTube had figured out a way to detect the client playback and stopped the stream on Mac computer, which also means that YouTube video download on Mac through VLC is unavailable any more. As for Windows users, someone says it is workable for VLC YouTube not streaming issue following the below method.
Step 1. Turn off the Windows Firewall & third-party antivirus software
The Firewall or antivirus program may block the path of VLC media player to access the internet source and stream YouTube. Therefore, all you need to do is to visit your Firewall options and set all tools to be able to access the internet. At the same time turn off the antivirus software.
Step 2. Download youtube.luac file
1. Close VLC.
2. Open this link in your web browser: http://git.videolan.org/?p=vlc.git;a=blob_plain;f=share/lua/playlist/youtube.lua;hb=HEAD
3. Select all the text inside the page and copy it.
4. Open the Notepad and paste the copied content in it.
5. Save the file as youtube.luac, and select All Files in the Save as field.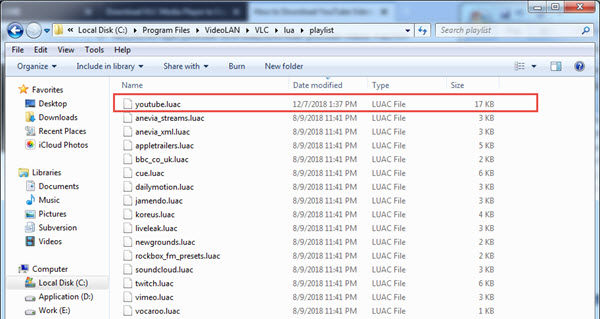 6. Copy the youtube.luac file to the following location:
On Windows 64-bit: C:\Program Files (x86)\VideoLAN\VLC\lua\playlist\
On Windows 32-bit: C:\Program Files\VideoLAN\VLC\lua\playlist\
If lucky, you won't see the message "Your input can't be opened. VLC is unable to open mrl.", but stream YouTube videos directly through the URLs.