H.265/HEVC Codec Mac Download to Play HEVC on Mac
Posted by Kaylee Wood | Last update: June 29, 2020
Failed to play H.265/HEVC files on macOS? It seems that your QuickTime player is incapable due to lack of HEVC/H.265 codec Mac. If you have ransacked the Internet but find no place to download HEVC codec Mac to beef up your QuickTime to play HEVC videos in 4K 1080p MP4 smoothly, this guide will save you from meaningless searching.
How to Play HEVC on Mac without HEVC Codec Mac Download?
HEVC player Mac 5KPlayer is the key you are finding to play HEVC/H.265 4K 8K 1080p MP4 etc videos on Mac (Big Sur & earlier) without the need of downloading HEVC/H.265 codec for Mac. No buffering, no frame skipping, 100% display all contents with pleasing hue, saturation and luminance.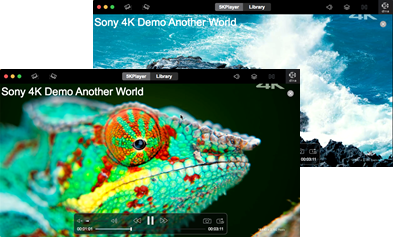 Main Contents:
1. Wiki: What is HEVC/H.265 Codec Mac?
2. H.265/HEVC Codec Mac Download Free
3. How to Play HEVC on Mac without HEVC Codec Mac Download?
4. Further Reading: HEVC/H.265 vs. H.264
Wiki: What is H.265/HEVC Codec Mac?
HEVC (High Efficiency Video Coding), also known as H.265 and MPEG-H Part 2, is a video compression standard created by ITU and ISO standardization bodies to act as the successor to AVC/H.264. The main purpose to invent HEVC video codec is to significantly improve the video compression ratio to make a video contain more details with half size. That is to say, a 1GB video using HEVC coding method can be compressed to roughly 500MB without losing quality. HEVC encoding has largely helped smooth high-res video 4K streaming even in congested network environment and also allows us to download more 4K 8K contents and watch them on ultra HD displays.
Because of the higher quality and better compression rates, Apple also adopts HEVC in macOS High Sierra, iOS 11 and tvOS 11 to help save storage space and offer crystal-clear images. However, the disappointment is that Mac shipped with OS lower than macOS High Sierra can't encode or decode any HEVC videos. That's why we need H.265/HEVC codec Mac to turn QuickTime player into a professional H.265/HEVC player Mac to help play highly-compressed HEVC videos.
H.265/HEVC Codec Mac Download Free to Play HEVC on Mac
Actually, the easiest and most direct way is to upgrade your Mac to macOS High Sierra to enable QuickTime player to play H.265/HEVC videos without downloading HEVC codec Mac. Given that macOS High Sierra problems or some other reasons which prevent you from doing so, we will try our best to help you download H.265/HEVC video codec for Mac.
* http://x265.org/: x265 is a H.265/HEVC video encoder application library, designed to encode video or images into an H.265/HEVC encoded bitstream. With it, anyone can convert MP4 files to HEVC. But as for HEVC/H.265 playback on Mac, it is useless. You may have to turn to option two.
* https://www.divx.com/en/pro-codec-mac-trial: DivX Pro Codec for Mac is the most ideal HEVC codec Mac to refine popular media players including QuickTime to be able to play HEVC encoded videos on Mac. However, the sad thing is that you have to pay some money to get it.
Now that DivX Pro Codec for Mac is the only thing you can choose to add HEVC codec Mac to your default player, you may have to sacrifice your pocket to that end. Considering the disadvantages of H.265/HEVC codec Mac, for instance, it may conflict with other programs on computer or bring virus, downloading HEVC/H.265 codec Mac is not as ideal as we think. Worse still, most HEVC video codec Mac is not workable for QuickTime and the HEVC/H.265 videos still won't play on Mac computer. Therefore, if you just need the free HEVC codec for Mac to let QuickTime play HEVC, why not try the free and professional HEVC player for Mac – 5KPlayer ↓↓↓.
Play HEVC Videos Files without Downloading HEVC/H.265 Codec Mac
HEVC player Mac 5KPlayer is an industry-leading video music player that comes with built-in various video codec for multimedia playback including HEVC (H.265), AVC (H.264), 4K, MP4, WMV, AVI, FLV, etc videos and MP3 AAC FLAC etc music. No HEVC codec Mac needed, you have chance to experience the latest video standard for quality and compression on Mac now.
Play HEVC without HEVC Codec for Mac via 5KPlayer
Step 1. Free download this HEVC player Mac, install and launch it on your Mac.
Step 2. Play HEVC/H.265 videos on Mac by simply dragging and dropping the video to 5KPlayer, clicking Video on main UI of 5KPlayer add HEVC to play or right-clicking the HEVC video to play with 5KPlayer.
Step 3. If you don't have any HEVC videos, you can use this HEVC player Mac to download HEVC H.265 videos from online sites as well. If you are not sure the downloaded videos are HEVC or not, you can play the video with 5KPlayer and right-click to see the Media Info.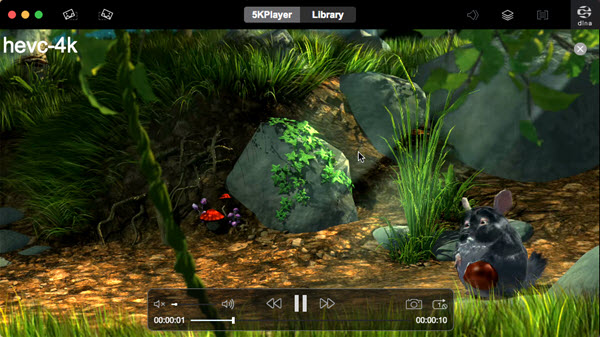 I have used 5KPlayer to test a HEVC 1080p at 400kbps video, a H.265 1080p at 500kbps video and a HEVC 4K at 2Mbps video, 5KPlayer performs all of them smoothly and displays every detail perfectly. So, maybe you can have a try.
Besides a professional HEVC player Mac to play HEVC/H.265 without the need of downloading HEVC codec Mac, 5KPlayer also acts as a hardware-accelerated video player to play high-res and heavy 4K 8K videos easily on Windows. If you intend to play video music on smart TV to have a better viewing experience, 5KPlayer allows you to DLNA streaming video music from Mac/PC to LG/Samsung/Sony TV wirelessly.
Further Reading: HEVC (H.265) vs. AVC (H.264)
HEVC is the successor to AVC (H.264) while the HEVC video compression rate is much larger than H.264. The HEVC standard enables a video to be compressed into a file that is half the size of a H.264/AVC file. Namely, when the size of a HEVC video and a H.264 video is the same, the HEVC video will surely offers much better visual quality than the AVC (H.264) video as the HEVC file will contain more details.
H.264 (AVC) and H.265 (HEVC) are both important to 4K high-res videos, so no matter you want to play a 4K video encoded with H.264 or H.265, a professional 4K video player is imperative.
Home | About | Contact Us | News | Privacy Policy | Agreement | Site Map
Copyright © 2023 Digiarty Software, Inc. All Rights Reserved.
5KPlayer & DearMob are brands of Digiarty Software, Inc. All other products or name brands are trademarks of their respective holders. All logos, trademarks and images relating to other companies that may be contained wherein are applied in the Internet that are not used for commercial use. Digiarty's software is not developed by or affiliated with such companies.