Best Apps for Surface Pro 4/3:Make Surface Better Than Apple
Take a look at best Surface Pro 4/3 APPs to equip your new Surface with. Microsoft Office undoubtedly was the highlight among all Surface Book, Surface Pro 4 3 best APPs, but with Office for iOS available to public, are there still best APPs for Surface Pro 4 3 that make it better than Apple? Sure indeed, this article covers Surface Book and Surface Pro 4 3 best APPs to send you into Microsoft drive!
Best Video Player APP for Surface Pro 4/3 Free Download Here!
Ranking NO.1 in best Surface Pro 4/3 APPs is the free media player for Windows 10 - 5KPlayer. Fitting superb media playback compatibility into a lightweight built, this best APP for Surface Pro 4 3 and Surface Book can play MP4, MKV, MOV, AVCHD and more videos without blemish.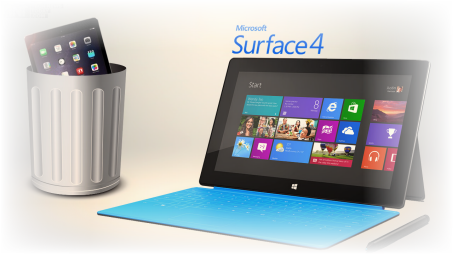 6. Social Network Software(SNS): TWEETIUM
Price: Free Trial or $2.99
Featuring friendly interface, Tweetium is the Twitter client on Surface Pro 4 3. We call it the Surface Pro best APP for SNS, because loads of settings have been adjusted according to Microsoft Surface user habits. Compared to Twitter on PC client, more tricks like auto-complete, automatic timeline refresh, Live Tile support and pasting image data directly into the post editor have been attached to this best APP for Surface Pro 4 3.
7. Communication Category: Touchmail
Price: Free with 2 accounts, Premium up to 6 accounts
This best communication APP for Surface Pro 4 3 supports Gmail, Outlook, Yahoo, AOL, iCloud and Office 365 accounts. It features 3D visualization of sender profile and other motions, rendering one-touch filters to see the unread messages or attachments. Specially nifty to sort out the important e-mails out of a mass.
Surface Pro 4 and Surface Book released this year are spurred by the Intel Skylake CPU, boosting almost threefold the operation speed of old devices. 5KPlayer for Windows as one of the best APPs for Surface Pro 4 in video music player category didn't win for no reason, it is rendering HD video playback increasingly vividly, whilst boosting the YouTube movies free download speed on Surface Pro 4 to really showcase the muscle of Intel Skylake.
Related Articles
2016-2017 Top 5 Tablet Video Players Free Download2016-2017 best tablet video players outpace other video players tablet to help you watch MP4 MKV AVI movies on a tablet. Choose a video player for tablet shipped with hardware acceleration technology (QSV&nVENC) to watch videos on a tablet without hiccup.
5 Best Video Players For Windows Phone 10/8.1/8/Lumia 950 XL Review 5 best video players for Windows Phone 10/8.1/Lumia 950 XL 2016-2017 review sorts out Windows Phone media players that can play complex MKV, FLV, etc. with subtitles. Take a look at the Windows Phone video player that won't drive Lumia 950 XL, Windows mobile overheat.
2016-2017 Top 5 720p HD/1080p FHD/4K UHD Players for Windows 10 and Mac Review Top 5 HD movie players 2016-2017 hands-on review. With built-in support for 720p HD/1080p FHD/QFHD/4K UHD/8K movies, each of the HD video players has distinctive features to play Blue-ray DVD or download online HD movies. Choose the HD player you need and download.