#1: 5KPlayer - Best Free Tablet Video Player Download (100% Green)
Getting a top-tier tablet video player can help you run a portable tablet, powered with Windows 10 or Android in the way a full-fledged computer does. 5KPlayer, the free video player tablet is just a case in point. Shipped with state-of-the-art techniques enabling latest tablet models to play 1080p, 4K videos with the help of Intel QSV&NVENC hardware. This free media player can release 101% the potential of your tablet.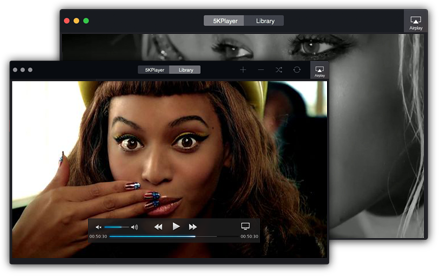 Why is 5KPlayer the Best Free Tablet Video Player?
★★★★★ Rating:5 Type: Free OS: Windows, Mac
First awarded as one of the best video player for Surface Pro 4, the free 5KPlayer relays its capability to Windows 10 as befitting a free tablet video player, serving Huawei Matebook, Surface Book, Asus Transformer Book T100HA impeccably.
Unlike video players for PCs or laptops, it's imperative for a tablet video player to fit into a device's tablet mode, i.e. running keyboard on the desktop by finger-tapping on any area. To that end, the frame-free GUI design of 5KPlayer - the highly-compact video player tablet is a space-saving option: Intelligently, it adapts the size of the playback area according to the resolution of a movie screen, be it 720p 1080p, 4K, etc.
With this tablet video player, you won't run into embarrassing moments like the movie screen been blocked by another popping-up Window, and full-screen experience is better than ever.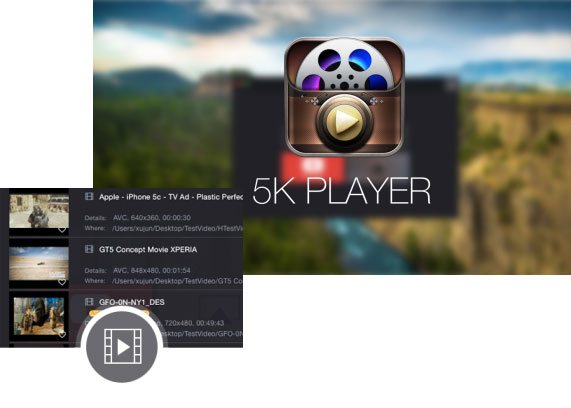 If you're in search of a free tablet video player known for stability and portability, then you won't go wrong with the free 5KPlayer: A true 3-in-1 tablet that runs non-stop as a video player for most of the time, with the added bonus to be turned into an online video downloader for Windows 10 when you need it. Basketing 80+ video formats into its box, 5KPlayer is without doubt a free multimedia player that you won't regret getting.
Version 6.0 of 5KPlayer is available right below, the setup file is 100% clean and safe, you may either follow the installation wizard or choose a user-defined path to run 5KPlayer:
#2 VLC Video Player for Tablet - A Bold Beta from the PC-Based VLC Player
★★★★☆ Rating:4.5 Type: Free OS: Windows, Mac, Android, Linux, etc.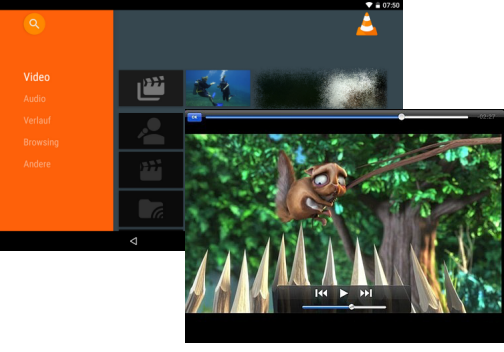 Searching for VLC video player for tablet, and you'll find most of the results tagged with a warning, "This tablet video player - VLC is still a beta version, though it is mostly fine right now, you need to use it at your own risk."
Just as is mentioned in the warning, VLC video player for tablet is deperfected if you wish to install it on an Android tablet. But that's no big issue if you have a Windows 10 tablet instead, for which you're good to go with VLC for Windows 10 or Mac PC (available on videolan.org) as a video player for Windows tablet.
In terms of functions, VLC video player is just as agile and flexible as 5KPlayer, adjusting swiftly to the playback area and reading any video formats you throw at it, like MP4 MKV MOV.
Based on the success of VLC for Windows 10 on Windows computers, now the open-source software reaches Android platform with some of its functions still in bud, for example, its hardware acceleration technology only support a few limited set of hardware.
Pros:
Free without ads.
Cons:
Current version not completely stable, download with care and backup important media resources aside the tablet.
#3 MX Player – High Quality Tablet Video Player (Kids Lock Support)
★★★★☆ Rating:4.5 Type: Free OS: Windows, Mac, Android
MX Player is one of the powerful tablet video players for Windows (10) tablet with hardware acceleration technology to guarantee playback smoothness (There's also a version for Android tablets). If your tablet is dual-core rather than single-core one, then MX Player is indeed a useful accelerator: Almost 70% performance enhanced through its multi-core decoding technology.
If you have a kid under 9 at home, you'd find the Kids Lock feature of this video player tablet rather considerate. For this keeps the tablet running MX Player only (while playing a video for the kids while stepping away) unless you unlock it, hence no mistake phone calls.
For Android users, MX video player for Android tablet is also available in Google Play Store.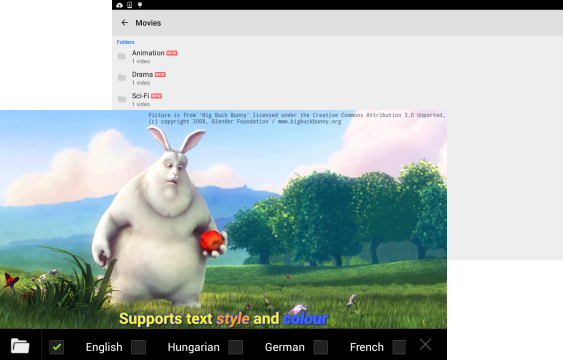 Software Size: Pros:
Support pinch zoom in/out on Windows 10 tablets.
"Prevent Device from Sleeping" control sets your hand free when placing the tablet on a tablet case.
Easily swipe upward/downward to adjust tablet video player brightness.
Cons:
May retard performance/cause crashes on earlier tablet models without a powerful device core.
Sometimes the player freezes on device without enough storage.
#4 Archos Video Player – Video Player for Windows Tablet with Smart Media Archive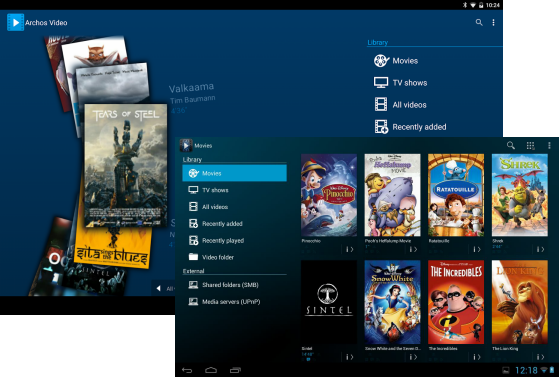 ★★★★☆ Rating:4 Type: Free OS: Android
Just as its name indicates, Archos Video Player is highly impressive with its library-like media archive - resembling Apple's iBook shelf, or even better. Download and install this video player for tablet, and Archos helps you access all the movies, videos in MP4 MKV MOV AVI in a way that outshines many. If you have ever tried 5KPlayer, you may find Archos video player operating likewire: It polishes each media file archived into your tablet with a creative poster art, thus making every pinch-and-opening of this video player for tablet an eye candy.
There are some quirks worth knowing before you decide to download Archos as the very tablet video player: Though it's gaining 1630+ 1/5 ratings from the users' side (which indeed proves its unstable performance) Archos video player for tablet is just as comprehensive as 5KPlayer in terms of subtitle downloading and torrent files playing on a tablet.
Cons:
Ad-free only in Paid/Premium version.
TV connetion function is not very configurable, options like subtitle-adding is not straight-forward.
#5 KMPlayer – Video Player for Tablet with Multi-tasking Capability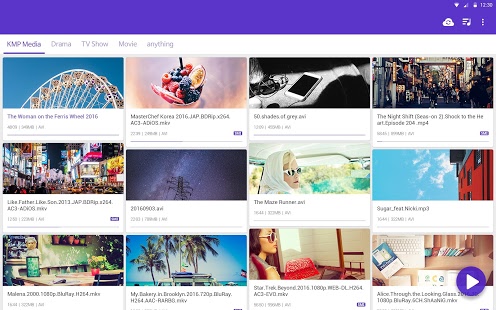 ★★★★★ Rating:5 Type: Free with Ads OS: Android
Another free tablet video player just like 5KPlayer. KMPlayer shouldn't be new to you if you're a subscriber of pandora TV, which is the developer of KMPlayer.
According to Google Play descriptions, rather than providing its service in English only, KMPlayer covers an extensive market by offering 30+ languages. One killer feature worth mentioning is its flexible playback speed control function - which enables you to play 1.3*, 1.4* and up to 4.0* the speed according to your demand, in case you need to play multiple videos at the same time with only 1 tablet video player, KMPlayer has made multi-tasking possible.
However, we have not thoroughly tested the overall performance of this video player for tablet, and have noticed a number of critiques as of the problem of subtitles going error code in this video player for tablet. By the way, while it earn plenty of 5/5 ratings, there are 22,000+ 1/5 ratings on Google Play Store so far.
Pros:
Speed Control Feature
Cons:
Too many ads popping out, may interfere playback experience.
Which tablet video player among the abovementioned list do you prefer, or do you need any more infomation before finally making up the mind? Now that you have a shiny new model of Android tablet, choosing an easy-to-use tablet video player can swiftly turn it as a portable video theater, presenting HD videos in its original quality.
So far, 5KPlayer is the best and free video player we recommend if you have a Windows tablet (Windows 10 or earlier compatible) , for it is highly-compact and usable, with probably the most up-to-date video codecs embedded, easily facilitating multimedia playback on a tablet.
If you have an Android tablet, then choose from 2~4 in the above list, and there certainly is one appealing to your taste.
Home | About | Contact Us | News | Privacy Policy | Agreement | Site Map
Copyright © 2023 Digiarty Software, Inc. All Rights Reserved.
5KPlayer & DearMob are brands of Digiarty Software, Inc. All other products or name brands are trademarks of their respective holders. All logos, trademarks and images relating to other companies that may be contained wherein are applied in the Internet that are not used for commercial use. Digiarty's software is not developed by or affiliated with such companies.