Why 5KPlayer is the Best DLNA Player Windows/Mac?
DLNA service is easy to apply between phone and DLNA-compliant smart TV as long as there is DLNA-compatible app on the mobile phone, but the case is that how to make connection between phone and Windows/Mac computer, PC/Mac and TV? DLNA player 5KPlayer is therefore designed based on your basic requirements to DLNA technology, that are DLNA media share on iPhone/Android to PC, playing PC/Mac media on big screen smart TV and make phone or TV a controller to access the rich media library on computer. For different situations, 5KPlayer plays different roles:
DLNA Renderer: When needing to stream phone to Windows 10/8/7 PC and Mac, 5KPlayer with DLNA technology can be easily found by the mobile device, receive what is sent from the phone, and provide instant and smooth playback. It is quite convenient for a lazy person who is lying on the bed and wants to watch phone films on computer, control the volume, fast forward or rewind the video without getting up.
DLNA Controller: No Apple TV? No AirPlay? You can also enjoy media from small display screen to big smart TV of 55, 60, 70, etc. inch size. UPnP player 5KPlayer plays downloaded movies music, ripped DVDs and recorded videos on computer smoothly and streams such contents to DLNA-compliant smart TV or stream PC to Xbox over WiFi without any choke. Any wonderful video you want to share with your guests in the living room? 5KPlayer helps DLNA streaming them to TV with better resolution. Besides, no interruption of media playback process is here when switching computer-to-TV mode to computer-to-speaker mode.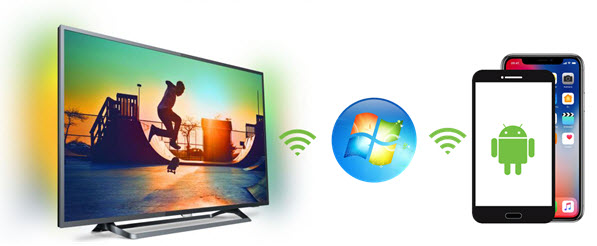 DLNA Server: By default, this DLNA-enabled player can free download videos music online from Dailymotion, Vevo, etc., providing you countless media resources to enjoy without a dime. By turning 5KPlayer into a DLNA media server, good chance for you is you can have your own media library and a free way to enjoy 5KPlayer media library offline on smart TV or mobile phone without paying extra money.
Though we suggest you to use 5KPlayer as the best DLNA player to stream media among DLNA-compatible devices because 5KPlayer is such a powerful three-in-one UPnP player for Windows and Mac, we'd not like to mandate a usage by only giving a unilateral statement without any proof. By comparing other DLNA certified players, you will find which one is the best for you.