Best Free UPnP Media Server for Windows 10/8/7
Posted by Kaylee Wood | Last update: April 28, 2020
From the official statistics, there are over four billion DLNA-certified or UPnP-enabled devices supporting UPnP/DLNA media streaming from UPnP media server Windows 10. Your Samsung phone, Sony TV, PS 3/4 or Xbox 360/One has got ready to communicate with your Windows computer, and now it's your task to get an ideal UPnP media server to gain endless videos music to realize multi-screen media sharing.
Best UPnP Media Server Windows 10 Free Download
UPnP Server Windows 10 5KPlayer installed, and your computer will turn into an UPnP media server with numerous videos music files. Just connect your computer and DLNA-compliant devices to the same network, and your Android, TV, PS or Xbox will access the media library on computer to realize multi-screen share.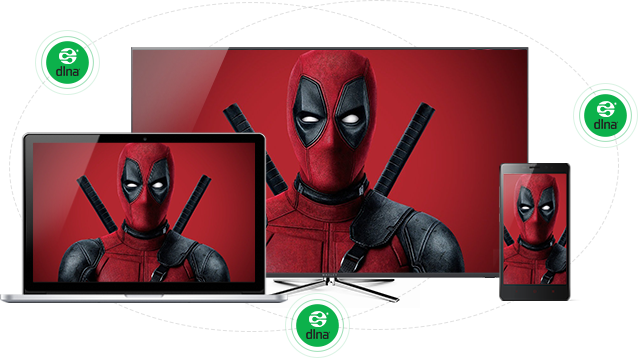 What is UPnP?
After grasping what is UPnP, you have more probability to select a good UPnP media server for Windows 10/8/7 computer. UPnP, commonly more known as DLNA, is a protocol like AirPlay designed to discover and connect devices in the same network for multi-screen media streaming and sharing. In essence, the UPnP compliant device with a DLNA player/renderer could play what are streamed from other UPnP devices and it can also offer media resources for other UPnP devices to access if it acts as the UPnP server or DLNA media server.
However, the fact is that there are many DLNA compliant renderers for Windows while DLNA media server Windows 10 is rare to see. If you want to turn your computer into an UPnP server with multiple media files for wireless share, this place includes the best way.
5KPlayer – Best Free UPnP Media Server for Windows 10/8/7
Though Windows Media Player is by default the UPnP media server for Windows 10/8/7, we do not suggest it for its limit in supported formats and complexity of network settings. To help you get the easiest way to enjoy the benefit of UPnP, we think 5KPlayer is the most ideal one.
As long as you connect your computer and other DLNA-certified devices to the same network, 5KPlayer will instantly become an DLNA server Windows 10, DLNA compatible player/renderer and DLNA controller. It plays videos music from Android, iPhone, tablets, etc and DLNA streaming media from PC to smart TV, Xbox One/360, PS 3/4, speakers, etc DLNA-certified devices without choke. Any ripped or downloaded media files could be added to 5KPlayer UPnP media server to allow DLNA compatible devices to access.
Any DLNA-certified device with search function could access 5KPlayer media library to realize multi-screen DLNA media streaming, and the device could be PlayStation 3/4, Xbox 360/One, Speaker, smart TV, DLNA streaming to Apple TV etc. Besides, you could use 5KPlayer as a DLNA player and DLNA controller to have more fun.
Related Articles
Top 5 DLNA Streaming Apps for iPhoneBest DLNA app for iPhone powers your iOS iPhone to be DLNA-supported to stream media to vast number of devices wirelessly.
Free DLNA Media ShareThis guide will teach you how to DLNA file sharing from Android to Windows PC and PC to TV wirelessly.
DLNA iPhone to Smart TV and PCDLNA iPhone to TV or PC using the best free iPhone DLNA server to stream videos music for multi-screen media sharing.