How to Stream PC to Xbox One Wirelessly?
Posted by Kaylee Wood | Last update: April 28, 2020
If you're an old fan of Xbox One, loving the Xbox One way of interacting with 1080p HD media files, games and other content using the box. Chances are that you'll find a free streaming media player to stream PC to Xbox quite helpful. This guide collects top 3 ways to help you stream from PC to Xbox wirelessly, be it media files, video or music. Now check out the guide below:
Best Tool to Stream from PC to Xbox Wirelessly
How to stream from PC to Xbox wirelessly? If you're looking for an all-in-one media hub that helps you turn PC into a media hub to wirelessly stream movies, games & more in HD 1080p to Xbox One, don't hesitate to download 5KPlayer for Windows or Mac for free.

Why Choose 5KPlayer to Stream from PC to Xbox One/360 Wirelessly?
The wireless streaming capable 5KPlayer has just upgraded to its version 5.1 to be DLNA-compatible – With the free streaming media player at hand, DLNA streaming PC to Xbox turns out to be extremely easy.
If you're an old user of Xbox some time before the 5KPlayer, chances are that you've heard about PlayTo – the native protocol to stream from PC to Xbox that virtually helps users.
You may also get it good to go with streaming from Android to PC or from PC to smart TV. If you're like me, having developed a keen interest for Xbox's way of streaming media over the air, you really shouldn't miss the DLNA-compliant 5KPlayer to stream whatever on your PC screen to Xbox so as to take the advantage of its robust streaming kernel. That been the case, what makes 5KPlayer the best DLNA media server that helps you stream from PC to Xbox without hassle?
5KPlayer has fortifies itself to be one of the best DLNA-compatible software to help turn your computer into a DLNA controller, renderer and server, which means DLNA streaming movies, videos in 1080p HD or music in MP3 AAC across Android phone or smart TV is completely out of question as long as you have the free DLNA streaming tool.
Part 1: Turn Compute into a DLNA Server
Step 1: Installing one DLNA media server software is the best way to turn your computer into a DLNA server, and one such case in point is the free 5KPlayer. You may directly download the DLNA server software for Windows or Mac below.
Step 2: Install the software for your computer and launch it. Before trying to stream PC to Xbox, you need to connect the 2 devices to the same Wi-Fi for good.
Step 3: Now Click on the "DLNA + AirPlay" tab on the main UI of 5KPlayer to start turning your Windows PC to a DLNA server.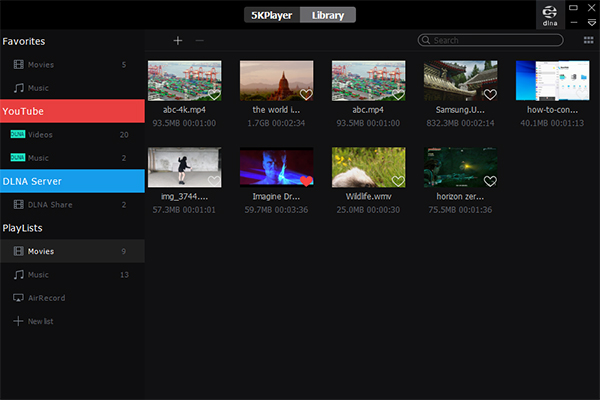 Tips and Notes:
Opt for DLNA if you need to stream Windows to Xbox, and you may also turn to another wireless streaming protocol supported by 5KPlayer – AirPlay to mirror computer screen to Apple TV if you'd like to do so.
By calling it one convenient way to help you stream from PC to Xbox, 5KPlayer is free without any bundle-ware. The best part about turning computer into a DLNA media server is that you may easily download videos and music from websites such as YouTube, Hulu and Vimeo for free & stream videos, playlists from Windows to Xbox without hassle. Now click to download it free.
Related Articles
Troubleshoot Xbox App Windows 10 Error"Is your Xbox app for Windows 10 not working at present? Try to find the solution here to help you play Xbox games on Windows 10 PC happily.
Windows 10 DLNA Client Download FreeThe Windows 10 DLNA client that can help you turn Windows 10 computer into a DLNA server for Android phone, Samsung phone.
Best DLNA App for AndroidBest DLNA app for Android is prepared here for DLNA streaming Android phone to PC and DLNA-certified smart TV at will.
Home | About | Contact Us | News | Privacy Policy | Agreement | Site Map
Copyright © 2023 Digiarty Software, Inc. All Rights Reserved.
5KPlayer & DearMob are brands of Digiarty Software, Inc. All other products or name brands are trademarks of their respective holders. All logos, trademarks and images relating to other companies that may be contained wherein are applied in the Internet that are not used for commercial use. Digiarty's software is not developed by or affiliated with such companies.