Use Free iPad Screen Sharing to Screen Share iPad and iPhone
Written by Kaylee Wood | Last update: April 28, 2020
How to use free iPad screen sharing with Mac/PC? If you want to share iPad/iPad Pro screen with PC/Mac + projector in classroom, business demo and more, the easiest way to sreen share iPad/iPad Pro is via a free, handy APP - 5KPlayer, with which you can mirror iPadOS iPad/iPad Pro screen and record. Now share photos, webpages, documents, or stream an iPad/iPad Pro video in real time!
Free (iPadOS) iPad Screen Sharing of 5KPlayer:
Functions Backed-up By Apple AirPlay™ Mirroring Technology
To set up stable iPad screen sharing, there are plenty of APPs to choose from. Unlike some bare-bone mirroring APPs that were squashed by iOS, 5KPlayer employs AirPlay technology, making itself a free and flexible solution for cross-screen display. You can:
Know AirPlay already? Jump to how to use free iPad screen sharing guide >>

Share iPad screen: with PC/Mac + projector
Mirror iPad screen to PC and Mac, so anyone connected to the same Wi-Fi can share content to a big display with remote control.
Easily screen share iPad photos, documents, web pages, etc.
Free iPad screen sharing to Windows/Mac + projector in classroom is also available.

Stream a video: from iPad iPhone to Mac/PC
Present a video from iPad/iPad Pro or iPhone 11/11 Pro/11 Pro Max/XS/XS Max/XR/X/8 to computer.
Toggle switch AirPlay mirroring "off" on iPad to cast a video windows to computer screen.

A screen recorder: for iPad Air 3/Mini 4/Pro
5KPlayer is an ideal choice to record screen of iPad (iPhone) during iPad screen sharing.
Unlike most screen sharing APPs, which can't record iPad screen unless associated with a recorder like CamStudio.
--- Scroll to the end for steps ---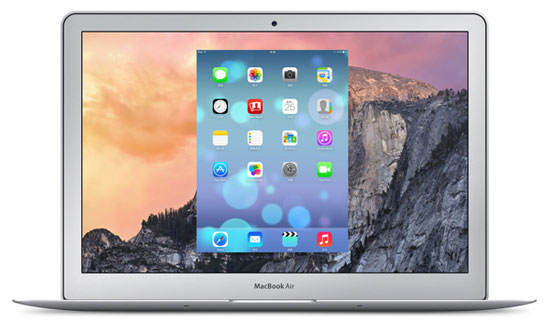 3 Reasons You Should Choose 5KPlayer for iPadOS iPad Screen Sharing
1. This built-in screenshare technology of 5KPlayer roots from Apple AirPlay, hence it walks you through screen mirroring iPhone (11 and before), AirPlay PC to Apple TV, it also tallies with gear when you stream films from mac to Apple TV.
2. However, screen sharing iPad won't work on Windows/Mac unless you install an AirPlay receiver like 5KPlayer. which turns your computer into an wireless audio receiver that recognizes iPad, iPad Pro and iPhone. Also you may take a look at a review of popular screen sharing APPs: 5KPlayer vs. X-Mirage vs. AirServer before you decide.
3. Not only for iPad, 5KPlayer is the best desktop sharing solution to TV.
An Apple buff like you may already had a taste of the benefits through AirPlay, which is designed to stream videos in MP4, MOV, M4V and music in MP3, AAC from iOS devices like iPad to Apple TV. If not yet, you may take a closer look at what is AirPlay and how to use.
Guide: Share iPad Screen with PC/Mac for Group Meeting/Presentation and More
Want to screen share iPad with PC/Mac that's plugged in to projectors? Or simply mirror iPad screen in order to zoom in videos? This section covers 3 parts:
1. iPad screen sharing : photos, documents, web pages
2. How to record iPhone/iPad: Record during screenshare
3. Stream a video from iPad: Share iPad videos to PC/Mac
Once installed on Mac/Windows, you can 1:1 share iPhone screen to the computer display.
Detailed above are the major features of 5KPlayer screen sharing functions. Based on the built-in AirPlay, this free widget supplies an integrated solution to screen share iPad, iPad Pro, iPhone (11/11 Pro/11 Pro Max/XS/XS Max/XR/X/8 etc.) with PC/Mac and AirPlay mirroring iPadOS iPads.
If you'd like to use this tool in conjunction with group meetings APPs like join.me, goto meeting, no extra setting is required. Either connect your iPad with computer before or after you start an online meeting session, then you're good to present the screen to a remote audience.
Home | About | Contact Us | News | Privacy Policy | Agreement | Site Map
Copyright © 2023 Digiarty Software, Inc. All Rights Reserved.
5KPlayer & DearMob are brands of Digiarty Software, Inc. Any third party product names and trademarks used in this website are property of their respective owners. All the related logos and images, including but not limited to Apple's AirPlay®, Apple TV®, iPhone®, iPod®, iPad®, iTunes® and Mac® are registered trademarks of their own. Digiarty is not owned by or affiliated with Apple Inc. and any of those companies.