Main Contents:
How to AirPlay YouTube from iPhone iPad to Mac/Windows 10?
Sometimes you could be in the mood to watch YouTube videos directly with iPhone iPad, but what about screen share it for a distant audience? 5KPlayer's application of AirPlay technology into the YouTube APP/website you are using is a creative solution if you don't want to huddle.
Generally speaking, there are 2 ways to stream YouTube videos from iPhone iPad with 5KPlayer. One is through AirPlay and the other is via DLNA. DLNA YouTube is quite complicated so we don't explain more here.
5KPlayer Can Receive YouTube App AirPlay from iPhone iPad: Mac or PC with 5KPlayer installed can work in conjunction with YouTube APP on iPhone, iPad to achieve AirPlay [AirPlay YouTube Music APP, and AirPlay YouTube Red included]
[AirPlay YouTube in iPhone iPad browser] Visit www.youtube.com through Safari (or Chrome, Firefox, Opera) on your iPhone, it natively configures AirPlay support when it recognizes an AirPlay receiver (which 5KPlayer turns your computer into). So press the "Play" button on YouTube, connect iPhone to Mac/PC via 5KPlayer, then YouTube APP AirPlay will start immediately which saves the space for your iPhone.
Tips and Notes: While using online AirPlay from YouTube, the image and audio could turn out not synchronized. Here you can turn to 5KPlayer basic function to solve AirPlay video delay, and only a slight drag can help this YouTube clip return to normal.
[AirPlay YouTube APP] If you are running a YouTube APP on iPhone or iPad, which now offers YouTube offline watch and a YouTube Music APP with more-friendly-than-ever functions. Then YouTube APP AirPlay works just fine if you connect iPhone into the same wireless network with Mac/PC.
Step-by-step to AirPlay YouTube App to Mac/PC with 5KPlayer
Download 5KPlayer for Windows

or for Mac

, launch it on your Mac/PC. Instruction on YouTube APP AirPlay is specified below and please refer to tutorial on watch YouTube on TV if you are running YouTube on computer.
Step 1: Get the online YouTube video clip playing in full screen
* Please first check to confirm that the iPhone/iPad and your Mac/PC are connected to the same Wi-Fi or Ethernet before enabling AirPlay YouTube APP .
* Get the online YouTube video clip playing in your iPhone/iPad search engine in full screen, and you'll find the AirPlay icon on the bottom right (sometimes the bottom left).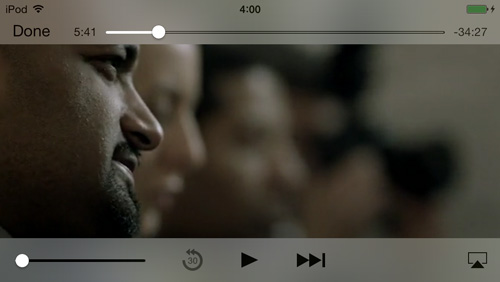 Step 2: Tap the AirPlay icon to start YouTube APP AirPlay
* Tap the AirPlay icon and the YouTube AirPlay will start immediately.
* In the process of streaming, your iPhone is a flexible controller to manage the Mac/PC remotely, and you can start another YouTube clip at any time.
* In reverse, this Mac/PC you have successfully connected can perform more customization functions: solve audio and video out of sync, add subtitles and soundtracks, display the YouTube media information, etc.