Download iOS 13 for AirPlay 4K to Windows 10/Mac from iPhone 11
Written by Kaylee Wood | Last update: April 28, 2020
How to AirPlay iOS 13 4K content to Windows 10/Mac? Will iOS 13 AirPlay roll out as shitty as iOS 12 AirPlay did when it came to Appletv and 3rd party software connection?
Instead of throwing big changes at each update, developers tend to give out a steady stream of smaller iOS updates every summer. And likewise, iOS 13 upgrade is so far rummored to have 72 new emoji added, and a redesigned apple music app, a web-browser-supported Apple Pay will be included in the newest version; dark mode and split screen support seem going to blend in the iOS 13 too. The upcoming iOS 13 will be also unprecedentedly difficult to jailbreak due to its built-in "Rootless". On top of those changes, iOS 13 is further reported to extend an olive branch to 3rd party app developers - a Siri SDK allowing them to build Siri support in their apps.
Since iOS 13 update is promised to give us a new and smoother Apple ecosystem to enjoy. Then how about iOS 13 AirPlay wireless streaming 4K videos & photos that we shoot using iPhone 11? Among all these shinning new features, iOS 13 AirPlay 4K videos is one of the biggest and common concern for us media streaming tech users and this article will let you know how to use iOS 13 AirPlay to Windows 10/Mac and see to it that the hidden possible iOS 13 AirPlay not working problems solved.
iOS 13 AirPlay Not Working Problems with Apple TV
Since many beta iOS 13 AirPlay experienced hands have reported the iOS 13 AirPlay problems as below, we seek for you the best and quickest solutions to tackle them down! Or, if your iOS 13 AirPlay currently works smoothly with all the devices, you can wait a bit longer for the ultimate iOS 13 version with steadier AirPlay performance rather than rushing into endless fixes and troubles.
※ iOS 13 AirPlay 4K video audio delay or audio only without video showing up
※ iOS 13 AirPlay 5.1 surround sound no audio out
※ iOS 13 AirPlay mirroring not working
※ iOS 13 AirPlay iPhone 11 not connecting Apple TV 2
※ iOS 13 Airplay cuts out when locking the screen
Do remember to update your tvOS to the latest built before iOS 13 AirPlay Apple TV. Jaibroken Apple TV might require more to get updated first.
Instead of sorting these listed problems one by one and finding the correspoding methods, we recommend you the all-in-one solution - iOS 13 AirPlay ready 5KPlayer. You can transfer your 4K videos from iPhone 11/iPad to your Windows 10/Mac computer and resort to 5KPlayer built-in AirPlay tech to stream those 4K videos/pictures to Apple TV 4/3/2. Since 4K videos consume internal storage a great deal, by porting the 4K contents out, choppy playback on your storage-strapped iPhone/iPad can be avoided and so will the glitchy playback on Apple TV.
iOS 13 AirPlay Windows 10/Mac Best Assistant
On both Mac and Windows, 5KPlayer works as an AirPlay receiver and sender that can turn your Windows 10/Mac into a media server compatible with iOS 13 iPhone 11/iPad pro/Apple TV 4, easily enabling you to AirPlay iPhone 11 to Windows 10 computer. But in case that you do not want to upgrade to iOS 10, iOS 13 AirPlay is also supported by 5KPlayer alike. Streaming 4K content to Apple TV4, or even AirPlay mirroring your whole iOS 13 screen to Mac/Windows can be achieved .
How to AirPlay iOS 13 iPhone 11/iPad Pro to Windows 10/Mac
iOS 13 AirPlay to Windows 10/Mac:
Step 1: Download and launch the iOS 13 AirPlay assistant accordingly on Mac/PC.
Note: To AirPlay iOS 13 to Windows 10/Mac, please connect your iOS 13 devices – iPhone 11/iPad Pro and your Windows 10/Mac the same Wi-Fi network.
Step 2: Swipe up to go to the Control Center on the display of your iOS 13 devices and find AirPlay.
Note: Tap AirPlay to view a list of AirPlay receiver options. Select your Windows 10 PC/Mac as iOS 13 AirPlay receiver.
Step 3: Choose the 4K video or music you want to stream, then the iOS 13 will start AirPlay to your Windows 10/Mac..
You can "pin" the player on top of your other windows, and unlike some similar programs, it automatically adjusts the display window to the size of the 4K video.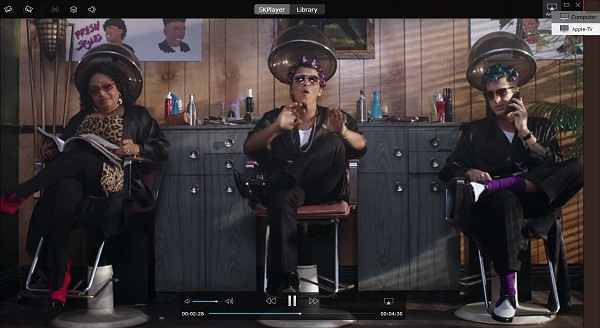 iOS 13 AirPlay Mirroring on Windows 10/Mac:
Step 1: Download and open 5KPlayer on your Mac/PC first
Step 2: Connect your iPhone 11/iPad iOS 13 and Windows 10/8.1/8/7 or iMac/Macbook/Mac Air the same WIFI network;
Step 3: Swipe up from the bottom of the iOS 13 iPhone/iPad screen to visit the control center and click AirPlay. Select your target receiver;
Step 4: Enable Mirroring, and your iOS 13 iPhone/iPad Pro screen will show up on the computer screen.
Note: You can record your iOS 13 iPhone 711/iPad screen by clicking the recording button below.
*Click the button again to stop recording and the recorded video file will be automatically saved in your computer and categorized in the playlist for a tidy video-management.
Side note: Remember, iOS 13 AirPlay only supports video formats in MP4, MOV, M4V, make sure that you get an efficient converter to help with the format conversion.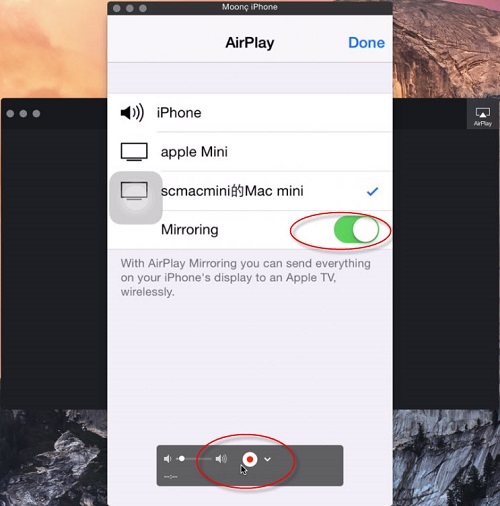 AirPlay iOS 13 4K videos to Windows 10/Mac can be easily done with AirPlay ready 5KPlayer as is shown above. But in case that you want to stream other devices like AirPlay to a Windows 10 computer, free watch Netflix movie on TV, or even Chromecast AirPlay, 5KPlayer can offer its help also. And if you desire streaming them revertly, AirPlayit would be a great tool to complete the whole cycle.
Home | About | Contact Us | News | Privacy Policy | Agreement | Site Map
Copyright © 2023 Digiarty Software, Inc. All Rights Reserved.
5KPlayer & DearMob are brands of Digiarty Software, Inc. Any third party product names and trademarks used in this website are property of their respective owners. All the related logos and images, including but not limited to Apple's AirPlay®, Apple TV®, iPhone®, iPod®, iPad®, iTunes® and Mac® are registered trademarks of their own. Digiarty is not owned by or affiliated with Apple Inc. and any of those companies.