Slow Motion Video Player for Windows 7/10/Mac Free Download
Posted by Kaylee Wood | Last update: September 22, 2020 | 3 Min Read
Need a video player that can play videos in slow motion mode? Best slow motion video player suggested here will help play videos with multiple speed choices for you to grasp every detail of a video easily. No more worries that you can't catch every picture and dialogue from the fast videos or miss the splendid goals from your favorite football players, just slow down the video with the best slow motion video player to catch all information clearly.
Best Slow Motion Video Player Windows 7/10/Mac Free Download
As a professional video player with speed control, 5KPlayer offers various choices for you to choose certain speed to play your videos slowly or quickly. To play a video in slow motion, you can use 5KPlayer to slow down the video by 0.8, 0.7 and 0.5 times. Also, the embedded edit feature of 5KPlayer helps turn your video into a slow motion video.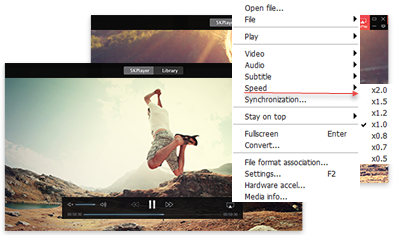 Playing videos in slow motion with a slow motion video player will help you view every frame clearly without the need of playing them over and over again. Every flash jump, run or throw that are hardly recognized and catched by human eyes will turn slow and become vivid. However the slow motion video is often created by certain software and is larger than the original video, a professional slow motion player is surely needed to play such a video smoothly. Therefore, we have collected best 4 slow motion video players for Windows 7/10/Mac here to help you to that end.
Top 4 Slow Motion Video Players Free Download
No.1 Slow Motion Video Player for Windows 7/10/Mac – 5KPlayer
In version 5.2, 5KPlayer has added video speed control feature for you who are craving for adjusting the video speed manually. It is up to you to choose which speed mode of this slow motion video player to play videos that are fast in image, sound, subtitle and more slowly as well as clearly. Never choosy, 5KPlayer can play any slow motion video slowed down by a video editor, downloaded from Dailymotion and shot with iPhone Slo-Mo (720p HD at 240fps/1080p HD at 120 fps).
Besides a slow motion player with customizable playing speed for slowing down a video, 5KPlayer can also speed up a video at your pleasure if you think the video is too slow or you just want to skip some boring parts quickly. More importantly, it is a versatile online video downloader and 4K UHD video player that download and plays high-res videos and HiFi music smoothly and in high quality. In case needed, there is a built-in edit feature of 5KPlayer that will help make a video a slow motion video.
Speed choices: x2.0 (speed up), x1.5 (speed up), x1.2 (speed up), x1.0 (original), x0.8 (slow down), x0.7 (slow down), x0.5 (slow down).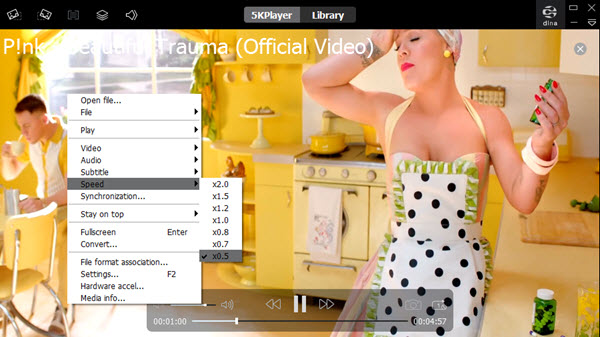 No.2 Slow Motion Player for Windows & Mac – VLC Media Player
VLC would be the most popular media player for Mac/Windows out the market like 5KPlayer that you will take into consideration when needing to control the video speeds. To help you adjust the video speed, this delicate slow motion video player provides you with diverse speed choices that you can slow down as well as speed up your videos at will. To slow down a video with VLC Media Player to reach your favorite frame, you can use the hotkey ([) or the Playback menu to set a preferred speed. However, the annoying thing is that when you frequently adjust the speed of your HD videos, videos will get choked because of VLC's slow reaction.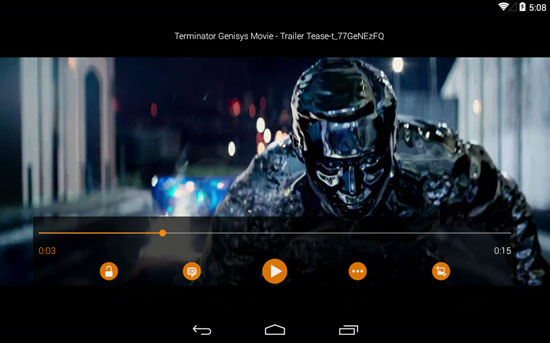 No 3. Slow Motion Video Player for Windows Only - Windows Media Player
Regardless of Windows Media Player not working problem, Windows Media Player is a good video player with slow motion feature as well. When playing a video, just right click the video > Enhancements > Play Speed Settings > choose the Slow option or just set a speed by yourself to slow down your video. As you can see, it is not just a slow motion video player for watching videos in real detail, but also a speed up video player to quicken your videos. In surprise, Windows Media Player also owns a backward motion feature that you can use to backward a long video to the frame that you have missed.

No.4 Mac-only Slow Motion Video Player – QuickTime
For Mac users, QuickTime Player must be your first choice for media playback. As for slowing down a video, QuickTime has its own way to render a video in slow motion mode. All that you need to do is to press and hold on to the play-pause button for close to 5 seconds so as to access the menu for rate change, and then you can choose specific speed to play videos in slow motion. To make things easier, this slow motion video player for Mac also offers shortcut key for you to quickly control the video speed while playing. Just hold K+L on keyboard together or hold right-arrow for slow motion forward, and hold J+K together or hold left-arrow for slow motion reverse.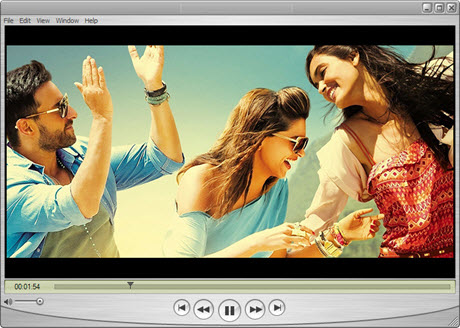 How to Slow Down a Video via a Slow Motion Video Player?
Here, we take slow motion player 5KPlayer as an example to show you how to slow down a video. So, free download slow motion video player 5KPlayer, install and launch it on your computer first, and then follow the below guide.
How to Slow download a Video during Playback?
Step 1. Choose a video to play with 5KPlayer, be it 4K UHD 1080p 720p or MP4 MKV FLV etc video.
Step 2. When the video is playing, right-click on the video to choose "Speed" to customize the video speed.
Step 3. Choose x0.8, x0.7 or x0.5 option to slow down your video.
Notice. BTW, x2.0, x1.5 and x1.2 options allow you to speed up your video, and x1.0 option keeps your video speed in original.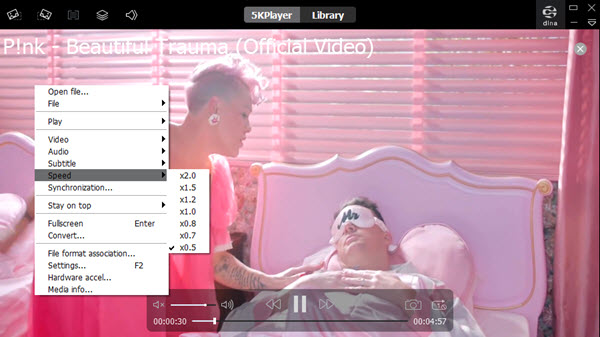 How to Create a Slow Motion Video?
Step 1. Play a video with 5KPlayer that you want to make it a slow motion video, then click on the "scissors"

icon to access 5KPlayer "Video Editing" window.
Step 2. In the right part, choose the speed you prefer by inputting a number or using the slider. You are allowed to choose a speed from x0.25 to x2.0. To slow down a video, you should choose a number smaller than x1.0.
Step 3. Click on "Start Preview" to preview the video and make sure it is the needed speed. You can also adjust the playback speed during the preview.
Step 4. After the above steps, click on "Save file" to output the video that had been slowed down.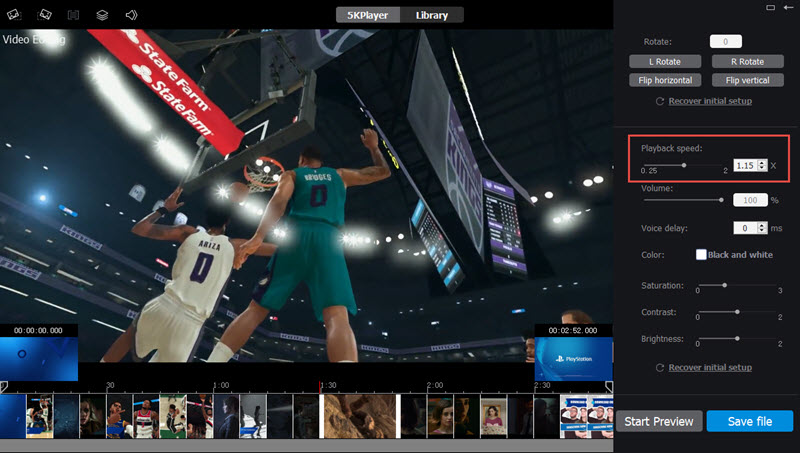 Actually, most slow motion video players Windows/Mac allow you to slow down a video by right-clicking the video like 5KPlayer, and some of them may require you to go to Playback settings to adjust the speed. Anyway, it is easy as long as your video player indeed comes with slow motion feature. But, 5KPlayer's edit feature is an extra bonus indeed.
Home | About | Contact Us | News | Privacy Policy | Agreement | Site Map
Copyright © 2023 Digiarty Software, Inc. All Rights Reserved.
5KPlayer & DearMob are brands of Digiarty Software, Inc. All other products or name brands are trademarks of their respective holders. All logos, trademarks and images relating to other companies that may be contained wherein are applied in the Internet that are not used for commercial use. Digiarty's software is not developed by or affiliated with such companies.